Nick Baines: 'You cannot make women bishops just to have women bishops'
Nick Baines, head of a super-diocese, is optimistic about reconciling voices in the Church, but warns against complacency
Jonathan Brown Comments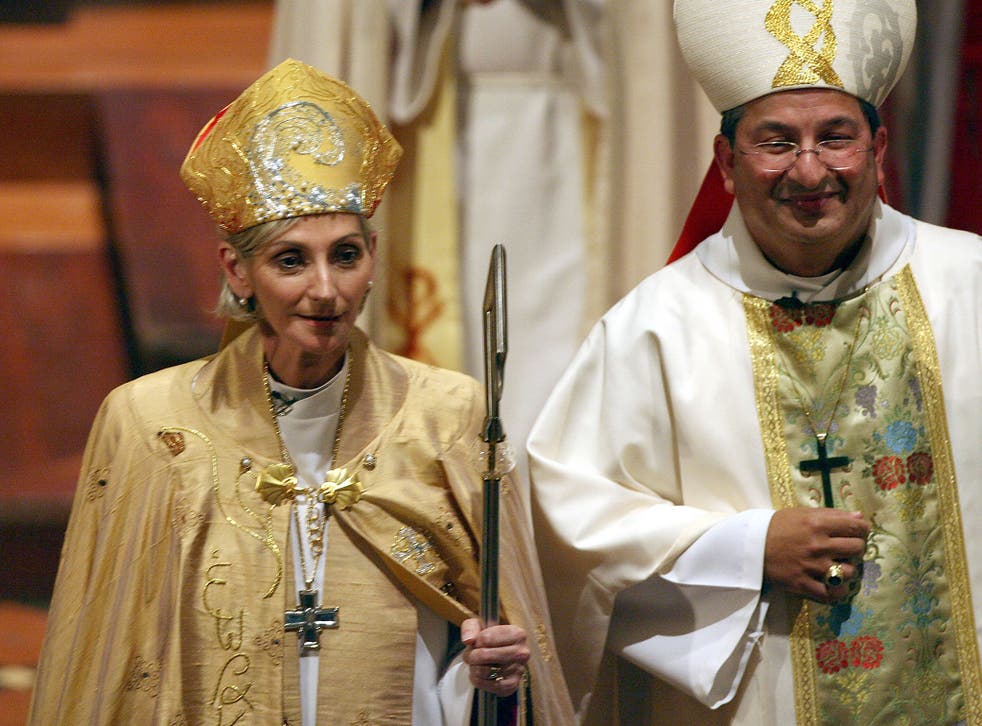 It may be more than a decade since the Church of England agreed to the idea, but Nick Baines is wary of raising expectations over the imminent arrival in the pulpit of a female bishop. "It's a work in progress. It's not a foregone conclusion," he warns.
In recent days the soon-to-be-inaugurated head of the first super-diocese in Yorkshire has been huddled with his fellow episcopal power brokers, combing over the fine detail of what is hoped to be the long-awaited deal to pave the way for female equality in the highest ranks of the clergy.
After the heartbreak of 2012, when a motion breaking the deadlock was so narrowly and bitterly defeated by the votes of laity, there has been much work going on behind the scenes to ensure there will be no repeat of the tears and recriminations.
If – and Bishop Baines stresses "if" – the Synod finally finds an accommodation that will provide enough reassurances to swing enough naysayers in support, the sky could be the limit for the right female candidate.
"Once women can be bishops and a diocese is saying we ought to be open to women bishops then, by definition, those women could become Archbishop of Canterbury, York, Durham or anywhere else," he said.
Whereas once the primus inter pares would have been expected to serve a few decades in the Synod or the House of Bishops, the rapid elevation of Justin Welby has blown notions of time-serving "out of the water", he adds.
It is a beguiling vision from the popular blogger and tweeter – a regular speaker on The Chris Evans Breakfast Show on Radio 2 – who has himself been tipped one day to occupy the highest post in the Church.
But at present, he must contend with the challenges posed by being the Bishop of West Yorkshire and the Dales – the head of the Church's first new diocese since 1927, created by amalgamating the old diocese of Bradford (his former post), Wakefield, Leeds and Ripon. He is now responsible for 2.3 million souls.
The crucial Synod vote in York in July will consider the Plan B put together by Justin Welby based on classic principles of mediation and reconciliation used in resolving intractable conflicts.
There have been plenty of confidence-building meetings around the fringes of the Synod which, he says, have helped to "take the heat out… take away the totemic stuff to which people react".
Now, he says: "No one should be fearful but everyone should be realistic. If the Church can't do reconciliation we have real problems. That is at the core of what we are supposed to be about."
But he is in little doubt that those first female church leaders will face potent challenges – not least from the media. And as a result the idea of positive discrimination or all-female shortlists is anathema.
"It's a hard enough job for anyone – you cannot make a woman bishop simply to have a woman bishop. That way lies a real problem. But we have some superb women who to my mind ought to be in the episcopal pool, and will be, in due course," he says.
A linguist who studied Russian before joining GCHQ after university, Bishop Baines understands that differences in language and culture can be both an obstacle and a key to understanding ourselves and others.
It was a lesson that was well learnt in his former diocese of Bradford, where he was also once a student and where earlier this month members of the far right group Britain First went into mosques brandishing Bibles.
It was a potentially dangerous flashpoint situation in a city which still bears the scars of two waves of serious rioting. Bishop Baines is full of praise for the "maturity" of the community response. He is proud of the Church's work promoting integration there, where people are increasingly fed up with "being kicked".
"In places like Bradford, we have church schools that are 95 per cent Muslim. Part of the reason we stick with that is because you are giving children the experience of wider culture they otherwise wouldn't have," he adds.
However, he concedes that the national debate on immigration is far from grown-up. "We should be proud that people want to come to Europe because they think there is security and safety. But to get a proper debate about immigration and who we need or who we allow to migrate, it has to be more intelligent and realistic about the history we have had and the global context in which we live," he said.
"It is all very well we in Britain, Germany or France saying we'll have the really classy immigrants. We'll have the doctors and the nurses and people like that and then we pump aid into countries where we have just nicked their intelligentsia. What sort of unholistic madness is that?"
Meanwhile, Bishop Baines says there is little chance of the Church's recent work on food banks and welfare security ending any time soon.
"If you look at both political parties that are likely to be in power after the next election, both are still talking about cutting further. That means that if the state rolls back any further it is going to leave huge gaps."
Register for free to continue reading
Registration is a free and easy way to support our truly independent journalism
By registering, you will also enjoy limited access to Premium articles, exclusive newsletters, commenting, and virtual events with our leading journalists
Already have an account? sign in
Join our new commenting forum
Join thought-provoking conversations, follow other Independent readers and see their replies