Nick Clegg's Budget 2014 photo-op interrupted by angry protester Bill Maloney
The demonstrator also barged on camera during a BBC News broadcast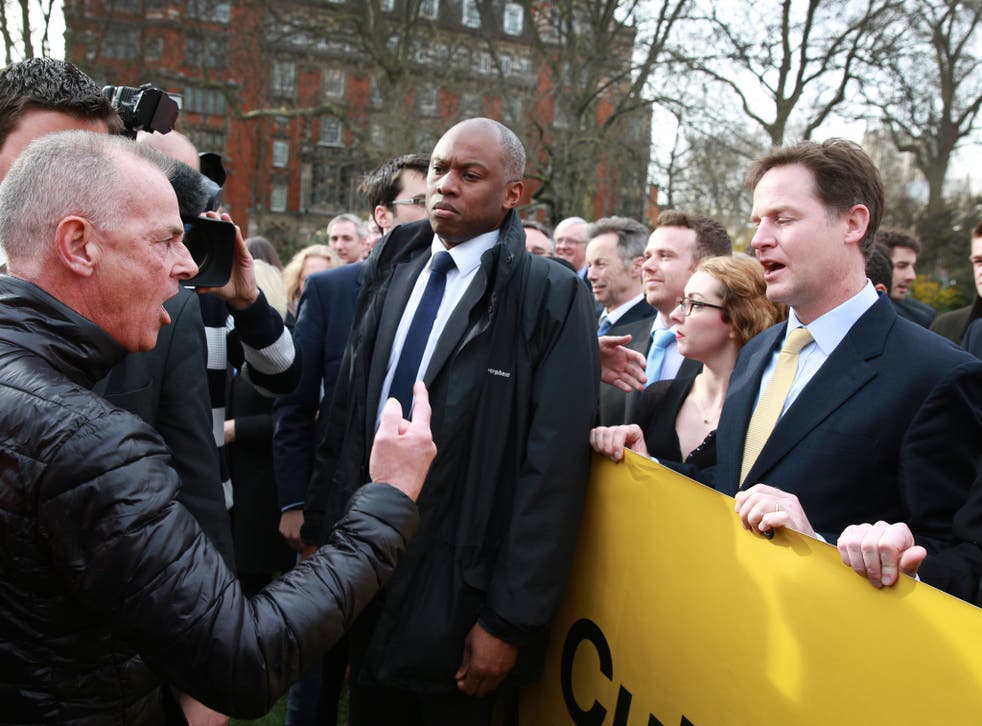 As if straight from an episode of the The Thick of It, Deputy Prime Minister Nick Clegg was made to abandon both a staged photo opportunity and a BBC interview on Wednesday, after he was accosted by an angry protester outside the Houses of Parliament.
Demonstrator Bill Maloney reportedly shouted at Nick Clegg, forcing him to move the Lib Dem photo-call aimed at promoting their role in the £10,500 tax threshold that was announced in the 2014 Budget, the Huffington Post reported.
In footage from a BBC News broadcast, Mr Maloney is shown interrupting presenter Norman Smith live on air as he explains why his interview with Mr Clegg was scrapped.
"[I] had to abort [the interview], because we were here for a little photo-call the Lib Dems have organised to flag up what they say is their key tax measure, which is raising the lower threshold."
He continued: "Mr Clegg was there, all his Lib Dem people were there, but the whole thing had to be aborted because a few protesters came along and spoiled the occasion. So Mr Clegg has gone over there."
"I don't know if he'll be coming back in the near future," Smith added.
"International paedophile rings are operating in this country, now!" Mr Maloney shouts on screen, as Mr Smith attempts to nudge him out of shot.

In a postponed interview, Mr Clegg later told BBC News that the coalition has "over delivered" on the Liberal Democrat's flagship policy.
"I'm extremely proud of what we've presented for savers, for workers, to make sure that we keep energy intensive industries in this country employing thousands of people," he said.
Mr Maloney, whose Twitter profile reads: "Maverick, Outspoken, Fearless, Filmmaker, Abuse Survivor and THORN in the side of the Establishment," tweeted after the incident: "#Budget2014 A good days work. More 2 follow soon."
Join our new commenting forum
Join thought-provoking conversations, follow other Independent readers and see their replies