Nigerian gay rights activist has her High Court asylum bid rejected - because judge doesn't believe she is lesbian
Aderonke Apata was so desperate to convince the Government she was gay that she submitted a private DVD and photographs of her sex life as evidence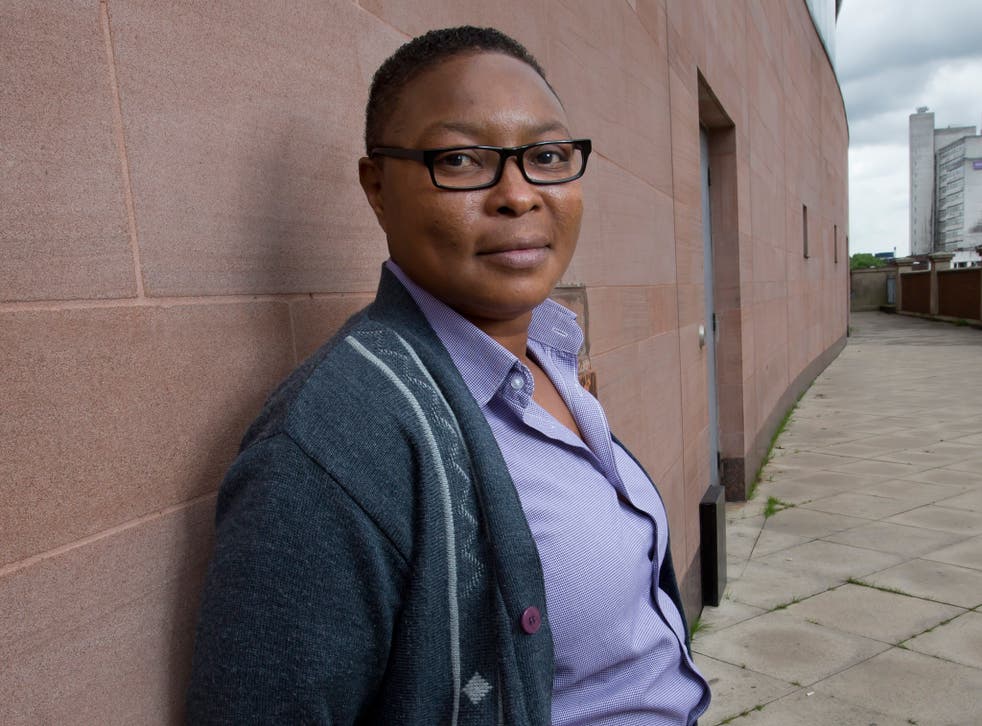 A Nigerian gays right activist who fears imprisonment and death because of her sexuality has had her case for asylum rejected by the High Court – after a judge ruled that she was pretending to be lesbian.
Aderonke Apata was so desperate to convince the Government she was gay that she submitted a private DVD and photographs of her sex life as evidence. Yet a High Court judge has ruled that she engaged in same sex relationships in order to "fabricate" an asylum claim.
Ms Apata, 47, came to Britain in 2004 and has won awards for her gay-rights campaigning. She is engaged to her long-term partner Happiness Agboro, also from Nigeria, who has already been granted asylum in the UK based on her sexuality.
John Bowers QC, who was sitting as a Deputy High Court Judge, said "I find it difficult to disagree with the conclusions of the First Tier Tribunal that 'she has engaged in same-sex relationships in detention in order to fabricate an asylum claim based on claimed lesbian sexuality'. I also accept the associated submission made by [the Home Office] that she has in effect adjusted her conduct so as to adopt other customs, dress and mores of a particular social group purely as a way of gaining refugee status."
The judge acknowledged petitions signed by several hundred thousand people supporting her case – and her considerable support from LGBT activists in court – but said "I do not think that can amount to evidence as opposed to opinion and support (although that support is very impressive)."
Rainbow List 2014

Show all 101
Judge Bowers did not accept a controversial Home Office argument that Ms Apata could not be gay because she had previously had children and heterosexual relationships. Nevertheless, he agreed with the Government's assessment that she could not be considered part of the 'particular social group' known as lesbians.
Human rights campaigner Peter Tatchell, who was in court to support Ms Apata, said of the ruling: "It's bizarre that the judge does not accept that Aderonke is a member of a particular social group, namely lesbian women. I find it offensive to suggest that she's adopted the 'customs, dress and mores' of lesbian women purely in order to gain refugee status, given the evidence that she's presented in her claim.
"The worst aspect of the ruling is the judge doesn't accept that she has a well founded fear of persecution if she returns to Nigeria. It's clear that she's been publicly identified in the UK and in Nigeria as a lesbian or bisexual woman. Such women face the twin threats of legal persecution and mob violence in Nigeria."
The Home Office argues that Ms Apata had "played the system" by making several different asylum applications. It also said that she could not be trusted because she had been convicted for using false papers to work – despite it being a desperate measure to stave off destitution after her asylum case was rejected.
Ms Apata is frightened of what will happen next but believes there may be further legal avenues for her to pursue. She did not want to risk damaging a future case by commenting publicly on the ruling.
Ms Apata was diagnosed with post-traumatic stress in 2005 and attempted suicide when she was in prison facing deportation. Her mental health formed part of the case.
Homosexuality is punishable by up to 14 years in prison in Nigeria under laws passed in January 2014 and there has been a spike in violence against gay people.
Register for free to continue reading
Registration is a free and easy way to support our truly independent journalism
By registering, you will also enjoy limited access to Premium articles, exclusive newsletters, commenting, and virtual events with our leading journalists
Already have an account? sign in
Register for free to continue reading
Registration is a free and easy way to support our truly independent journalism
By registering, you will also enjoy limited access to Premium articles, exclusive newsletters, commenting, and virtual events with our leading journalists
Already have an account? sign in
Join our new commenting forum
Join thought-provoking conversations, follow other Independent readers and see their replies