Two children among 20 people rescued from sinking inflatable boat in English Channel
UK Border Force officers are now interviewing the individuals involved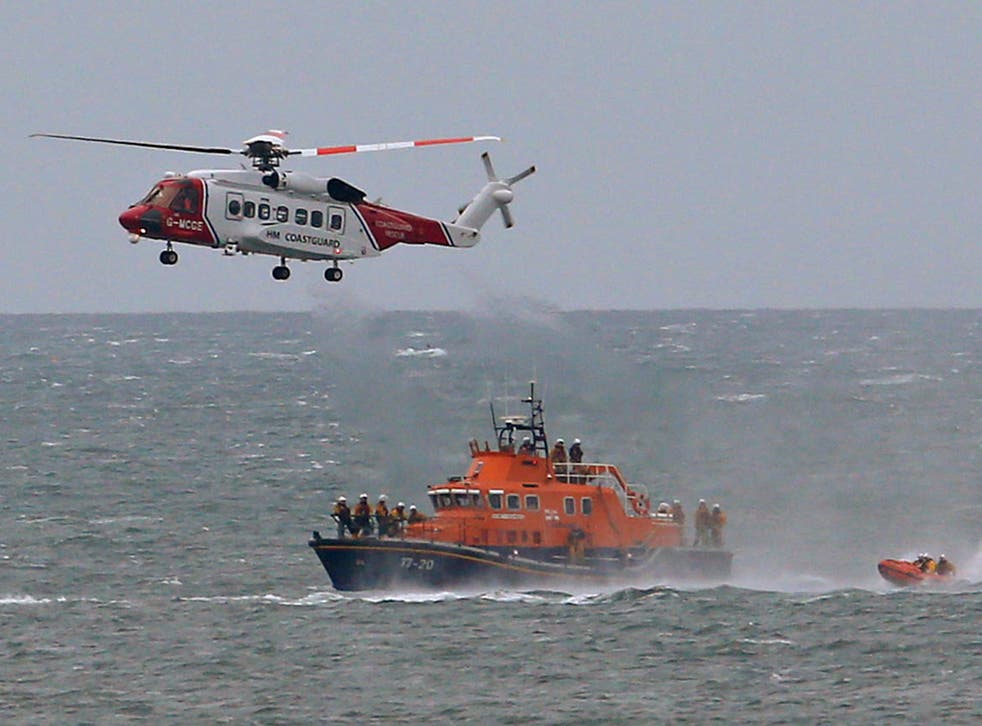 Two children were among the twenty people rescued by the UK Coastguard from a sinking inflatable boat in the English Channel.
Of those rescued, 18 were Albanian and two were British.
The UK Coastguard received a call for assistance from the boat just off the Kent coast near Dymbchurch around 11.40pm.
Search and rescue teams, including a helicopter, were launched from Dungeness, Littlestone and Folkestone.
The inflatable boat with 20 people on board, was discovered at 2am and the matter was handed over to UK Border Force after the passengers were rescued.
A Home Office spokesman confirmed that there was one woman and two children aboard the boat. He added that a second vessel was discovered on the beach at Dymchurch which was believed could be linked to the boat that got into trouble.
The spokesman said: "A total of 20 people were picked up in a search and rescue operation. 18 were Albanian, and two were British. There was one woman, and two minors.
"They were taken to Dover and are currently being interviewed by Border Force officers.
"Two Border Force cutters were involved in the rescue operation alongside the UK coastguard."
The UK Coastguard said: "The UK Coastguard has been coordinating an incident off Dymchurch to rescue the occupants of a rhib this evening."
A rhib stands for rigid-hulled inflatable boat, which is a lightweight vessel with a solid hull.
"The Coastguard received a call at 11:40pm this evening requesting assistance to a rhib which was taking water," said the Coastguard.
"The Coastguard deployed a search and rescue helicopter from Lydd, RNLI lifeboats from Dungeness and Littlestone and coastguard rescue teams from Dungeness and Folkestone."
The incident comes as more than 700 refugees are believed to have died in three shipwrecks in the Mediterranean, in what would be the deadliest week in the refugee crisis for over a year.
The UN's refugee agency said scores of bodies had been recovered from the sea off the coast of Libya in the last few days, but represented only a fraction of those feared missing.
Around 100 people are understood to have drowned when a wooden smugglers' boat capsized on Wednesday in an incident captured in dramatic photos by the Italian Navy. Another 550 are feared dead after a boat carrying 670 capsized on Thursday morning and a third shipwreck occurred on Friday, during which at least 45 bodies were recovered,
The traffic of people crossing in unseaworthy boats from Libya to Italy's southern islands has increased in recent days as other routes have grown more difficult and the seas have become warmer and calmer.
Last week, over 4,000 migrants were rescued at sea in one day alone by an Italian-led naval operation.
PA reporters contributed to this story
Register for free to continue reading
Registration is a free and easy way to support our truly independent journalism
By registering, you will also enjoy limited access to Premium articles, exclusive newsletters, commenting, and virtual events with our leading journalists
Already have an account? sign in
Register for free to continue reading
Registration is a free and easy way to support our truly independent journalism
By registering, you will also enjoy limited access to Premium articles, exclusive newsletters, commenting, and virtual events with our leading journalists
Already have an account? sign in
Join our new commenting forum
Join thought-provoking conversations, follow other Independent readers and see their replies