Nitrous oxide campaigners stage mass 'laughing gas' inhalation outside Parliament
Campaigners were protesting against the proposed Psychoactive Substances Bill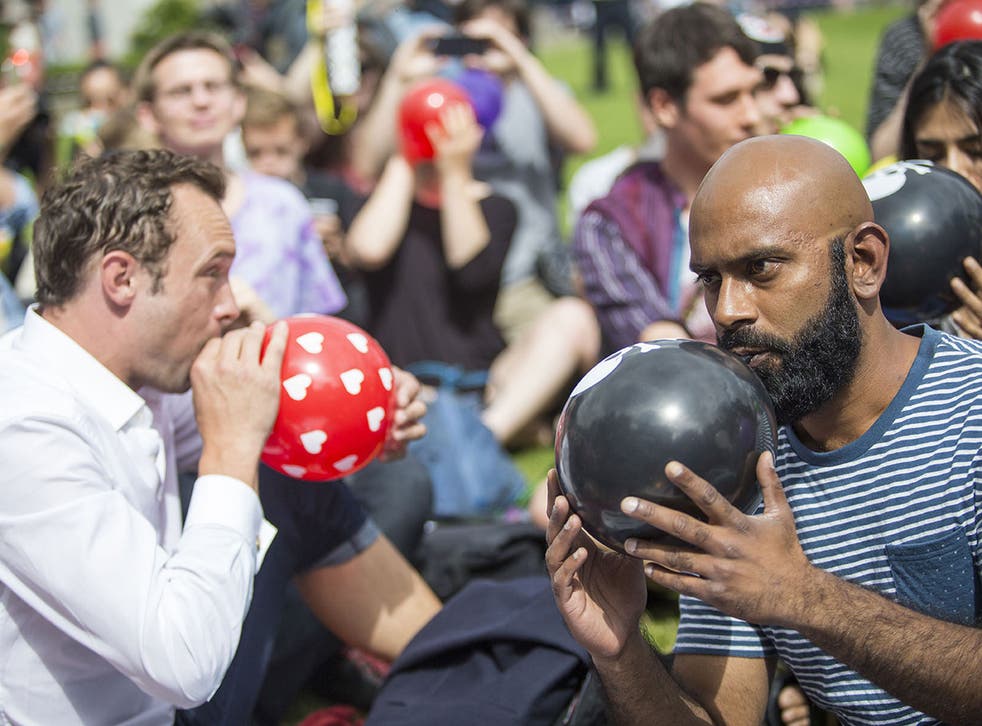 Demonstrators have protested against government plans to ban the use of nitrous oxide by staging a mass inhalation of laughing gas outside Parliament.
Campaigners sat on the Parliament Square lawn to take part in the event to protest against the proposed Psychoactive Substances Bill on Saturday.
In an attempt to tackle legal highs, the government's bill intends to prohibit the sale of mood-altering drugs without a medical purpose.
The proposed bill - which does not include alcohol, caffeine or nicotine - would introduce a ban on producing, distributing, selling and supplying legal highs.
It follows several deaths which have been linked to taking such substances.
The Psychedelic Society's Stephen Reid, who organised the protest, told PA: "The Government's rationale for prohibiting trade in psychoactive substances is that their use can be risky."
But Reid said "it should be for individuals to decide whether or not to take the risk".
"People should be able to buy, sell and use whatever substances they want, so long as there's no harm to others," he said.
"The fact is most people enjoy using drugs, whether coffee, alcohol or nitrous oxide and that careful legal regulation is the fairest and safest solution."
Sky news reported that professor of neuropsychopharmacology, David Nutt, said it was "probably one of the safest recreational substances there has ever been".
Nitrous oxide, conventionally used as an anaesthetic, is often used be festival goers but Glastonbury banned the substance from its King's Meadow this year.
Register for free to continue reading
Registration is a free and easy way to support our truly independent journalism
By registering, you will also enjoy limited access to Premium articles, exclusive newsletters, commenting, and virtual events with our leading journalists
Already have an account? sign in
Register for free to continue reading
Registration is a free and easy way to support our truly independent journalism
By registering, you will also enjoy limited access to Premium articles, exclusive newsletters, commenting, and virtual events with our leading journalists
Already have an account? sign in
Join our new commenting forum
Join thought-provoking conversations, follow other Independent readers and see their replies