Northern Ireland: the peace process and the dissident menace
For most ex dissidents – republican and extreme loyalist – the war in Northern Ireland is over. But last week's letter bombs are a reminder that a threat remains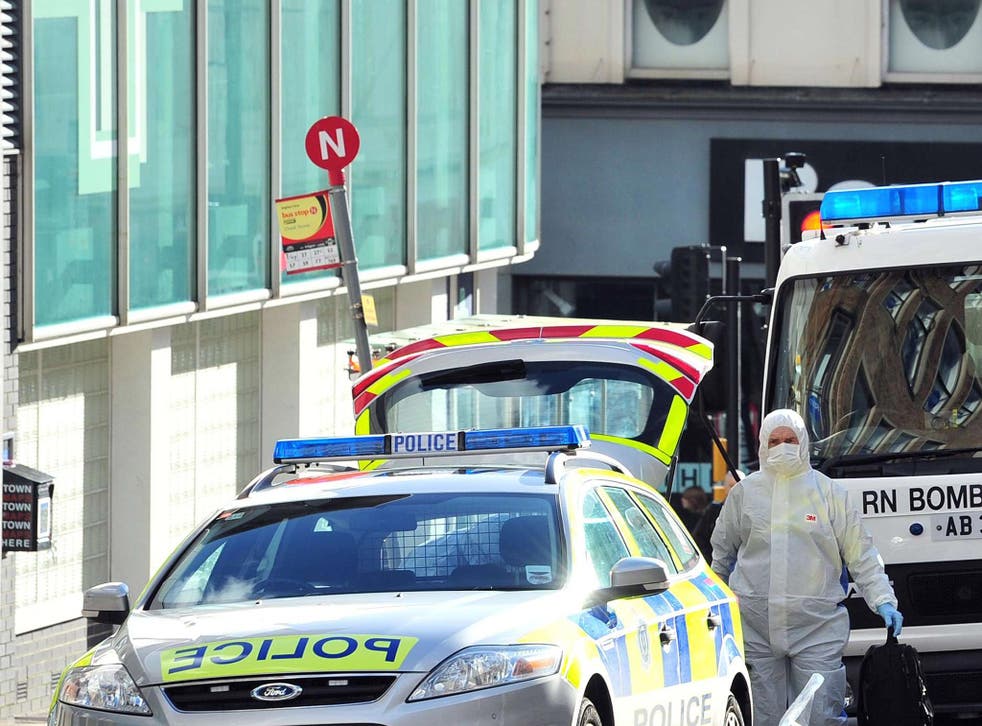 The wave of letter bombs despatched to army recruitment offices in England last week is a chilling reminder that not all republicans support the Northern Ireland peace process.
The mainstream IRA is now inert, while Sinn Fein, its former political wing, is an integral part of the coalition that runs the Belfast government. But the letter bombs are an assertion that violent rejectionist splinters continue to wage a small-scale war which most of the population regards as completely futile.
For most of the former militants – both republican and extreme loyalists – the war is over. But a range of tiny but dangerous Irish republican groupings insist that the battle will go on until Britain surrenders. Yesterday, the dissident group that styles itself "the IRA" claimed responsibility for the letter bombs, warning menacingly: "Attacks will continue when and where the IRA see fit."
The political backdrop is that the vast majority in Belfast, London and Dublin are dead set against this and support the compromise arrangement under which Northern Ireland is administered by a Protestant-Catholic coalition. Yet still the republican dissidents carry out, to general exasperation, dozens of attacks every year within Northern Ireland. And everyone knows that one of their biggest hopes is to take their "war" to Britain in a sustained way.
Could they achieve that? The belief among the security authorities is that the dissidents lack the ability to mount a campaign and that there are no "active service units" undercover within England. Nonetheless, no chances can be taken in guarding against a group that has murdered security force members in Northern Ireland. Above all, the terrible memory of the Omagh bomb in 1998, which killed almost 30 people, stands as a reminder of how a single attack can claim many lives.
After Omagh, the dissidents seemed chastened and went quiet for a while. But they re-grouped, first in Northern Ireland and then, briefly, in Britain. Their last serious attacks here came in 2000-01, when one dissident group carried out several "spectaculars": a rocket was fired at the headquarters of MI6 while several car bombs were detonated, one of them at BBC Television Centre in west London.
Since then, their activities have been almost entirely confined to Northern Ireland. The security services frankly admit that they had assumed that the residual threat from terrorism would decline as the new political arrangements took root and the peace process bedded in. Instead, the dissident campaign has proved infuriatingly persistent, claiming a number of lives and costing tens of millions of pounds. The actual numbers actively involved do not appear to have grown significantly, but the number of groups has proliferated, using names such as the Real IRA, Continuity IRA and simply the IRA. The battle against them has gone on for more than a decade, carried out in Belfast by the Police Service of Northern Ireland (PSNI) and MI5, with the latter taking the lead on the mainland.
The scale of the threat has ebbed and flowed over the years. In 2010, MI5 said it considered that the threat posed by dissidents to Britain had risen from moderate to substantial, signalling that an attack was a strong possibility. Two years later, however, it judged that the threat had diminished and was lowered from substantial back to moderate. As the Home Office explained: "This means that a terrorist attack is possible but not likely."
In June of last year, MI5 chief Andrew Parker spoke almost dismissively of the dissidents as "ragged remnants of a bygone age who are in a cul-de-sac of pointless violence and crime with little community support".
While there has been little sign of dissident activity within Britain, Northern Ireland experiences attempted attacks on a regular basis. Theresa Villiers, the Northern Ireland Secretary, said ruefully last year: "The threat is severe and is likely to continue in the years to come."
The posting of letter bombs to military offices has been taken seriously, since all such devices can cause injuries. The threat was discussed at the Cobra emergency committee meeting chaired by the Prime Minister on Thursday. The small devices could have injured anyone handling them, but were unlikely to be lethal. Described as extremely basic, they are said to have contained powder rather than explosives.Such devices are, in fact, one of the easiest, cheapest and, for the bombers, least risky means of attack in the terrorist arsenal.
"They're easy to do," one security expert said last week. "They involve little more than powder, wires, stamp and a jiffy-bag."
Such devices are, in other words, the simplest way of grabbing headlines and proclaiming that the groups – which are so small that mainstream republicans dismiss them as "micro-groups" – remain in business. Despatching them is not, therefore, regarded as any kind of major achievement.
Although the dissident menace within Northern Ireland is graded as severe, there are signs that they are in some difficulty. There have been attempts among the groups to form alliances, but there have been many splits in the dissident undergrowth. A stream of operations has gone wrong, with activists arrested with guns or bombing equipment in their vehicles.
Arrests and seizures of weaponry are almost commonplace, as are bombing attacks in which devices do not fully explode. The security forces claim that they are able "to detect and disrupt the vast majority of their attempts".
In Belfast, such patterns immediately raise the suspicion that the ranks have been penetrated by MI5 and Special Branch, using either electronic surveillance or agents planted within the groups. Belfast newspapers often report complaints from individuals who claim that they have been approached to act as informants.
Among those charged in recent months are three of the best-known republican activists in Northern Ireland. Chief among them is Colin Duffy, regarded as probably the most dangerous republican of them all, who over decades was charged but not convicted of a series of murders of security force personnel. In 2012, he was acquitted of the murders of two British soldiers at Massereene army base in County Antrim. He is now charged with IRA membership and plotting to kill members of the security forces.
While some individuals have been implacably militant republicans for years, showing no signs of deviating from hardline attitudes, others have been voicing some intriguing new opinions. One long-time republican, Gerard Hodgins, said recently that he believed some of the armed groups had been infiltrated by the security forces. "They are all stuck in small factions," he says. "None of the dissidents are espousing a radical political programme – it's all just 'Brits Out'."
Another figure with impeccable republican credentials, Dominic McGlinchey, said there needed to be a conversation about the future of the republican movement. "What is very clear is that the appetite is not there for a full-blown campaign," says McGlinchey, whose mother and father, both activists, were shot dead during the Troubles. "It's not that you are asking republicans to give something up," he adds. "It's a matter of being pragmatic and astute."
No one is forecasting that the dissidents are anywhere close to abandoning violence and no one is dropping their guard. But such comments are the first time that anyone in the dissident world has publicly wondered whether the campaign of violence is going nowhere.
Register for free to continue reading
Registration is a free and easy way to support our truly independent journalism
By registering, you will also enjoy limited access to Premium articles, exclusive newsletters, commenting, and virtual events with our leading journalists
Already have an account? sign in
Register for free to continue reading
Registration is a free and easy way to support our truly independent journalism
By registering, you will also enjoy limited access to Premium articles, exclusive newsletters, commenting, and virtual events with our leading journalists
Already have an account? sign in
Join our new commenting forum
Join thought-provoking conversations, follow other Independent readers and see their replies