Not very Christian: Rural communities in uproar as 250 Anglican churches use ancient rules that could leave them facing bills for thousands in repairs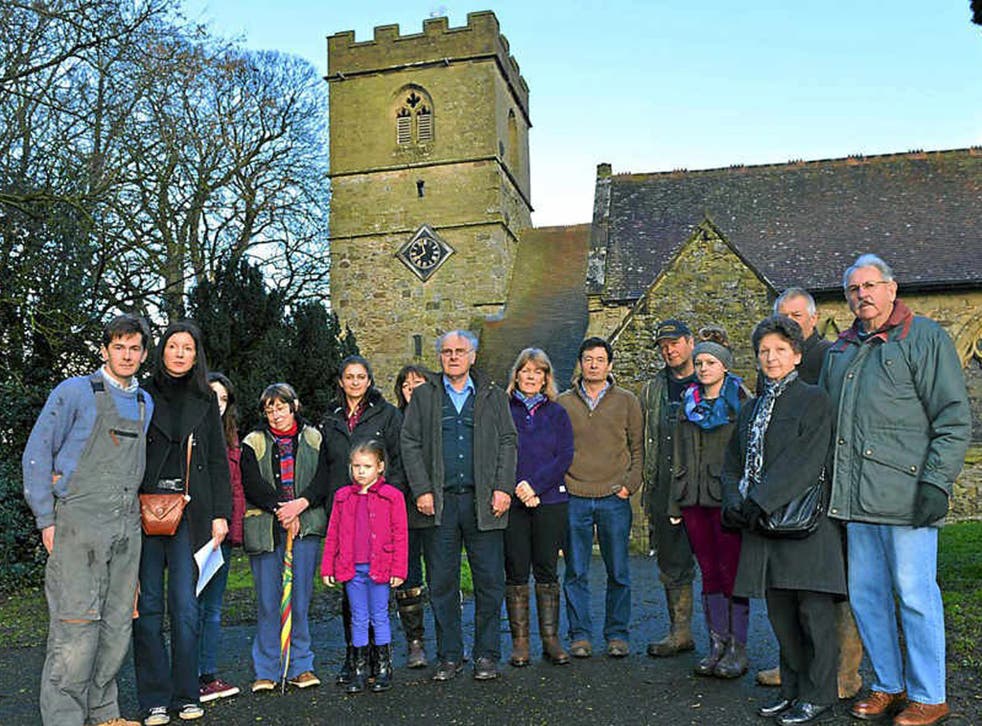 The Church of England has been denounced as "evil" and "unholy" as parishes around the country enforce an archaic law dating to Henry VIII's reign telling unwitting residents they could face bills exceeding £100,000 for building repairs.
At least 250 Parochial Church Councils, who administer Anglican parishes, have registered Chancel Repair Liability (CRL) against 12,000 properties where ancient deeds permit this. Under the medieval law affected landowners, whether or not they are Anglicans let alone Christians, can be liable for repair of their local Anglican church if built before 1536 even though this was not shown in their deeds when they purchased the property.
The potential bills, and crippling legal fees if they decide to fight, has left families struggling to deal with the anxiety and is tearing parishes apart. The list, seen by The Independent, includes PCCs spread over practically every diocese, with the greatest number of parishes affected in Ely and Lincoln.
The greatest number of registrations are in Lytham St Annes, Lancashire, and Gorleston, Norfolk. In others only far fewer properties have been registered – sometimes only one – potentially exposing the owners to far greater liabilities. A further 5,000 parishes have not registered CRL but theoretically could still do so.
Since October last year, those buying property on affected land are only liable for CRL if it is registered on the Land Registry's database. For those affected the value of their home is likely damaged and may be unsellable. The only way to escape the liability is to get the registration lifted, which few have achieved, or buy out the liability from the diocese.
In some cases, couples living miles away from a church they have never attended have received the letters from the Land Registry informing them of the change to their deeds. The Independent has also been told some PCCs, which are charitable trusts, are trying to get people to enter into gagging agreements and not discuss the issue in public.
Helen Bailey is one of five homeowners affected in Edingale, near Tamworth, Staffordshire. Having never heard of CRL she has spent months researching and campaigning for Holy Trinity Church in the Diocese of Lichfield to change its mind and deregister the land against liability. The PCC has refused to do so. Ms Bailey is scathing about how both the PCC and the dioceses have handled the issue.
"The diocese has abdicated all responsibility for this," she said. "It has hidden behind a 'divide and rule' strategy of insisting it is a PCC responsibility. Other tactics have been to say we can insure against it, which does not bear scrutiny once the charge is registered, and to somehow blame us and say we knew or should have known about the risk. The PCCs blame the Government. It's all pretty pathetic. The whole thing is profoundly unchristian and an unholy mess."
Ms Bailey, a humanist and secularist who works in the voluntary sector, will be meeting the PCC with other affected residents next week to see if an agreement can be reached.
A spokesman for the Diocese of Lichfield said: "In Edingale there is a huge ongoing effort by the church to reach out and find a common solution, the next step being an open meeting on Tuesday. We are all upset by the stress and anxiety this legal requirement is causing affected local churches and communities."
Other PCCs are offering people the chance to buy out the liability – for a five-figure sum. One affected parishioner who does not want to be named was given two weeks to decide if he wanted to pay £24,000 to his local church to buy out the liability. He has also seen his parents hit with 50 per cent liability causing huge distress for all the family.
Andrew and Gail Wallbank became responsible for maintaining 13th century St John the Baptist Church in Aston Cantlow, Stratford, when they inherited a farm. After centuries of not being enforced the local PCC invoked the liability in 1990 demanding £100,000. Their 18-year legal battle ended in 2009 with the Law Lords ruling in the PCC's favour landing the Wallbanks with an overall bill of £350,000. They auctioned the farm to pay for their costs.
Although no bills have been sent out since the deadline last year, the 12,000 Land Registry letters have left people terrified they will find themselves in a similar situation: pay up or pay even more to fight the Church.
Malcolm Holmes is one of 25 residents around St Mary's Church in Stottesdon, south Shropshire, in the Diocese of Hereford, affected. The group got together and mounted a vociferous local campaign which eventually saw the PCC back down. However, like any of the 250 PCCs in question, there is nothing to stop the liability being reregistered.
Mr Holmes said: "At least our property is saleable now, but the liability still remains until sold. This has caused tension in our parish. My family will never forgive the Church of England unless they abolish this evil and unfair liability. Others feel the same.
"We have been told that in some parishes home owners have received 100 per cent liability. This is sickening, they must be suicidal. Ours is a percentage liability, but could amount to a bill of thousands depending on the total cost of repair."
A spokeswoman for the Diocese of Hereford said CRL was an "anachronism" and blamed politicians. She said: "Parliament voted for this mess we are in, not the Church of England. St Mary's PCC has voted to deregister and written to the Charity Commission to ask they can do this."
A spokeswoman for the Charity Commission said it is up to PCC Trustees whether to register and enforce CRL "acting with the benefit of professional advice where appropriate". She said: "PCCs are able to take this decision without the involvement of the Charity Commission."
Tim Acheson, a staunch Catholic from Braughing, Herts, believes he is the first person to successfully force the PCC at St Mary the Virgin Church to change its mind after being told he was liable for 100 per cent of chancel repairs.
He said: "No parish church needed to do this. It was totally avoidable in almost every case. The Charities Commission made this clear and even set out a clear process for parish churches choosing not to register CRL. Members of church councils are persecuting their own neighbours unnecessarily."
Keith Porteous Wood, Executive Director of the National Secular Society, which is also calling on Justice Secretary Chris Grayling to abolish CRL, accused the Church of England of being obstructive.
He said: "The Law Commission and Law Society have recommended abolition of CRL and the Church's synod even agreed to it before the Wallbank case. But it is now holding out for compensation from the Government, which will not be forthcoming. We are campaigning at top levels in the Government, Parliament and Church for abolition. Until abolition, the Church could and should do far more to help those whose houses CRL blights by facilitating inexpensive buyouts of CRL rather than – as in most dioceses - obstructing it at every step taking no steps to minimise the professional fees."
A spokeswoman for the Church of England said the issue was a matter for "individual PCCs".
A Ministry of Justice spokesman said: "This Government has solved the longstanding problem that chancel repair liability could be hard or difficult to discover. Buyers can now be certain whether a property may be subject to the liability before they buy, helping them to make informed decisions. We have no plans to change the current law but keep the situation under review."
Fightback in Stottesdon
Elaine Hession and her partner Jonathan Hill, 41, successfully led the campaign at St Mary's Church in Stottesdon to have chancel repair liability deregistered for all the 25 homeowners affected. The couple have now launched a Facebook campaign to help residents facing the same situation across England and Wales.
Ms Hession, 38, received a liability letter, despite living two-and-a-half miles away from St Mary's Church, stating they were liable for 2.24 per cent of any repair bill – which could still amount to thousands pounds given the expense involved. Another church closer to where they live is not claiming the liability benefit. However, despite the Parochial Church Council's U-turn Ms Hession could still be liable for repairs as the law has not changed.
Ms Hession said: "When St Mary's Church changed its decision to enforce CRL I asked for something to be put in writing but they have refused point blank and the liability is still registered on my property deeds meaning my daughter will inherit the problem. Only if I decide to sell the house will the new owner be exempt, but we don't want to move.
"The Diocese has behaved unbelievably and acted more like a corporation than a Christian organisation."
Another CRL victim wrote on the Facebook page: "My husband sits up all night, and just this morning he's sat there with his head in his hands sobbing. That has started the children off (15 and 17 years old) and I think he's going to lose the plot altogether."
Local MP Philip Dunne branded the original decision a "perverse way" to get people to pay repair costs. He said: "I appreciate that church buildings require upkeep and this is a considerable drain on resources of churches, in particular the Church of England in Shropshire, but relying on ancient tithes little understood… seems a perverse way to seek to encourage local communities to help raise running and repair costs."