Notting Hill Carnival: Man filmed tripping up policeman during west London event
Video viewed thousands of times
Samuel Osborne
Wednesday 30 August 2017 12:34 Comments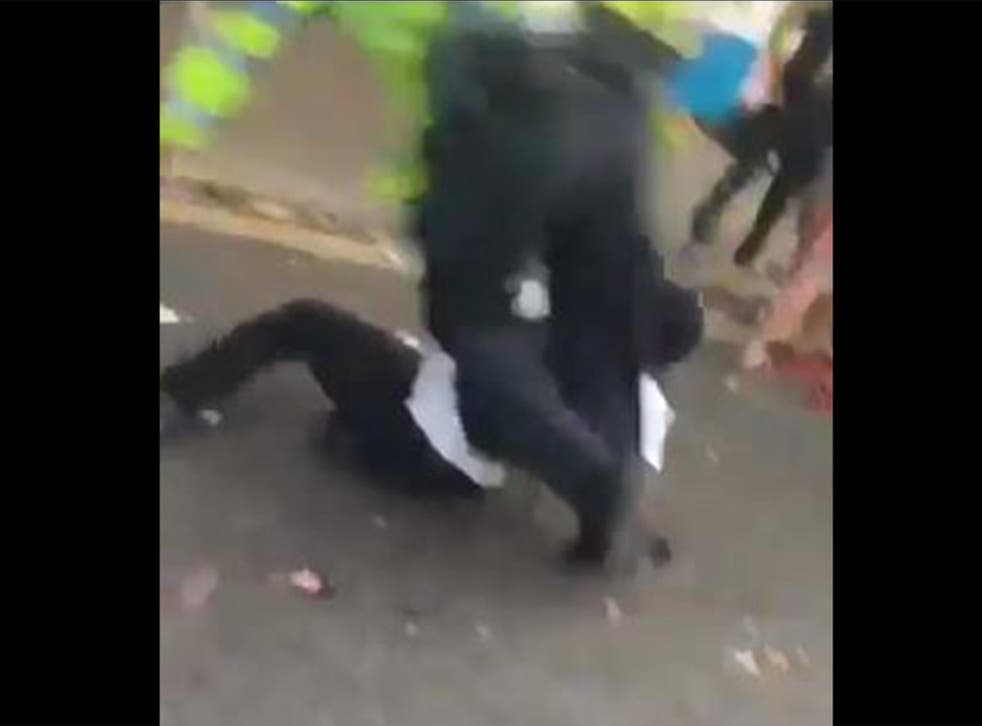 A man has been filmed tripping up a police officer at the Notting Hill Carnival, in a video viewed thousands of times on Twitter.
Mobile phone footage shows an officer in a hi-vis jacket running purposefully along a west London road strewn with litter.
The camera pans around to show the man the officer appears to be running towards suddenly lie on the ground just as he reaches him.
The move causes the officer to tumble over him.
The man, who was wearing black gloves, a white T-shirt, black trousers and a black backpack, then runs away, slipping his backpack off his shoulders as he is pursued by another officer.
The 10-second film is captioned "He came in for the tackle and manoeuvred great gameplay lmao #NottingHill" and has been retweeted more than 17,000 times.
The date and location of the video could not be verified.
While Scotland Yard said they could not comment on the specific incident, assistant commissioner Martin Hewitt had said: "I do not believe that when policing an event of celebration for London it is acceptable that 31 of my officers were injured.
"Whilst this is fewer than last year, it is still too many - it should not be any of our expectations that this violence against police officers takes place."
UK news in pictures

Show all 50
The chair of the Metropolitan Police Federation suggested the carnival should be banned after the "disgrace" of police officers being attacked.
Ken Marsh, who leads the rank-and-file group, asked: "What other event would be allowed to carry on regardless with so many police colleagues under attack?"
He said he suspected the true figure of officers injured on duty during the two-day carnival would end up being more than 28 - the number released by the Metropolitan Police on Monday night.
Notting Hill Carnival: Tightened security and the Grenfell effect
Mr Marsh added: "It is a disgrace. Twenty-eight brave colleagues went to work this weekend and were attacked for just doing their job. This is not normal. This is not acceptable.
"There are now so many officers being injured every year at the carnival - with more than 40 last year and let's not forget that an officer was stabbed in 2015.
"What other event would be allowed to carry on regardless with so many police colleagues under attack?"
Register for free to continue reading
Registration is a free and easy way to support our truly independent journalism
By registering, you will also enjoy limited access to Premium articles, exclusive newsletters, commenting, and virtual events with our leading journalists
Already have an account? sign in
Join our new commenting forum
Join thought-provoking conversations, follow other Independent readers and see their replies