Number of UK prison officers resigning soars amid increasing levels of violence and self-harm
Exclusive: Ministers accused of driving 'crisis' in prisons as figures reveal one in 16 officers left post last year compared with just one in 100 in eight years ago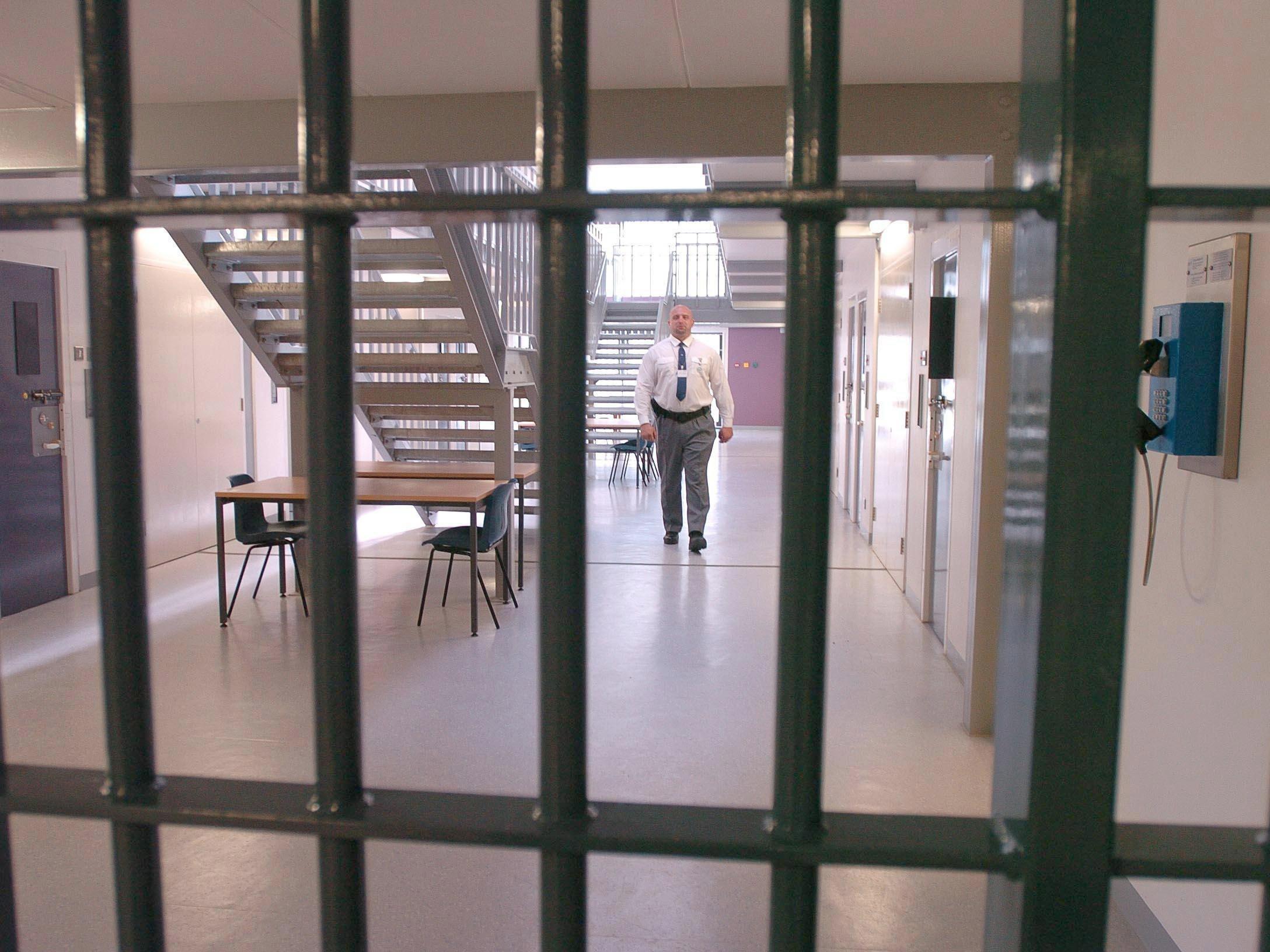 The number of prison officers resigning from their jobs has more than doubled in the last two years amid soaring levels of violence and self-harm in UK jails, The Independent can reveal.
Ministers have been accused of driving a crisis in prisons after an analysis of official figures revealed the number of officers leaving the role surged from 596 in 2015/16 to 1,244 in the 12 months to March 2018 – an increase of 109 per cent.
One in 16 officers resigned last year, compared with one in 33 officers two years before and just one in 100 in 2009/10.
It comes after self-harm and violent attacks hit record levels in prisons across England and Wales this year, prompting campaigners to warn of a "system in crisis". More than 11,600 prisoners harmed themselves in 2017 – a record high – and the number of separate incidents rose by 11 per cent to 44,600.
Despite a major drive by the government to recruit more officers, which has seen an overall increase of 14 per cent in staffing numbers in the past year, the surge in resignations has prompted concern around the lack of experience in the sector.
Politicians accused the government of creating a "dangerous cocktail of inexperienced officers and experienced prisoners" by previously cutting overall numbers by 7,000 since 2010.
An analysis by Labour in April showed that despite the government's so-called prison officer recruitment drive, the service lost over 6,000 years of prison officer experience in the last year alone. While one in eight prison officers had less than three years' experience in 2010, it has soared to one in three in 2018.
Former prison officers blamed the rise in resignations on increasingly dangerous conditions in jails and rising exposure to self-harm coupled with a lack of support from management, which had led many officers into a "downward spiral" of ill mental health.
Joe Simpson, deputy general secretary for the Prison Officers Association (POA), told The Independent it was "no surprise" more officers were resigning.
"There is more and more violence and more psychoactive substances. There are murders. It's an absolute disgrace. Officers are having to cut people down who have decided to take their own lives; they're having to deal with prisoners who are often extremely violent and extremely strong," he said.
"They leave because they get no support from senior management. There's no assistance for them when they do get mentally ill. Line managers aren't trained to notice the signs of mental ill health in their staff. Officers end up falling into a downward spiral."
Mr Simpson said the increase was also the result of low pay and a poor remuneration package for prison officers, saying they were not considered as "professionals".
"The government haven't kept up with the comparable wage outside because they don't treat us as professionals. Our members are professional people doing a professional job on behalf of the public, but that's not recognised by the government," he said.
"The remuneration package for our members is nothing short of a disgrace, so people look at it and say this job is just not worth my mental health and leave. Some people leave the job and go into other jobs on less money in order to get out."
Shadow justice minister Richard Burgon said Conservative cuts to prison budgets and officer numbers had driven a "crisis" in prisons.
"The government needs to take urgent action to end the exodus of experienced officers which is creating a dangerous cocktail of inexperienced officers and experienced prisoners," he added.
"It should start by addressing prison officer pay. The government's real term pay cut will only make prison officer retention more difficult."
Liz Saville Roberts, Plaid Cymru's justice spokesperson, echoed his concerns, saying: "It is highly unsurprising that we have seen prison officers resigning at such a high rate since 2010 – the same period by which successive Conservative Governments have been destroying the prison system piece by piece.
"Violence in prisons has skyrocketed, with over 8,000 assaults on staff last year alone, and now prison officers are forced to work for eight years longer than police officers, despite having to keep under control the most violence and dangerous people every day.
"Cripplingly low wages, cruelly high retirement age and the Ministry of Justice's complete indifference to safety are all to blame for the prison service losing valuable, experienced staff."
A Prisons Service spokesperson told The Independent: "Over the last 18 months we have recruited more than 3,000 additional prison officers to help turn offenders' lives around.
"We are giving prison officers tools like body worn cameras to help improve safety, and are working closely with governors to improve staff retention based on the needs of each individual prison."
Join our commenting forum
Join thought-provoking conversations, follow other Independent readers and see their replies