Nurse denied marathon record because she did not wear skirt has decision overturned
Awarding body admits initial ruling was 'outdated, incorrect and reflected a stereotype we do not in any way wish to perpetuate'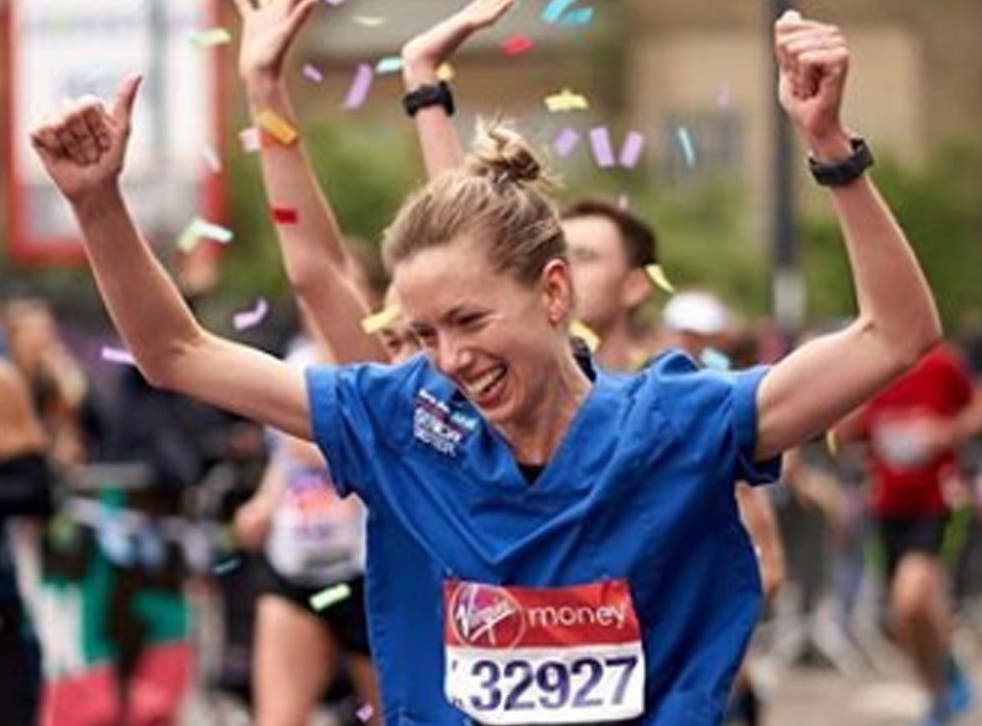 A nurse who was denied a world record because she ran the London Marathon in trousers instead of a skirt has seen the decision overturned.
Jessica Anderson, a NHS nurse on the Acute Admissions Unit at the Royal London Hospital for nearly seven years, crossed the line in just 3h 8m 22s, wearing the medical scrubs she used for work.
She beat the time set by Sarah Dudgeon in 2015 by 32 seconds.
Ms Anderson was however, denied the title because Guinness World Records (GWR) rules stated that a nurse's uniform must include a white or blue dress, a pinafore apron and a traditional nurse's cap.
She was told scrubs could be confused with the fancy-dress requirements for a doctor's uniform.
The decision was heavily criticised, not least by Ms Anderson's fellow nurses, many of whom tweeted pictures of themselves wearing scrubs similar to those she had used for the race. They used the hashtag #WhatNursesWear.
The best fancy dress costumes from the London Marathon 2019

Show all 14
GWR have now overturned what they admitted was an "outdated" decision.
Offering an unreserved apology to Ms Anderson, the firm's senior vice president Samantha Fay said: "Over the weekend it has become quite clear to Guinness World Records that our guidelines for the fastest marathon wearing a nurse's uniform were outdated, incorrect and reflected a stereotype we do not in any way wish to perpetuate,".
"I want to take this opportunity to reassure everybody concerned that Guinness World Records is absolutely committed to ensuring we uphold the highest standards of equality and inclusiveness... From now on the GWR guidelines will "reflect the clothes worn by nurses in the UK and around the world," she added.
Ms Anderson, who has said she wore trousers because she wanted to run faster, told Runner's World she was "quite taken aback" when her record application was rejected.
"Some of the nurses I work with do wear dresses, but mostly we wear scrubs or a tunic and trousers," she said.
In addition to being awarded her rightful record, the GWR guidelines will now be reviewed.
Join our new commenting forum
Join thought-provoking conversations, follow other Independent readers and see their replies