Olympics Games Lanes cause rush-hour traffic jams in London
Peter Woodman
Wednesday 25 July 2012 12:31 Comments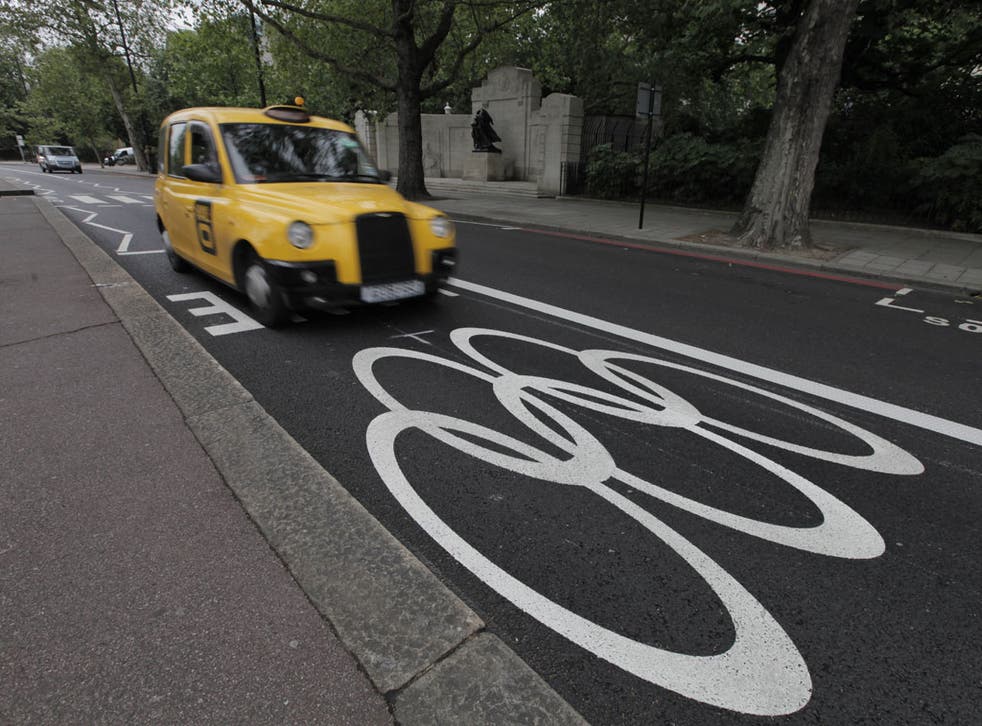 The first day of Olympics-only traffic Games Lanes caused congestion for rush-hour drivers today.
There were jams on a number of roads including the A4 and A40 in west London, Hyde Park Corner and Euston Road.
A total of 30 miles of Games Lanes have been introduced as part of the 109-mile Olympic Route Network (ORN) around London.
The lanes, in operation from 6am to midnight throughout the Olympics, run alongside existing lanes and are clearly marked.
Any "ordinary" motorist going into the Games Lanes faces fines of £130, while release fees for impounded vehicles could be £200.
The lanes are being used by authorised "Olympic Family" vehicles. These include vehicles used by athletes, Olympic officials and VIPs, with 1,300 vehicles an hour expected to use them.
Despite repeated warnings to motorists to avoid central London, there were queues around the lanes today.
There was congestion on the M4 in west London, while on the nearby A4 there were jams in Chiswick.
There were also hold-ups for motorists on the A12 at the Lea Interchange in east London and at the A13 Canning Town Flyover.
The A40 around Ealing and at Westway in west London was also congested, while Grosvenor Place in Victoria in central London and the Hyde Park Corner Junction were also busy.
Other areas of London where there were rush-hour jams included Tower Bridge and Baker Street.
Kevin Delaney, former head of traffic at the Metropolitan Police and now head of road safety at the Institute of Advanced Motorists, said: "London's roads are at capacity or close to it throughout the day. If you reduce the capacity for ordinary traffic on the Games routes up to 50%, then you have to reduce the amount of cars by the same amount.
"Many drivers will switch to public transport, which will also be used by many thousands of spectators, so the potential is there for even a small incident to bring London to a standstill. We urge drivers to heed the 'get ahead of the Games' advice to avoid driving on these routes during the Olympics."
In recent days, teams of engineers have been working to put up signs and change some road layouts in preparation for the implementation of the ORN and the lanes.
During the period the lanes are operational, some turns have been banned, some bus lanes suspended, some bus and coach stops adjusted and some pedestrian crossings will not be operational.
In addition to central London, there are road restrictions around the sailing venues at Weymouth and Portland in Dorset, around the rowing at Eton Dorney in Berkshire and the mountain biking venue at Hadleigh Farm in Essex.
Some roads will be closed for the men's and women's marathons and the cycling events.
Games Lanes are generally the outside (offside) lane. Cyclists are able to use kerbside Games Lanes but not the offside ones, while motorcyclists can use some of the nearside lanes.
Taxis and private hire vehicles are not able to use the lanes, nor will buses be allowed in most lanes. The lanes will also be out of bounds to disabled drivers who are blue badge holders.
Taxi drivers took to Tower Bridge on Monday to protest against their exclusion from the lanes and more protests are planned across London today.
Transport for London (TfL) is urging drivers to avoid London until the end of the Games.
Those using public transport are being told to expect stations close to the Olympic Torch route to be very busy. The torch is passing through every London borough and those wishing to see it are being asked to view it as close to possible to home or work.
London mayor Boris Johnson said: "With just days until the opening ceremony, London is more prepared for the Games than any other Olympic city has ever been. The ORN is a requirement of all host cities, ensuring athletes and officials get to their events on time.
"We've already slashed its length by one third compared to what was originally planned and we are introducing these changes to the road network as late as possible, to minimise the impact on Londoners and businesses.
"We will also operate the Games Lanes flexibly so that if demand from the official Olympic vehicles is low, we will open up the Games Lanes to all traffic."
PA
Register for free to continue reading
Registration is a free and easy way to support our truly independent journalism
By registering, you will also enjoy limited access to Premium articles, exclusive newsletters, commenting, and virtual events with our leading journalists
Already have an account? sign in
Join our new commenting forum
Join thought-provoking conversations, follow other Independent readers and see their replies