London terror hero Geoff Ho describes moment 'bastard in the Arsenal shirt' attacked him
'I think I got a hit in on one of them, but either he or his accomplice got me with a shot to the throat'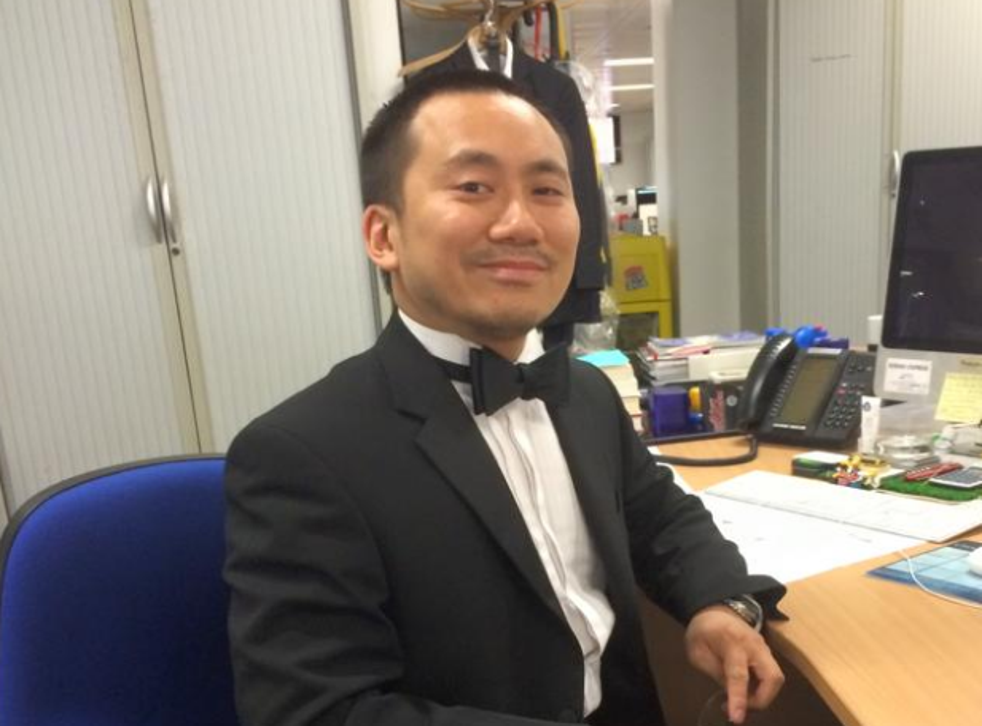 A journalist badly injured in the London Bridge attack has told how he was stabbed in the neck after standing his ground to protect a friend from the knife-wielding terrorists.
Sunday Express business editor Geoff Ho was left in intensive care after deciding to "face the attackers down" when they burst into the Black & Blue restaurant at Borough Market.
In a vivid account released on Tuesday, he told how he stood up to Khuram Shazad Butt, Youssef Zaghba and Rachid Redouane, minutes after helping a lone bouncer fight off two men in a separate incident outside the Southwark Tavern, having just left the nearby Wheatsheaf pub.
Mr Ho said: "I went the five doors down the street to Black & Blue. Within two minutes of my leaving the Southwark Tavern and posting 'not on my watch' on Facebook, the terrorist attackers arrived at the restaurant.
"Most of my friends and the staff hid under tables but one of my friends was frozen behind me. I knew I had to face the attackers down, they were armed and I had the best chance of delaying them until the police arrived or they'd get everyone.
"I had to shield my friends and the people there. Then I noticed they had what looked like suicide vests on. I tried to slow them, they attacked. It happened so quickly.
"The bastard in the Arsenal shirt came at me first. I think I got a hit in on one of them, but either he or his accomplice got me with a shot to the throat.
"They got my friend who was behind me with a minor stab wound in the face and hands and ran off. I picked up my friend and bundled him into the storeroom.
"I called the police and within moments they arrived. I gave the police descriptions of the three and we were evacuated."
Mr Ho said he had been told by doctors that he would make a full recovery from his injuries, adding: "Also, I want to make it clear that many of my friends are Muslim.
London Bridge Terror Attack

Show all 16
"The people who attacked me were not representative of Islam. I stand in solidarity with my Muslim brothers and sisters."
He urged people to donate to a fund for the British Red Cross and London Air Ambulance at https://http://www.gofundme.com/geoff-ho-hero-fundraiser/
Press Association
Join our new commenting forum
Join thought-provoking conversations, follow other Independent readers and see their replies