One in four British Muslims 'have some sympathy for motives behind Charlie Hebdo attacks'
BBC poll of 1,000 Muslims also found prejudice against Islam made life in Britain difficult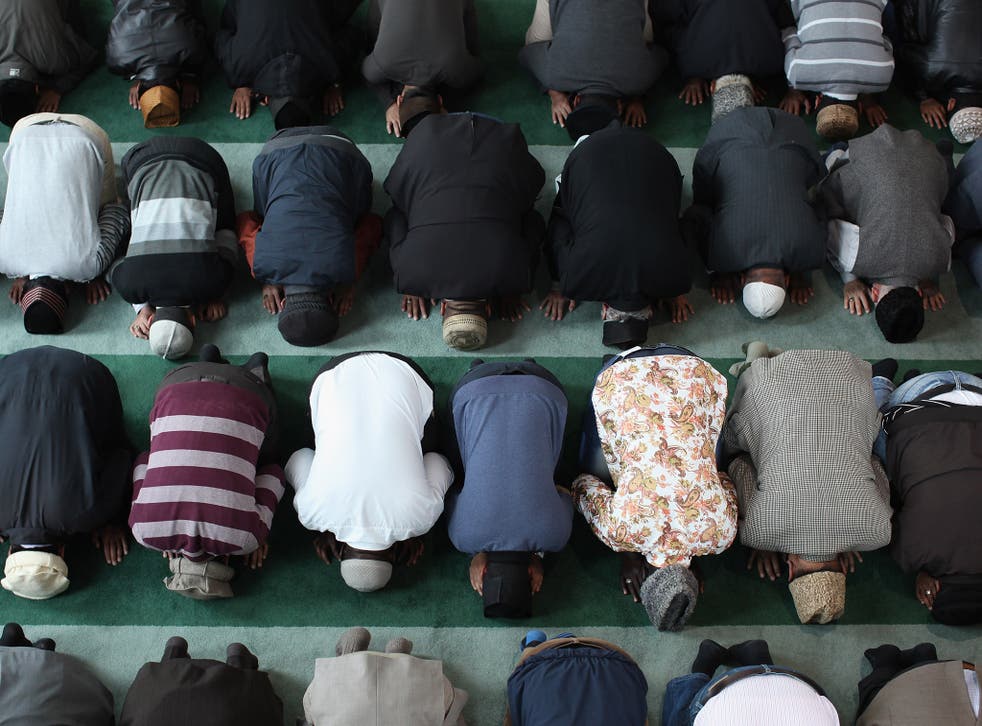 Over a quarter of British Muslims have some sympathy for the motives behind the Charlie Hebdo massacre and almost half say they face discrimination because of their faith, a new poll suggests.
A ComRes poll for the BBC carried out between 26 January and 20 February asked 1,000 British Muslims questions about living in the UK after a spate of attacks in Europe.
Four-fifths (78 per cent) of respondents found it 'deeply offensive' when the Prophet Mohamed was depicted in images, while almost one third (32 per cent) of British Muslims were not surprised by January's attacks on the Charlie Hebdo magazine offices, where 12 people were killed. Another gunman linked to the men went on to kill a policewoman and four people at a kosher supermarket in Paris.
However, more than two-thirds of those polled said violence against the cartoonists and publishers behind the cartoons is unjustifiable. Almost all (95 per cent) described feeling loyal to Britain and believed they should obey British laws (93 per cent).
Ninety-four per cent said they would report someone they knew for planning an act of violence.
The Charlie Hebdo shooting was denounced by Muslims across the world, with the Muslim Council of Britain condemning the murders as "a greater insult to Islam" and urging people to come together "to seek unity and defy the terrorists whose only aim is to divide us".
In pictures: Reaction to Charlie Hebdo attack

Show all 39
Almost half of those surveyed (46 per cent) said prejudice against Islam made being a Muslim in Britain difficult as the country becomes less tolerant.
In January, it emerged that Muslim pupils were suffering a backlash of abuse in schools in the wake of the killings in Paris. Twenty-six mosques in France were fire bombed or targeted as the rate of anti-Muslim attacks increased.
Mosques in London were also sent death threats, hate mail and drawings of the Prophet Mohamed in the wake of the Paris attacks.
Vandals in the UK recently sprayed Islamophobic and anti-Semitic graffiti including "Islam must die" and large swastikas on the walls of a university campus and mosque in Birmingham.
Thirty-five per cent believed people in the UK were distrusting of Muslims, while the vast majority (85 per cent) of British Muslims feel no sympathy for those who want to fight against Western interests.
The majority (four-fifths) reported believing Western liberal society can be compatible with Islam.
A student at Bradford College told the BBC that Muslims are dehumanised and alienated in press and in politics. "It is up to the rest of British society to stop looking at us as some kind of threat, to accept us," she said.
"To not always ask us how British we feel, that's as stupid as asking 'how do you feel about your red hair today?'.
"To ask this whilst alienating us, spying on us, making us feel like we don't fit in."
Another student argued that integration is the responsibility of both Muslims and non-Muslims living in the UK. "There is no Islamic regulation or law that prevents integration," he said. "Everyone should be treated as equal: Muslim, white, black, Asian, as the Prophet himself has said."
Musmil Afik, who also studies at the college, stressed that Islam is not about violence or anger. "Islam is about peace, love and harmony," he said.
Former faith and communities minister Baroness Warsi said the level of sympathy for the motives behind the Charlie Hebdo attack was "worrying".
"What I would have liked to have done is then unpicked that further and looked at the reasoning why they came to these decisions," she was quoted by the Press Association as saying.
Register for free to continue reading
Registration is a free and easy way to support our truly independent journalism
By registering, you will also enjoy limited access to Premium articles, exclusive newsletters, commenting, and virtual events with our leading journalists
Already have an account? sign in
Register for free to continue reading
Registration is a free and easy way to support our truly independent journalism
By registering, you will also enjoy limited access to Premium articles, exclusive newsletters, commenting, and virtual events with our leading journalists
Already have an account? sign in