Food banks: One million Britons will soon be using them, according to Trussell Trust
Huge surge in number of families dependent on emergency food aid continues, despite the IMF and Germany praise for Osborne and Britain's 'jobs miracle'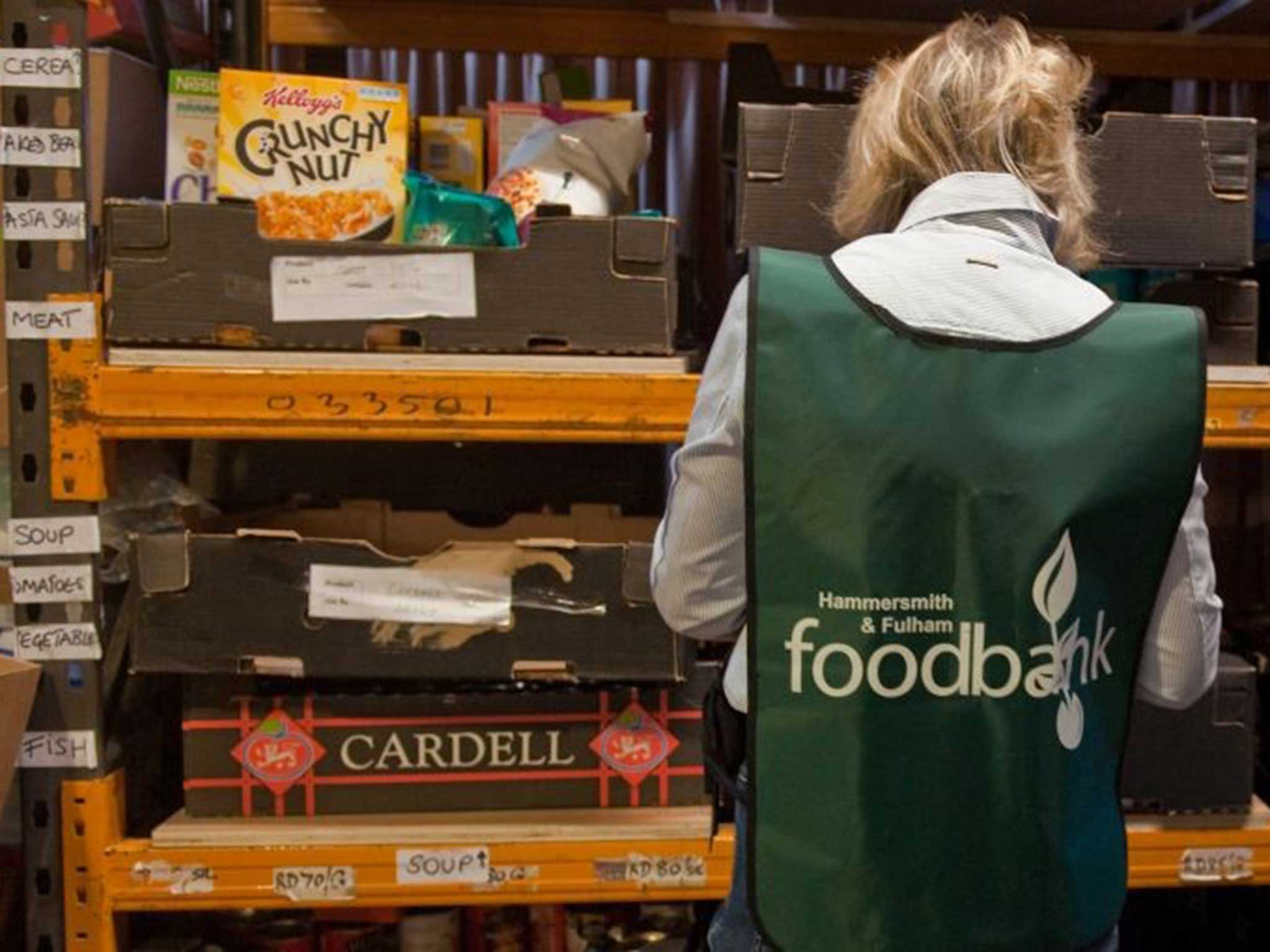 The number of people relying on food banks is expected to pass the one million mark, as Labour seizes on the figures to put poverty and living standards at the heart of its general election campaign.
Figures from the Trussell Trust, the biggest provider of emergency food aid with more than 400 food banks in the UK, will be seen as evidence that families on low incomes are not sharing in the benefits of economic recovery. The statistics could puncture the Conservatives' optimism on the economy after official figures yesterday showed there are two million more people in work than in 2010, and 557,000 more than a year ago.
Labour will target David Cameron on food poverty, accusing him of being out of touch. The Prime Minister looked uncomfortable when questioned by Jeremy Paxman on the issue last month in the first of four TV election debates.
The number of people given three days' emergency food by the Trussell Trust rose from 2,814 in the 2005-06 financial year to 61,468 in 2010-11, 346,992 in 2012-13 before jumping sharply to 913,138 in 2013-14 – including 582,933 adults and 330,205 children. Its figures for 2014-15 are due to be published on Wednesday and are expected to show a continuing rise despite the upturn in the economy.
The issue is also sensitive for the Conservatives because Trussell Trust surveys show that the most common reason for people being referred to it are delays in receiving state benefits. Changes to benefits also rank highly.
Last night Labour challenged Mr Cameron to sign up to a pledge to reduce the number who rely on food banks in the 2015-20 parliament. In a letter to the Prime Minister, Rachel Reeves, the shadow Work and Pensions Secretary, said the 618 per cent rise in the number receiving emergency food aid from the trust in the past three years was "shocking".
She said: "It's a testament to Britain's community spirit that so many volunteers are devoting their time and energy to helping others at food banks. But I'm sure that you'll agree with me that in the 21st century no one should have to rely on charity to feed their family. Food banks should never become a permanent feature of our society."
Ms Reeves told Mr Cameron: "Under your Government, too many working people are being paid so little that they can't afford to feed their families – with 1.5 million more in jobs paying less than the living wage and a huge rise in the number of people on zero-hours contracts. And too many people who should be supported by our social security system are being let down by it – with delays in benefit payments, unfair benefits sanctions and the bedroom tax pushing people to the doors of food banks."
A Conservative spokeswoman said: "We know that many families are facing tough times as a result of the great recession of recent years. When people are struggling it is right that both government and organisations in the community offer support. Unlike Labour, we have allowed Jobcentres to signpost people to food banks. We are also helping to provide emergency financial help to those in desperate need and tackling the real causes of poverty by getting people into work and tackling welfare dependency."
In pictures: Food banks
Show all 9
She added: "The best way to help people support themselves and their families is to stick to our long-term economic plan which is creating more jobs, so more people have the added security of a monthly pay packet."
Some Tories have argued that the rise is due to increased "supply" of emergency help. But the Government's critics say food banks are meeting a real and growing need, and represent the "tip of the iceberg" of a food poverty crisis.
Yesterday Labour accused Iain Duncan Smith, the Work and Pensions Secretary, of living in a "parallel universe" after he suggested that zero-hours contracts should be rebranded "flexible hours contracts" because workers welcomed the flexibility they offered. Ed Miliband said: "We don't need to rename zero-hours contracts; we need to ban exploitative zero-hours contracts, and that's what the next Labour government will do."
Mr Duncan Smith replied: "I am furious with the Labour Party. They've said, 'There's an epidemic of people', [but] just over 2 per cent of the workforce is actually in what they call zero-hours contracts."
He told BBC Radio 4's World at One programme: "These contracts are for the most part taken by people who have caring responsibilities, students, who might be able to work 20 hours one week … the next week, because you're taking somebody to hospital, you can only work 10 hours."
Mr Duncan Smith declined to rule out reductions in child benefit to help the Tories achieve their planned £12bn of welfare cuts, but insisted that there were no plans to do so.
In the TV debate, Mr Paxman wrong-footed Mr Cameron with his first question: "Do you know how many food banks there were in this country when you came to power?" The Prime Minister replied: "I don't have the exact figures but I know that usage of food banks has gone up and there are many amazing volunteers who man those food banks."
Join our commenting forum
Join thought-provoking conversations, follow other Independent readers and see their replies