One in three Black, Asian or minority ethnic people racially abused since Brexit, study reveals
It comes as a report last month revealed hate crime in the UK rose by up to 100% following the vote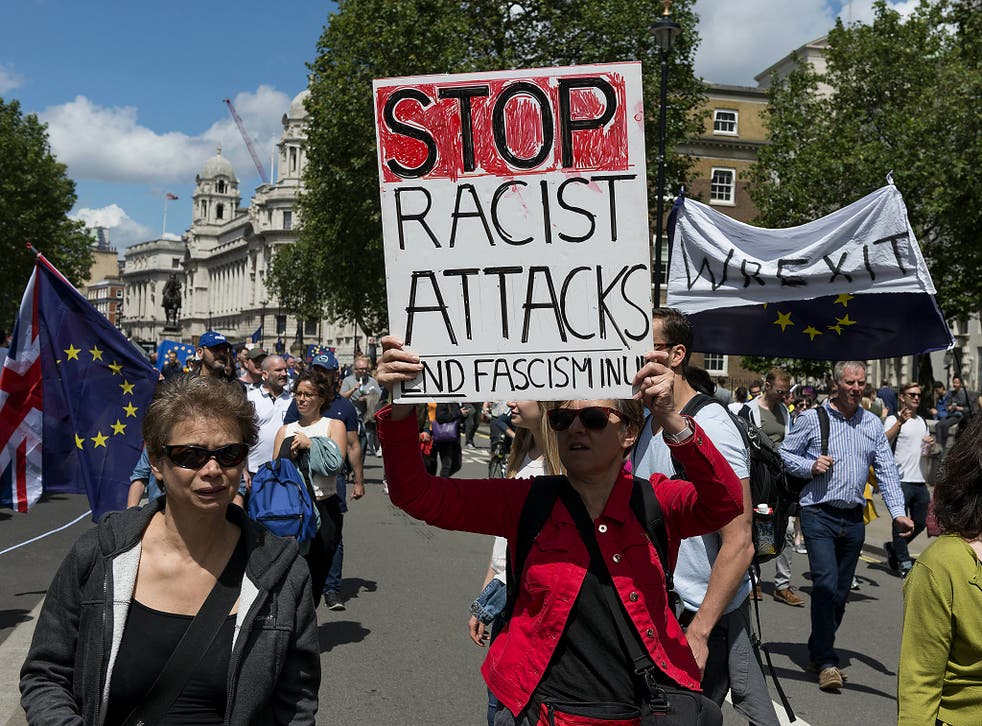 Over a third of Black, Asian and minority ethnic (Bame) people have been racially abused or have witnessed racist abuse since the Brexit vote, a report reveals.
One in five Bame people have suffered or seen a racial assault and two in five – 41 per cent – have heard racist remarks or opinions since Britain's decision to leave the EU in June 2016.
The research conducted for the Trades Union Congress (TUC) also pointed to a prevalence of racist material being shared online.
Two in five – 38 per cent – of those surveyed had seen racist material online, whereas a quarter had witnessed racist graffiti, posters or leaflets.
Carl, a musical instrument manufacturer of Chinese descent, told The Independent he has noticed an increase in casual racism in the workplace since the divisive referendum that saw hate crimes spike in its immediate aftermath.
"After the Brexit vote, a colleague was asked if he had packed his bag and when he was leaving the country," he said.
"When Eastern European workers speak their language, a comment is made to 'speak English'. Some of the jokes being made are racist like: 'There was a fire at a Tesco warehouse; two Pakistani nationals died. Well every little helps.'"
Dev, a train conductor who is British Indian, told The Independent he has been subject to a string of racist comments.
"A few months ago a man was on the wrong train and he was drunk. I had to get involved as he was smoking and refused to get off. He said to me: 'What are you doing here you are a black bastard'.
"A colleague was told by a passenger: 'Why aren't you working in a curry shop?'"
The findings echoed an alarming report published last month that found recorded hate crimes rose by up to 100 per cent in the months following the vote.
The spike in cases came after The Independent revealed police forces across the UK were ramping up intelligence gathering and putting protection in place for vulnerable communities ahead of a projected spike in hate crime when Theresa May triggers Article 50 later in the month.
TUC general secretary Frances O'Grady said Brexit had "given racism a new lease of life".
"Discrimination has never gone away, but since the referendum, racism has been on the rise," she said.
"It's unacceptable that shop workers, bus drivers and street cleaners face abuse from members of the public and their employers don't have to do anything to protect them."
The TUC poll was conducted by ICM Unlimited and surveyed 1,003 Bame adults living and working in Britain.
Join our new commenting forum
Join thought-provoking conversations, follow other Independent readers and see their replies