Over 50,000 families shipped out of London boroughs in the past three years due to welfare cuts and soaring rents
Exclusive: Councils are currently moving homeless mothers and children out of their boroughs at a rate of close to 500 families a week
Wednesday 29 April 2015 21:05 BST
Comments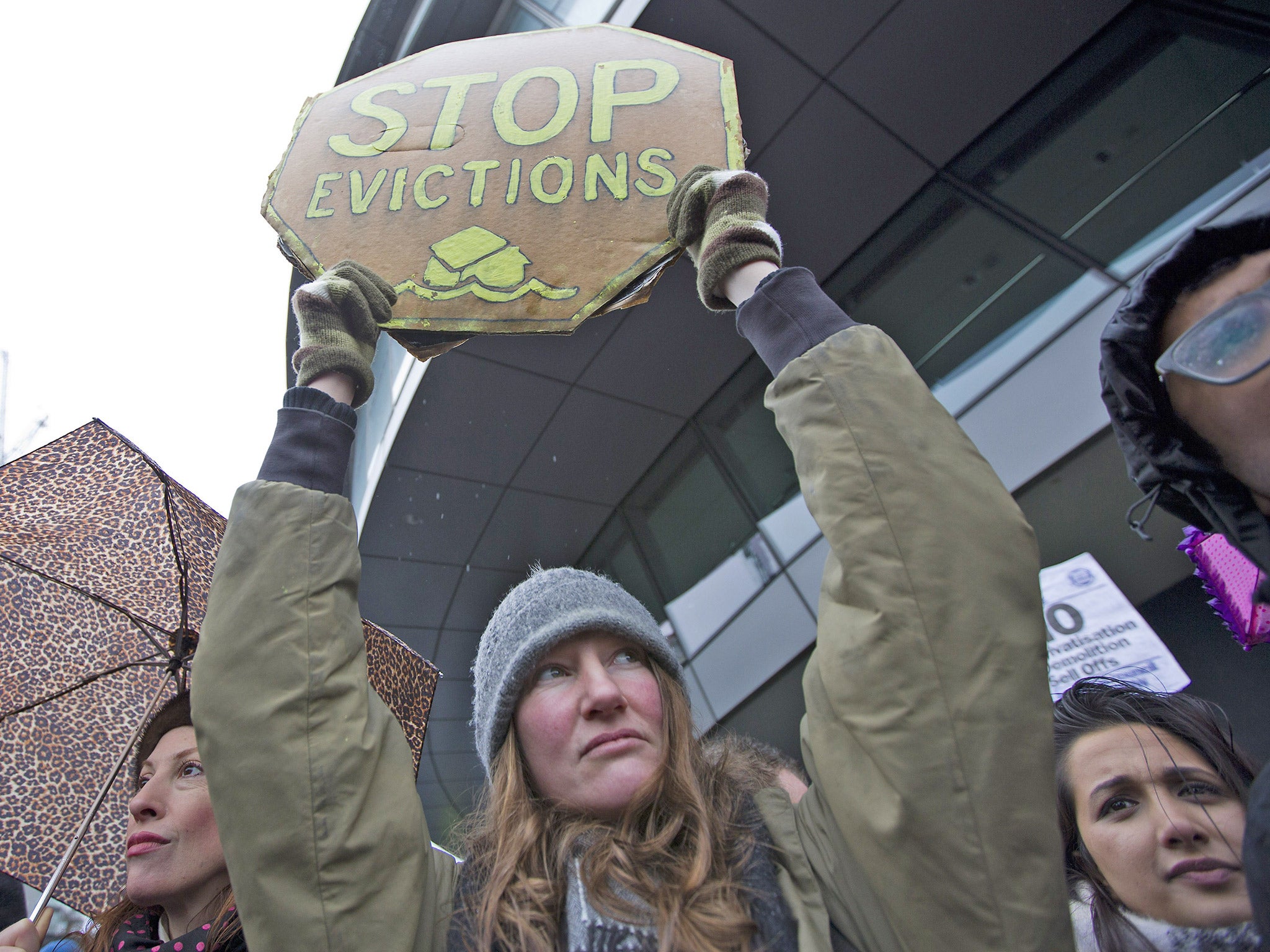 More than 50,000 families have been silently shipped out of London boroughs in the past three years, an investigation by The Independent can reveal.
Leaked documents obtained by this newspaper expose the true scale of the "social cleansing" taking place across the capital as a result of welfare cuts and soaring rents. The figures show an unprecedented number of families who cannot afford to find homes in their local area being uprooted from their neighbourhoods and dumped further and further away from the capital, cut off from their relatives and support networks.
The spike coincides with the Coalition's introduction of the benefit cap and "bedroom tax", both of which have made it significantly harder for poor people to afford housing in London. In 2010, the Mayor of London, Boris Johnson, vowed that the controversial welfare reforms would not lead to "Kosovo-style social cleansing", pledging: "You are not going to see thousands of families evicted from the place where they have been living."
But official figures – which the authorities have previously refused to publish – show the problem is much worse than campaigners feared. They show that councils are currently moving homeless mothers and children out of their boroughs at a rate of close to 500 families a week, with numbers continuing to rise.
In graphics: Homeless placements
Show all 3
The Independent has uncovered cases of depression, attempted suicide and the miscarriage of a child involving those forced to move many miles away by their councils.
Some 2,707 families have been moved out of Greater London over the last two years, the figures show, to locations including Manchester, Bradford, Hastings, Pembrokeshire, Dover and Plymouth.
In many cases, councils are not telling each other when they move families, leaving vulnerable adults and children without the support they need. At least 25 councils have received homeless families without being properly notified by the councils that sent the families. The shipping out of homeless families has, until now, been happening behind closed doors. The representative body for London's 32 boroughs, London Councils, which collects data on out-of-borough placements, has never made the figures public.
But documents obtained by The Independent reveal the flow of families from inner to outer London – and out of the capital completely.
One leaked document, circulated in March, shows that in just three months last year, a record-breaking 5,437 families were moved out of borough – the highest number on record. Councils dumped 49,789 families out of borough between July 2011 and July 2014. Moves in the last eight months are likely to have pushed the total well over 50,000. As the figures refer to families, the number of children moved is likely to be in the hundreds of thousands.
The data maps out the movement of tens of thousands of homeless families from inner London to outer London, with east London receiving the most families. Faced with an influx of so many families from other parts of London, east London boroughs have been moving their homeless to Essex, Kent and beyond.
Between July and September last year there were 423 families sent out of Greater London, including 115 families sent to Essex, 96 families sent to Kent and 24 to Birmingham.
Councils are consistently not fulfilling their legal duty to properly notify councils when they send homeless families, the investigation found. Redbridge council received 336 families from other parts of London between July and September last year, yet said it had only received eight notifications between January and October 2014.
Luton council said it received four notifications in the same period, yet the data shows that 40 families were sent there from London in the six months between April and September 2014.
London has been hit hardest by the welfare cuts imposed by the Coalition Government, and the capital has also seen the biggest increase in rents across the country. The benefit cap limits the maximum benefit available to households at £500 per week. And the bedroom tax, which cuts payments to council tenants with spare rooms, has hit nearly 50,000 households in London.
Many of those hit by the cuts have accrued rent arrears and then been evicted, leaving them homeless. These families have then been sent many miles away by their councils.
Tom Copley, Labour member of the London Assembly and deputy chair of the housing committee, warned that London was being "hollowed out". He said: "I'm appalled by these figures. This is social cleansing on an unprecedented scale. Boris Johnson pledged that we wouldn't see thousands of families uprooted on his watch. Mixed communities are part of what makes London special. We don't want to end up like Paris with all the rich people living in the centre and all the poorer people living around the edge."
Campbell Robb, chief executive of Shelter, said: "It's shocking to see in black and white the sheer volume of homeless families being uprooted and sent miles away from their local area. Imagine losing your home and then being forced to pack your bags and wave goodbye to schools, jobs, and everyone you know – this is the reality for thousands of families in London.
"It's the housing shortage that has created this crisis, and the only way to escape it for good is for the next government to build the affordable homes we so desperately need."
Javed Khan, chief executive of Barnardo's, said: "The scale of this is alarming. We are calling on the next government to ensure that the benefits system is adequate to protect vulnerable families, not punish them."
Labour's shadow housing minister, Emma Reynolds, said: "It's a tragedy that so many people are without a home or struggling to keep a roof over their head and, as if that wasn't bad enough, they are then faced with being placed miles away from home."
Responding to the figures, the Department for Work of Pensions said that few people affected by welfare reform have moved; when they have it is generally short distances. The department also said it had provided £500m to support vulnerable people through welfare reforms.
A London Councils spokesperson said: "Boroughs aim to keep households as near as possible to their home borough where reasonably practicable. However they are facing huge challenges in finding affordable temporary accommodation in the capital in the context of a very pressured property market and shortage of housing in London."
Join our commenting forum
Join thought-provoking conversations, follow other Independent readers and see their replies