New alleged child sex abuse by aid workers reported as charities vow to take action at summit
Charity Commission to pass any evidence on to National Crime Agency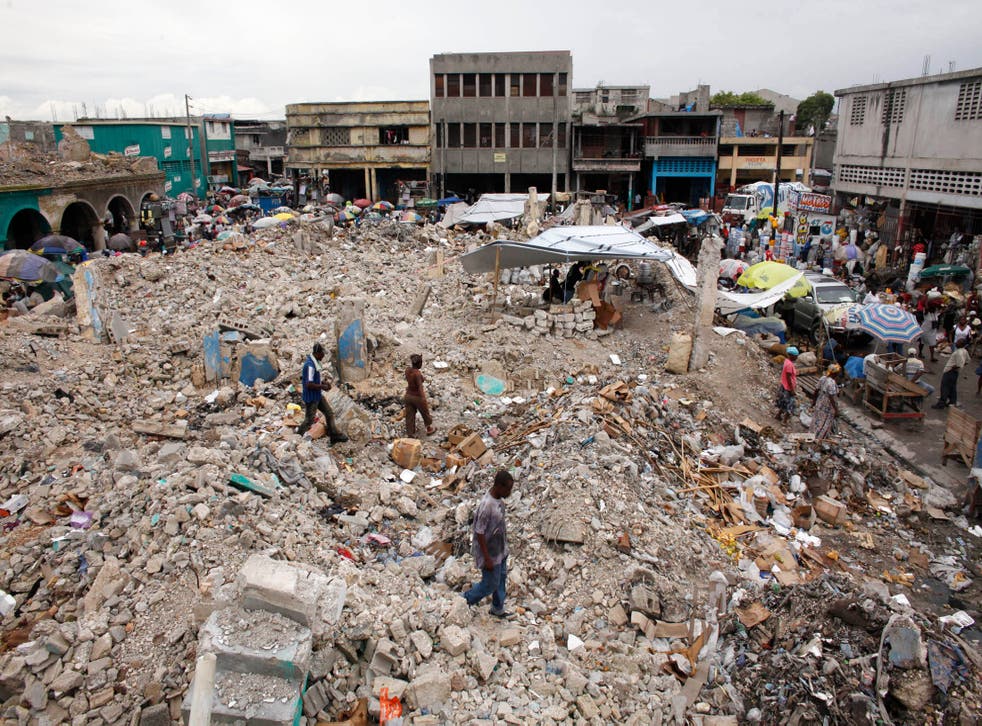 New allegations of aid workers sexually abusing children and other beneficiaries in countries hit by conflict and disaster are being assessed by a watchdog as the number of serious reports double.
The Charity Commission said it had received reports of 80 incidents involving safeguarding in the wake of the scandal over Oxfam staff using prostitutes in Haiti.
It said the unconfirmed allegations cover a wide spectrum, from risks or a lack of due process through to "actual incidents of abuse, including sexual abuse of staff, volunteers and beneficiaries, including children".
Serious incidents have been reported by 26 charities, with 19 of those relaying "historic" activity that took place before April 2017.
The Charity Commission said the number of such reports has doubled from an average of 50 to 100 a week and are being assessed by a dedicated taskforce.
Staff members have been coming forward with previously unreported allegations since the Oxfam acted as a "wake-up call" last month, causing the Government to demand assurances from 179 charities that receive British aid.
The Department of International Development (Dfid) is demanding further information from 37 organisations, which it declined to name.
At a safeguarding summit for charities and other agencies in London, aid agencies were told they must "lay the foundations to rebuild the credibility of the sector".
Penny Mordaunt, the International Development Secretary, called on workers themselves to form initiatives to ensure abuses like those seen at Oxfam could never happen again.
"Unless we do all we can to prevent wrongdoing, and unless we can hold all those who do wrong to account, we will have failed in our duty to protect the most vulnerable," she said.
"My message to those who have sought to exploit this sector and the human tragedy in which it operates, is this – we will all share information we have with law enforcement.
"We will find you. We will bring you to justice. Your time is up."
Ms Mordaunt said Dfid was forming a taskforce that could be sent to investigate alleged abuses in foreign countries, with information passed to the National Crime Agency.
But attempts at legal action could be frustrated by complex circumstances on the ground, where foreign nationals frequently work in countries where law enforcement has disintegrated, or where reports of sexual abuse could see the victims themselves arrested.
Ms Mordaunt told The Independent she was in discussions with counterparts abroad on how to extend measures being brought in by the British Government.
"This event will go onto lay the foundations for what everyone else will do too and it's only if we all do it that we're going to crack down on these individuals," she added.
Oxfam CEO Mark Goldring apologises for comments on murdering babies
"There will be issues about organisations where people are working in-country, situations like in Syria, but what we can do is ensure people who are working as professional aid workers in the sector are good people and do not have ill intent towards the individuals they are there to assist."
The minister said changes would make a "clear understanding" among aid workers that they must report abuse to law enforcement, as well as introducing enhanced vetting and a potential international register of employees.
"This is a big opportunity to rebuild trust with the British public," Ms Mordaunt said, following the cancellation of thousands of direct debit donations to Oxfam.
"Ultimately they enable everything that this sector does and we need to ensure that they have complete confidence in it."
​Dfid also reviewed allegations against its own staff, with examination of records dating back to 1995 finding 14 closed cases involving Government workers guilty of sexual misconduct.
"Most of these relate to sexual harassment," said Permanent Secretary Matthew Rycroft.
"None of these cases include proven allegations of Dfid staff paying for sex or of sexual exploitation in exchange for aid."
He told the summit that action in line with the department's contemporary policies was taken but procedures have since "tightened up", and several live cases are ongoing.
"We are determined to hold ourselves to the high standards we expect of the sector," Mr Rycroft told delegates.
"I want us to seize this moment to ensure a shift in culture across our whole sector. That is the way to ensure we bring some lasting good out of this crisis."
UK news in pictures

Show all 50
Major charities, the Charity Commission and Dfid agreed on a set of initiatives to be taken forward, including an independent body on safeguarding, new standards for vetting and referencing, ensuring whistleblowers and survivors of exploitation and abuse receive support and addressing an "organisational culture" of power imbalances and poor reporting to ensure concerns are acted on.
Dfid is implementing new standards for organisations receiving British funding, including new codes of conduct, rules and management practices.
Oxfam has already been temporarily barred from requesting further money and the department said other charities should not bid unless they are up to scratch.
Baroness Stowell, the newly appointed chairwoman of the Charity Commission, told the summit the watchdog had "intensified" its efforts to deal with safeguarding incidents.
"If we are to restore public trust, we must understand why people are angry and it's the same thing that has affected the corporate and political worlds too - important institutions acting in the interests of those in charge, rather than of the people they exist to serve," she added.
"It's bad enough when bankers disappoint. But when aid workers and charity bosses are self-interested it is incomparably worse."
Professor Andrew MacLeod, a former UN official attended the summit, said the Government was "finally taking sexual exploitation abuse seriously".
But the campaigner, who leads a charity campaigning for victims raped by UN peacekeepers, added: "Until we see prosecutions of not just individual perpetrators, but also CEOs and trustees for failing to prevent child sex offences, we will see no change."
Join our new commenting forum
Join thought-provoking conversations, follow other Independent readers and see their replies