Paddy Power World Cup rainforest stunt was faked 'to raise awareness of deforestation'
Bookmaker received a furious backlash on Twitter over 'disgraceful' stunt - but says images were elaborate computer-generated fakes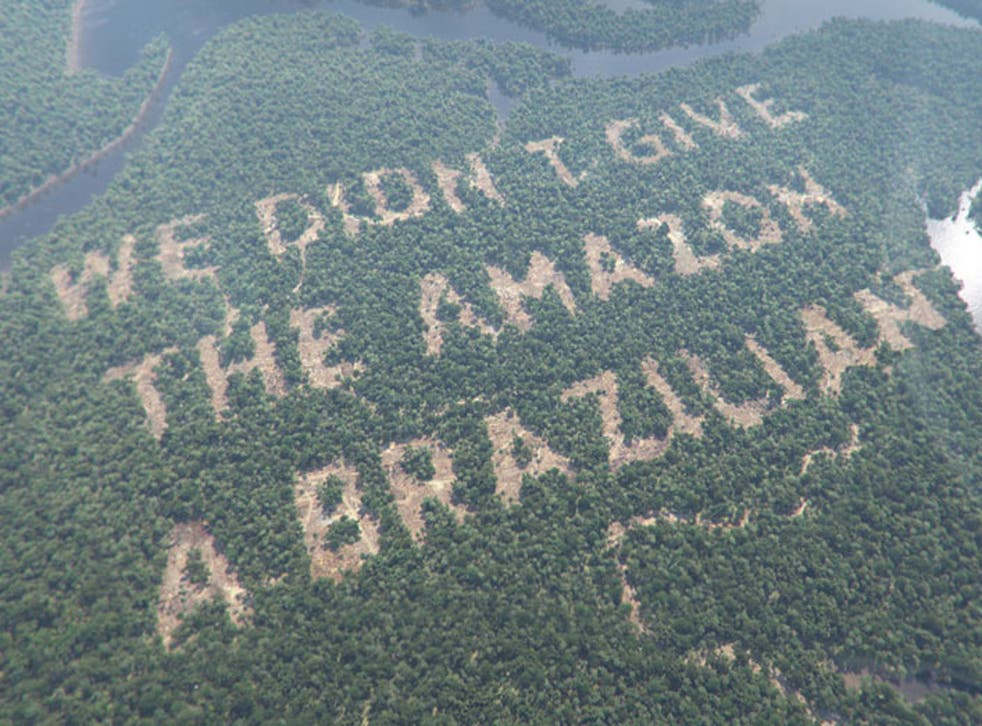 When images were leaked online that appeared to show a huge message of support for England football team carved out of the Amazon rainforest by Paddy Power, social media users understandably reacted furiously.
With less than a week to go until England's first match in the Brazil 2014 World Cup, a number of "photographs" from various angles were linked to on reddit showing the message "C'mon England PP" spelled on in cleared trees.
They were later tweeted via the official Paddy Power Twitter account, along with messages such as "Run, forest run!" and "We're showing our support for Roy's boys!!" – and met with no small amount of abuse.
Yet today the bookmaker announced that the pictures were actually faked as part of a months-long campaign, including the individual computer-generation of almost 1.5 million trees, apparently in a bid "to raise awareness of deforestation".
Paddy Power said that, according to Greenpeace, an area the size of 122 football pitches is chopped down every 90 minutes, and urged people to join the charity's movement to save rainforest wildlife.
Before the pictures were revealed to be fake, people commenting online expressed their shock and anger over "the most idiotic PR stunt ever".
Some, clearly drawn in, speculated that the area of rainforest would have been "scheduled to be cut down anyway", while others tweeted that it was "disgraceful", "idiotic" and "disrespectful".
A statement issued by the bookmaker today said: "We knew we'd drop off a fair few Christmas card lists yesterday, but we couldn't resist a bit of fake twitter mischief to highlight an important issue to football fans as our World Cup warm-up. At least it gave people something to get animated about during last night's England-Honduras bore fest."
It isn't the first time Paddy Power has provoked anger with a controversial marketing campaign.
In March it was ruled that an advert offering a "money back if he walks" deal on the Oscar Pistorius murder trial broke rules and brought the UK's advertising industry into disrepute.
The Advertising Standards Authority (ASA) said the ad had amassed 5,525 complaints – a record in Britain, and it was withdrawn after complainants said it trivialised domestic violence towards women and made fun of double amputee Pistorius' disability.
At the time company defended the reference to Pistorius' disability on the grounds that it was "subtle", and a spokesperson told the BBC: "It was one ad in one newspaper on one day. I don't think there's an apology coming - criticise us for bad taste, which is fine."
Join our new commenting forum
Join thought-provoking conversations, follow other Independent readers and see their replies