Pedestrian crossing may spell the end for Westminster peace camp
Previous attempts to evict the camp have failed because it has not been deemed to be causing an obstruction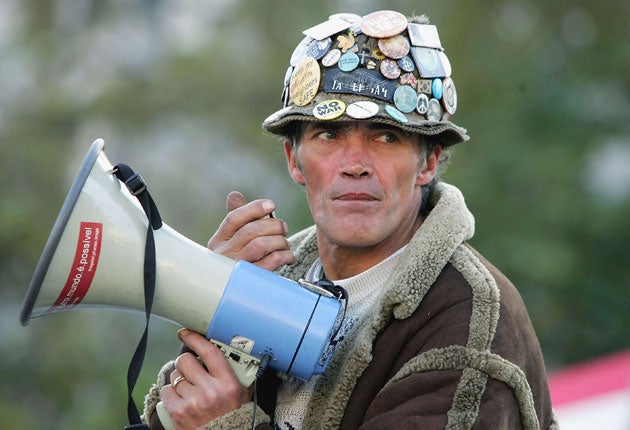 Brian Haw's anti-war protest camp has dominated Parliament Square for 10 years, cut off from curious pedestrians by the busy lanes of traffic that surround it.
Now Westminster City Council wants to change that by installing a pedestrian crossing. Although they claim their intention is merely to make it easier for Londoners and tourists to access the square, its creation is also likely to result in the eviction of Mr Haw and the protesters gathered around him.
In March, a High Court ruling obtained by the Mayor of London Boris Johnson forced Mr Haw to move his camp from the grass on the square to the pavement.
Now the council, which is responsible for the pavement, is seeking to repeal his right to sleep there too – by establishing that he and his fellow protesters are "proving an obstruction to the footway" and acting as a "hindrance" to pedestrians. Mr Haw, a carpenter from Worcestershire, set up his camp in 2001 and remained there until September last year, when he was flown to Germany to be treated for lung cancer.
Martin Lowe, Westminster City Council's city commissioner of transportation, said they had previously been unable to win the case against Mr Haw because there had never been enough people on the square to validate any obstruction.
He said he hoped the crossing would encourage more people to walk on the square's surrounding footpaths, where the protesters' tents are situated. But he denied that the primary motive behind the plan was to convince the court to remove the activists.
"The main reason for wanting a crossing is simply to showcase the centre of the square, which is lovely.
"People want to visit the buildings around Parliament Square, visit the Winston Churchill and Nelson Mandela statues, and simply chill out – it is a nice place to be. We ought to be giving people a good safe opportunity to get to and from the central space."
Councillor Colin Barrow, the leader of Westminster Council, was more direct. He said: "For too long this camp has dominated the square which should be available for all.
"We of course support the right to protest and will continue to do so, but the camping out for years on end has turned the area into an eyesore. I think they have made their point and now is time to reclaim the square for all Londoners and visitors once and for all.
"By installing this crossing we believe we are helping to achieve that and providing a safe way to access the square rather than a sprint across several lanes of traffic."
Babs Tucker, who has spent the last five years living in one of the tents on Parliament Square, said she thought there was probably an "ulterior motive" behind the plans, which she described as "childish". "The camp has been here 10 years and now they want to crack on about a pedestrian crossing," she said. "It is so ridiculous, but no matter what they try and do, we are going to stand our ground."
Join our commenting forum
Join thought-provoking conversations, follow other Independent readers and see their replies