Who are the alleged victims of phone hacking and what payouts did they receive?
The Independent has compiled some of the most high-profile alleged victims of phone hacking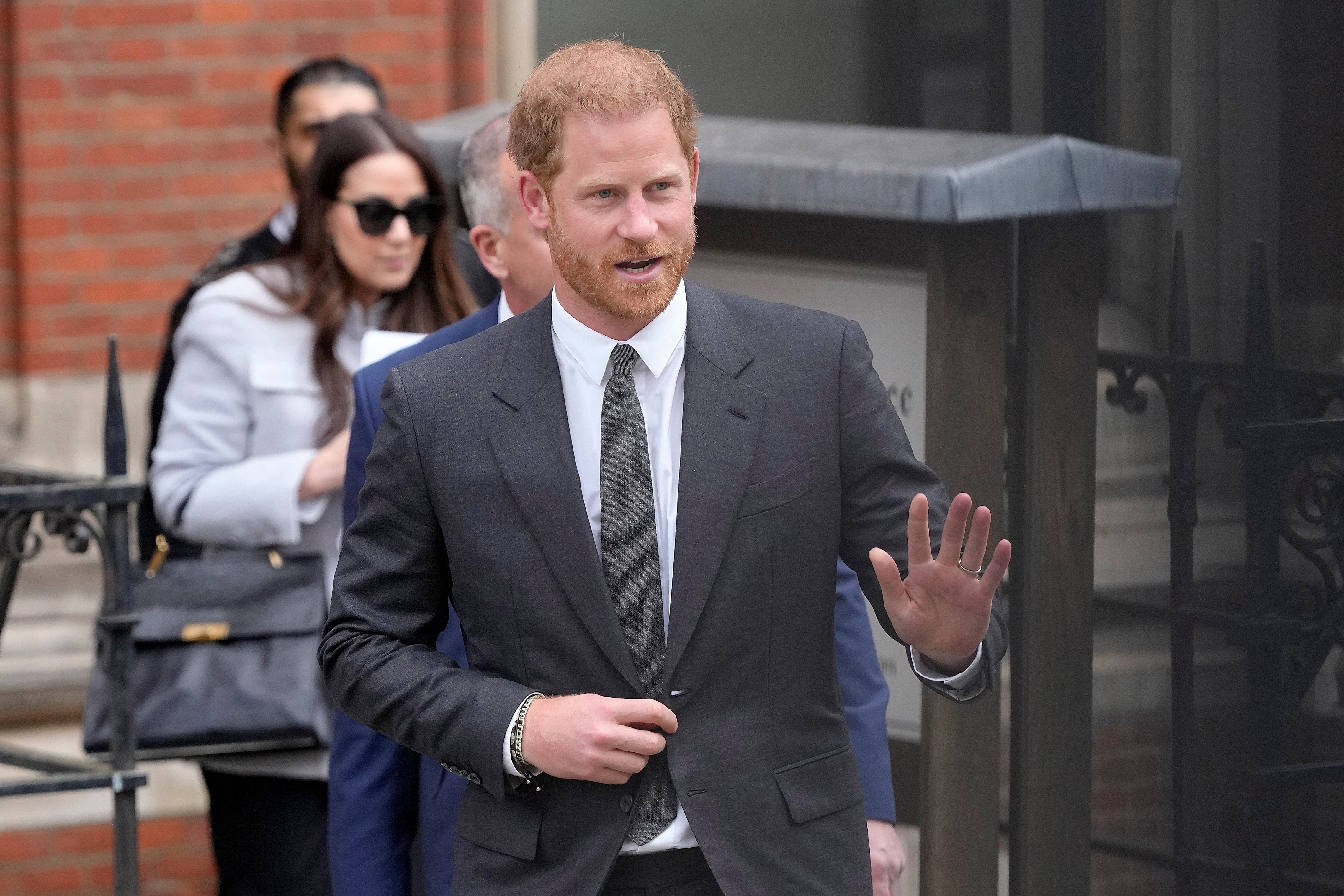 The allegation that a "secret agreement" was reached between the royal family and the publisher of The Sun to prevent William and Harry from bringing phone hacking claims has shone a spotlight on an unsavoury chapter in British media history.
The claim was made at the High Court by the Duke of Sussex, who is suing News Group Newspapers (NGN), the owners of The Sun and now defunct News of the World, over alleged unlawful information gathering at its titles.
On Tuesday, NGN made a bid for a judge to throw out the case, as well as a similar claim brought by actor Hugh Grant.
Harry's lawyers said the bid is an attempt to go behind a "secret agreement" between the royal family as an institution and NGN – or its parent companies News UK and News Corp – which the duke was informed of in 2012. NGN denies there was an agreement.
The phone hacking scandal began in 2011 when it was revealed that the News of the World was hacking the phones of politicians, celebrities, members of the Royal Family and the public.
It led to the closure of the paper and since then hundreds of cases against newspaper groups have been settled and dozens more are making their way through the UK court system.
NGN and Mirror Group Newspapers (MGN), who publish the Daily Mirror and Sunday Mirror, have both settled a number of claims related to phone hacking.
The Independent has compiled some of the most high-profile alleged victims of phone hacking and the payouts they received:
Steve Coogan
The comedian, best known for Alan Partridge, received compensation and an apology from MGN.
The exact level of damages was not revealed in court, but Mr Coogan said it was a six-figure sum.
Mr Coogan, who took an active part in the Leveson inquiry and has been an outspoken critic of the tabloid press, said he would distribute the funds from MGN to good causes.
The Leveson inquiry took place in 2011 in the wake of the hacking scandal and explored "the culture, practices and ethics of the press".
It culminated in a report compiled by Lord Justice Leveson that set out a number of recommendations, including a new independent regulatory body to replace the Press Complaints Commission.
Richard Munden, counsel for MGN, said: "MGN acknowledges that Mr Coogan was the target of unlawful activities and that these activities were concealed until years later.
"It apologises to Mr Coogan for its wrongdoing over a decade ago and for any articles that were the product of unlawful activity and for the concealment of these activities.
"MGN apologises to Mr Coogan and accepts that he and other victims should not have been denied the truth for so long."
Sadie Frost
The actress received £260,250 in compensation for phone hacking from MGN in May 2015.
Giving evidence at the High Court, Ms Frost said in a witness statement that phone hacking had destroyed her life and left her in a "living hell"
The statement added: "I was suffering from depression, anxiety and regular panic attacks. I found it hard to leave the house and, if I finally made myself, I was followed … or they [the photographers] would turn up where I was going. This made my anxiety even worse."
She added that she became a "wreck" and was unable to even take her son to the local park for fear of press intrusion.
Ms Frost was part of a case involving seven other celebrities who successfully sued the newspaper group, including footballer Paul Gascoigne, BBC executive Alan Yentob, Coronation Street actor Shobna Gulati, flight attendant Lauren Alcorn, TV producer Robert Ashworth and EastEnders actors Lucy Taggart and Shane Richie.
Paul Gascoigne
The former Spurs and England star received £188,250 in compensation and told a court that phone hacking by MGN was part of wider "horrendous" media intrusion into his life.
Mr Gascoigne said he would change his mobile phone number five times a month and that he told his therapist he thought that he was being hacked.
"At the time I was going through a bad time because I knew I was getting hacked. I knew 110%. No one believed it," he said.
"I was speaking to him [the therapist] and it clicked again. He told me I'm paranoid, I'm going through a mental disorder."
Mr Gascoigne said he felt the phone hacking drove him to alcoholism and made him feel paranoid.
The former footballer also agreed settlement with NGN, publisher of The Sun and News of the World, over alleged phone hacking.
Sienna Miller
The actress won "substantial damages" from NGN after she claimed The Sun obtained medical records of her pregnancy through illegal means.
NGN denied the allegation of illegal information gathering but agreed to settle her case for damages without any admission of liability.
Speaking outside the court, Ms Miller said: "It was not my choice to be standing here, I wanted to go to trial.
"I wanted to expose the criminality that runs through the heart of this corporation.
"A criminality demonstrated clearly and irrevocably by the evidence which I have seen. I wanted to share News Group's secrets just as they have shared mine."
The family of Milly Dowler
Perhaps the most shocking of all the cases of phone hacking by the News of the World was the revelation they accessed missing teenager Milly Dowler's messages on her phone after she went missing in March 2002.
The revelation sparked outrage and Rupert Murdoch personally donated £1m to six charities of the family's choosing.
They also received £2m in compensation from NGN. The Dowler family said: "Nothing that has been agreed will ever bring back Milly or undo the traumas of her disappearance and the horrendous murder trial earlier this year.
"The only way that a fitting tribute could be agreed was to ensure that a very substantial donation to charity was made in Milly's memory. We hope that projects will be undertaken so that some good can come from this."
Who else received compensation for phone hacking?
A further 21 celebrities settled their phone hacking claims against MGN in June 2016.
This included: TV presenter Davina McCall, actors Nigel Havers and Rhys Ifans, businesswoman and socialite Caroline Stanbury, PR consultant Alison Griffin, publicist Clair Dobbs, filmmaker Jim Threapleton, Loose Women panellist Lisa Maxwell, actress and singer Suzanne Shaw, actress and singer Kym Marsh, actresses Caroline Chikezie, Tina Hobley, Holly Davidson, Kate Ford, Samia Ghadie and Lucy-Jo Hudson and actors Ben Freeman, Alan Halsall, Christopher Parker and George Calil.
What other high-profile celebrities are making a claim?
As well as suing NGN, Prince Harry is also one of a number of high-profile figures bringing damages claims against Mirror Group Newspapers (MGN) over alleged unlawful information gathering at its titles.
Other celebrities involved in the case include the singer and former Girls Aloud member Cheryl, the estate of the late singer George Michael, ex-footballer and television presenter Ian Wright and actor Ricky Tomlinson.
The Duke of Sussex also has a separate legal case against Associated Newspapers Limited (ANL), publisher of The Mail, The Mail On Sunday and MailOnline.
Additional reporting by agencies
Join our commenting forum
Join thought-provoking conversations, follow other Independent readers and see their replies