The hidden army of volunteers putting Britain's politicians to shame by recycling the rubbish councils send straight to landfill
'I'm quite fond of the world,' says one. 'It's worth saving'
Colin Drury Comments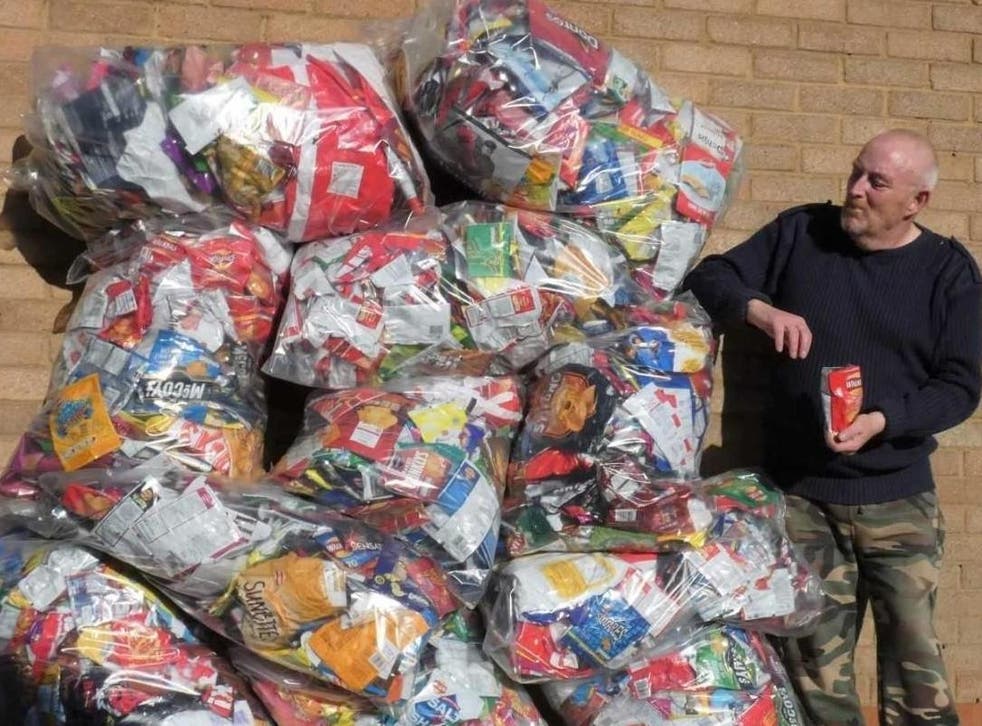 George Thomson calls his garage the "rubbish centre", and when he opens the door, it's easy to see why.
There are sacks, bags and boxes filled with plastic waste. They are strewn across the floor, and piled high against the walls.
There is so much that there is barely room for anything else. His car has long since been relegated to the drive, the garden tools squeezed into a forlorn corner.
"My partner and I have unofficially divided the house," the 70-year-old retired bingo manager from Milton Keynes tells me. "He gets the spare room as an art studio. I get the garage for my rubbish."
This, it seems, is one man's fight for planet Earth.
Everything in here – crisp packets, biscuit wrappers, shampoo bottles, that sort of stuff – has traditionally been classed as non-recyclable. Which is to say, local councils don't include it in their recycling services. It is deemed too expensive to treat. Generally, it goes to landfill. Some, inevitably, finds its way into the sea.
Plastic waste across the world: in pictures

Show all 15
But George is one of a growing enviro-army of people who, in the absence of real government action, have taken it upon themselves to voluntarily collect this problematic plastic from their local communities and ensure it gets recycled.
More than 6,000 people all over the UK have, without fuss or fanfare, quietly set up similar collections in their own homes, workplaces, schools or community centres.
They spread the word locally, and accept waste from friends, families, colleagues and neighbours. Some buy bins and leave them at the top of their drives for strangers to chuck in their plastic. Others persuade local shops, supermarkets and even pubs to have drop-off containers there. One I speak to, Olivia McGuinness in Derbyshire, has hundreds of crisp packets and baby food pouches currently stored in her utility room. "My husband's not mad about it," she admits.
Then, when these collections reach a certain quantity, they are sent off to a private company, called TerraCycle, to be recycled.
In return, the volunteers receive two things.
The first is a small donation to a charity of their choice. In George's case, he's earned £17,000 for a variety of good causes over six years.
The second is the knowledge they are doing their bit to save the planet from what David Attenborough – who knows a thing or two about this stuff – has called "the untold harm" of plastic waste. "I'm quite fond of the world," muses George. "So it's worth saving."
The need to reduce the UK's plastic waste mountain has, environmental campaigners say, never been more important.
Studies show, globally, there is around 6 billion tonnes of plastic buried in landfill or contaminating oceans and landscapes. Crucially, because plastic is non-biodegradable, it doesn't go away or break down. One estimate suggests that by 2050, there will be more plastic in the seas, by weight, than fish. The micro-particles, scientists say, are both slowly killing the marine life that unwittingly consume them and poisoning the food chain.
"We can't keep ignoring this," says Emma Priestland, of Friends of the Earth. "Plastic is pervasive. It has been found in the Arctic and even in human bodies. This is an environmental crisis."
Here in the UK, a government report proposed getting politicians to promise to dramatically cut the country's carbon emissions earlier this month. Actually getting them to do something about it, however, still seems to belong to the realms of wild optimism. As a result, impatience is growing with their apparent reluctance even to acknowledge the problem, let alone take it seriously.
Campaigners question why funding isn't being made available to widen the narrow range of items councils currently recycle. More pertinently, perhaps, they ask: if a private company like TerraCycle has the wherewithal to make such waste processes profitable, why on earth has the government not found a way to create a similar national system?
For now, Olivia McGuinness, standing in her kitchen, surrounded by bread bags and baby food pouches, is explaining why she decided to become a volunteer collector.
"When my husband and I had our two children the amount of waste we were creating went up exponentially," the 29-year-old HR adviser says. "I found out how there were volunteers who collected plastics for but there wasn't anyone in my area. So I figured I'd do it myself."
She knew she had struck on something others also felt strongly about after setting up boxes for crisp packets and biscuit wrappers at work. "People started bringing in their packaging from home," she says. "They were driving in with a bagful in the boot every couple of weeks."
This doesn't surprise Tom Szaky, the 37-year-old CEO of TerraCycle.
"The battle for the environment is the battle of this century," he says. "I think people are looking for ways to be on the right side of that."
He founded the company in 2001 in New Jersey after dropping out of an economics degree at Princeton University. It seemed to strike a chord, and has since expanded into 22 other countries.
"Everything in the world eventually becomes waste," he says. "But no-one really wants to work in waste. I thought that meant a lot of opportunity."
As we talk over Skype, he is in the firm's US head office in the city of Trenton, sitting, he says, at a table made of repurposed industrial fridge doors and wine barrels. "It fits our ethos. And looks pretty cool."
In a lab in the same building, scientists are constantly researching potential ways to recycle more products. They have been thinking a lot about nappies and tampons of late.
The UK operation – run from an office in Perivale, London – opened in 2009 and reports to have recycled some 60 million individual pieces of garbage, while paying out £774,000 to charitable causes.
It does this by partnering with some of the major multinational companies that create the plastic packaging in the first place – and getting those companies to cough up for the waste treatment.
So, Walkers pays TerraCycle to recycle used crisp bags, while Garnier funds its treatment of beauty product packaging. Just this week, it was announced Nestlé is to sponsor the recycling of confectionery wrappers.
The treated material is then turned into plastic pellets that are turned into things like garden furniture or children's play equipment.
The process is, reckons Szaky, a win for all concerned. The companies get to show they are investing in socially responsible projects, while the collectors – people like George and Olivia – receive donations to charities of their choice (roughly 1p per item, limited to a minimum weight).
TerraCycle itself, it should be said, has become a business worth an estimated $24m in the process.
"But money isn't my motivation," says Szaky. "Listen, I was born in Budapest behind the Iron Curtain, right? And … moving to Canada as a child, the heart of capitalism … I fell in love with the idea that businesses could change the world. That's what I wanted, to change the world for the better."
Now, he is aiming to go even further.
In September, the company will launch Loop in the UK, a new online shopping service where customers are delivered groceries – such as Häagen-Dazs ice cream or Body Shop shampoo – in specially designed reusable (rather than recyclable) containers made from materials such as aluminium or treated glass.
Once the container is empty, it will be collected, cleaned and refilled ready to be sent to another customer.
"The idea is, in the future, you wouldn't need us to recycle because all packaging will be reusable," says Tom. "The ultimate aim is that Loop puts us, as recyclers, out of business. It gets rid of plastic almost altogether."
It is a system that Friends of the Earth says it is intrigued and encouraged by.
Yet, until plastic waste is eliminated, the question remains why councils across the UK – the country's biggest handlers of refuse – have not been able to create municipal recycling systems for the same wide range of products as this private company.
It is something I put to the Local Government Association, and councillor Martin Tett, chairman of its environment board, replied via a statement.
"Councils are playing their part when it comes to improving recycling rates with our waste collection services diverting millions of tonnes of waste from landfill every year," he says.
But, while he acknowledges more still needs to be done, he adds: "Manufacturers and producers need to play their part in the battle against unnecessary and unrecyclable waste."
Support free-thinking journalism and attend Independent events
The Department for Environment, Food and Rural Affairs (Defra) did not respond to a request for comment.
George Thomson, for one, agrees the companies creating plastic packaging should be doing more to eliminate it in the first place.
"Sometimes I'm sorting through the recycling I've received, getting it ready to send off, and there's so much there that seems unnecessary," he says. "I think people are doing more and more at home, but the businesses also need to step up at their end too."
Planet Earth could do with some of the commitment and self-sacrifice shown by him, and the thousands of others like him, in council chambers, parliaments and boardrooms everywhere. Before it's too late for all of us.
Register for free to continue reading
Registration is a free and easy way to support our truly independent journalism
By registering, you will also enjoy limited access to Premium articles, exclusive newsletters, commenting, and virtual events with our leading journalists
Already have an account? sign in
Join our new commenting forum
Join thought-provoking conversations, follow other Independent readers and see their replies