Police criticised over 'out-of-control' search dog which savaged 73-year-old woman in her home
'I am very angry with the police. This has been a disgrace on their part,' say pensioner's family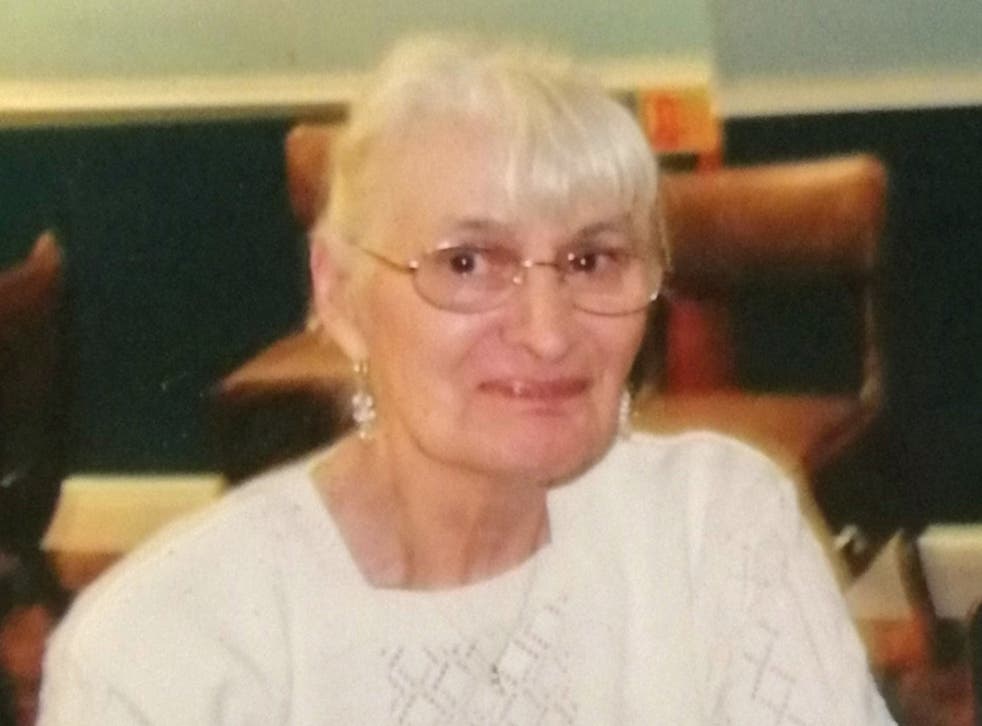 The family of a frail grandmother who died after she was savaged by a police dog have spoken of their anger after two forces failed to flag the animal's multiple previous attacks.
Irene Collins, 73, was repeatedly bitten by seven-stone German shepherd Dano, which had been deployed to search her garden for suspected drug-dealer who was on the run.
The pensioner, who had terminal lung cancer, died days after suffering bites to her arm, leg and breast.
She also suffered a broken arm when the dog ran into the kitchen of her Middlesbrough home and knocked her over in July 2014.
Dano's handler, PC Mark Baines, managed to get the dog to release Ms Collins from its jaw but it escaped and returned to bite her leg as she lay bleeding on the floor.
Ms Collins required an operation and initially made a good recovery, but then developed pneumonia in hospital and died four days later.
An inquest jury at Teesside Magistrates' Court concluded on Friday that she died from natural causes "contributed to by the consequences of the dog bites while the dog was out of control".
The jury criticised Thames Valley and Hampshire police forces, which jointly sold the dog to Cleveland Police for £500 without fully disclosing that Dano had already bitten 10 people, including one in the face.
The panel said that information "should have been shared as part of the transaction".
An experienced dog handler who viewed the dog had earlier told the hearing he may not even have travelled to see Dano had he been aware of the facial bite.
Following the hearing, Ms Collins's son Eric told reporters: "I am very angry with the police. This has been a disgrace on their part."
Paying tribute to his mother, a retired hospital worker, he added: "She was the most gentle woman you could ever want to meet. She wouldn't harm a fly and this family loved her to bits."
During four days of evidence, the inquest heard Ms Collins was unaware a dog was to be used when she permitted permission to search her garden. Officers were hunting a man who fled through gardens after being stopped in a car with heroin and cash worth £100,000.
The jury said Ms Collins's back door should have been checked to make sure it was firmly closed when the dog entered the garden. Further action should have been taken to stop the dog going back into the kitchen once its handler had removed it, they added.
PC Baines received a written warning after a misconduct hearing in November last year, the Independent Office for Police Conduct said.
The case was also referred to the Crown Prosecution Service, which decided no criminal charges should be brought.
Cleveland Police said it has altered its policy when acquiring dogs since Ms Collins was attacked and now asked for full details of an animal's past.
UK news in pictures

Show all 50
Assistant chief constable Adrian Roberts said the force was "deeply sorry" for "pain and distress caused".
He added: "We accept and will carefully consider the findings of the inquest, have already put in place some changes, and will adopt any other relevant lessons learnt.
"During this incident, officers were dealing with a fast-moving investigation into serious drugs offending following which three men received 17 years imprisonment.
"Whilst this doesn't excuse what went wrong that evening, it does serve as a reminder of the consequences of serious organised criminality in our communities."
Coroner Karin Welsh asked the force to consider requiring dog handlers to carry two leads after she heard PC Baines could not control Dano with his leash when it got tangled under Ms Collins.
Dano was destroyed after the attack.
"I am sure for everyone involved that night it will have been a distressing," Ms Welsh said.
The Independent asked Thames Valley and Hampshire police forces for comment.
Register for free to continue reading
Registration is a free and easy way to support our truly independent journalism
By registering, you will also enjoy limited access to Premium articles, exclusive newsletters, commenting, and virtual events with our leading journalists
Already have an account? sign in
Register for free to continue reading
Registration is a free and easy way to support our truly independent journalism
By registering, you will also enjoy limited access to Premium articles, exclusive newsletters, commenting, and virtual events with our leading journalists
Already have an account? sign in
Join our new commenting forum
Join thought-provoking conversations, follow other Independent readers and see their replies