Police need funding boost to tackle rising crime and terrorism threat, Home Office warned
Nearly £850m is needed by 2020, say regional crime commissioners
Sally Wardle
Sunday 29 October 2017 22:27 Comments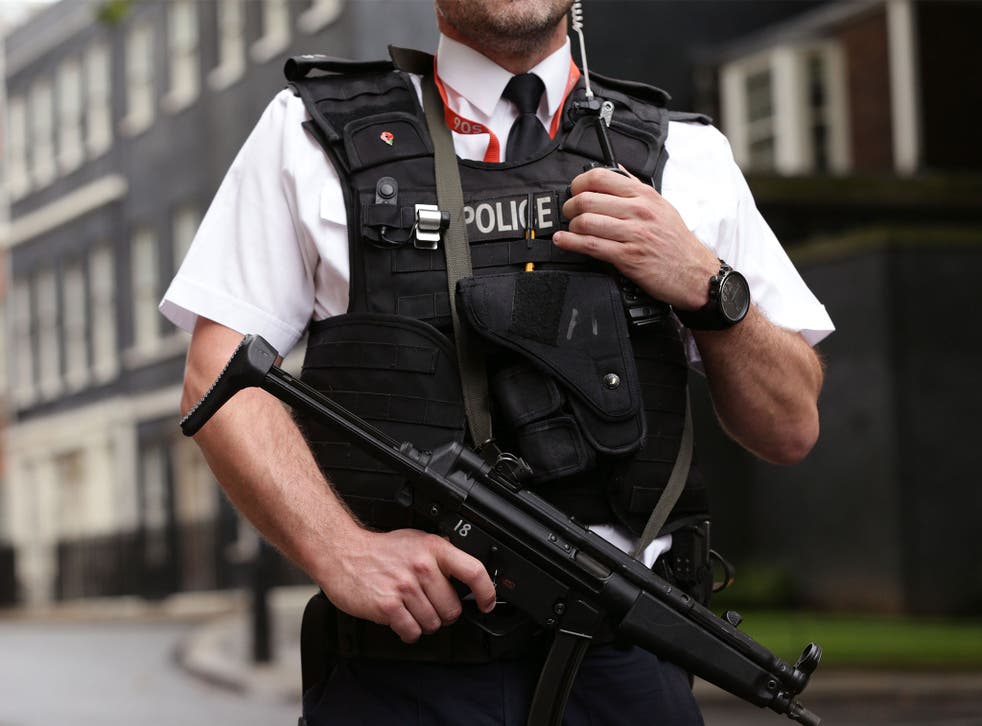 Police forces need hundreds of millions of pounds in additional funding to help combat crime, the Home Office has been warned.
An extra £440 million is needed in 2018/19 and £845 million in 2019/20 to deal with increasing crime rates and the growing threat from terrorism, the Association of Police and Crime Commissioners (APCC) said.
The boost in funds would provide 5,000 more officers for local policing and 1,100 more armed police.
It comes after official figures revealed a 13 per cent increase in the number of offences recorded by police in the year to June.
The APCC, which supports police and crime commissioners (PCCs) and local policing bodies across England and Wales, gathered evidence from 43 forces at the request of the Home Office.
Police spending has been protected in real terms until 2020, but the national body said changes in demand meant the current agreement is not sufficient.
The proposed additional funding for police would represent an increase of between 1.5 per cent and 2 per cent above inflation each year.
Roger Hirst, APCC finance lead, said the funding settlement "no longer ensures the resilience of police forces" to respond to increased demand.
He added: "We want to put the service on the front foot, enabling the police to undertake early intervention and preventative activity and to increase service levels, and for this further funding is essential."
Paddy Tipping, finance deputy lead, said: "This year the police have had to respond to horrific terrorist acts and unprecedented levels of demand at our control rooms and, increasingly, we know that officers and staff, whose work we all value so greatly, have become stretched like never before.
"If we take the example of local policing, the bedrock of policing in this country as reactive demand is growing, and more complex crimes are increasing, the ability to deliver this key component of policing is becoming ever more difficult.
"We believe that a lack of investment will lead to increases in crime and a reduction of police and state legitimacy.
"All PCCs are committed to doing everything they can do to keep people safe in their communities and we will continue to work with police chiefs and engage with the Home Office to ensure we get the appropriate resources to do so."
UK news in pictures

Show all 50
Nick Hurd, minister for policing and the fire service, said: "In 2017, the taxpayer will invest £11.9 billion in our police system, an increase of more than £475 million from 2015.
"However, we recognise that demand on the police is changing, and we are very sensitive to the pressure they are under.
"That is why we are reviewing demand and resilience, as well as police plans for greater efficiency and prudent use of over £1.6 billion of financial reserves.
"As part of this process I am speaking to chief constables, PCCs and frontline officers from across the country.
"Following this review, the Government will consult on plans for the 2018-19 settlement by the end of the year."
PA
Register for free to continue reading
Registration is a free and easy way to support our truly independent journalism
By registering, you will also enjoy limited access to Premium articles, exclusive newsletters, commenting, and virtual events with our leading journalists
Already have an account? sign in
Join our new commenting forum
Join thought-provoking conversations, follow other Independent readers and see their replies