Police officer caught in Youtube attack video set for compensation windfall
Mike Baillon was taped smashing in the windows on a disabled pensioner's car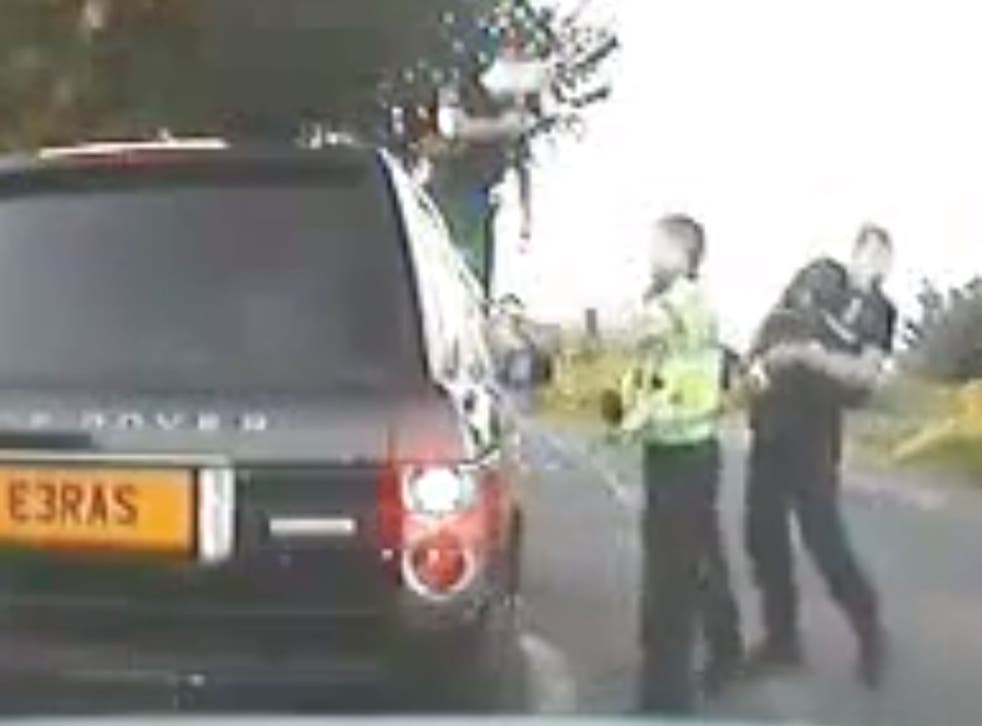 A policeman who smashed in the windows of a disabled pensioner's car before dragging him from the front seat for not wearing a seatbelt could bag a six-figure compensation package after claiming a "bullying campaign" forced him out of his job.
The campaign began after a video of the incident was posted on Youtube.
PC Mike Baillon told an employment tribunal in Cardiff he was forced out of his job at Gwent Police, by colleagues who teased him and defaced his locker.
There were more "unpleasant comments" from other officers and Mr Baillon's locker was defaced in February last year, leading to his resignation a few months later.
The tribunal ruled that he had been unfairly dismissed from his traffic police job after writing a "whistle-blowing" letter to the force raising a number of concerns about the way his case had been handled.
It also heard that after asking for a meeting with a senior officer Mr Baillon was told not to go "boring people with a tale of woe as they won't be interested in it".
Mr Baillon was one of two police officers who pulled over Robert Whatley, 74, for not wearing a seat belt after following him along country roads near Usk in Monmouthshire, South Wales, in 2009.
Mr Whatley, who had a disabled driver's blue badge because he was recovering from a stroke, drove away before they had finished dealing with him.
They pursued him for 17 minutes along country lanes in and when the car finally stopped, the video shows Mr Baillon running up to the driver's door with his baton drawn and bashing the window 15 times until it smashed. He has never publicly explained why he used force against the vehicle.
Meanwhile his colleague climbed onto the bonnet and kicked in the Range Rover's windscreen.
Footage of the incident was released from the dashboard camera in Mr Baillon's police car and quickly went viral on the internet.
Mr Baillon was investigated for potential criminal offences but no action was taken and he was later exonerated in disciplinary proceedings.
He told the employment tribunal that he was moved from the roads unit to a local policing team after the incident, and that "bullying and harassment" he suffered as a result of the video had forced him to resign.
The panel has yet to decide how much compensation Mr Baillon, 42, should receive, but it is likely to run to six figures because of lost earnings and pension entitlements.
After the incident Mr Whatley, who said he thought the officers were giving him a police escort home, was found guilty of not wearing a seat belt, failing to stop, using a vehicle with defective registration plates and having non-standard tinted windows. He was fined £235.
He also received £20,750 compensation from Gwent Police for the damage to his car and £45,000 costs.
He said at the time: "You would have thought I had robbed a bank.
"It's something you might expect in America but not in the quiet of the British countryside."
Jean Norton, from Ashfords solicitors who represented the officer, said: "Mr Baillon and his family are incredibly relieved by the positive outcome.
"This matter has caused both him and his family undue stress and financial loss, and the team is delighted to have been able to help Mr Baillon, a conscientious and highly regarded police officer, win this victory."
Join our new commenting forum
Join thought-provoking conversations, follow other Independent readers and see their replies