'Racist' blanket stop and search powers must be repealed, super-complaint says
Section 60 stop and search powers are 'ineffective and disproportionately used against black and ethnic minority communities'
Lizzie Dearden
Home Affairs Correspondent Comments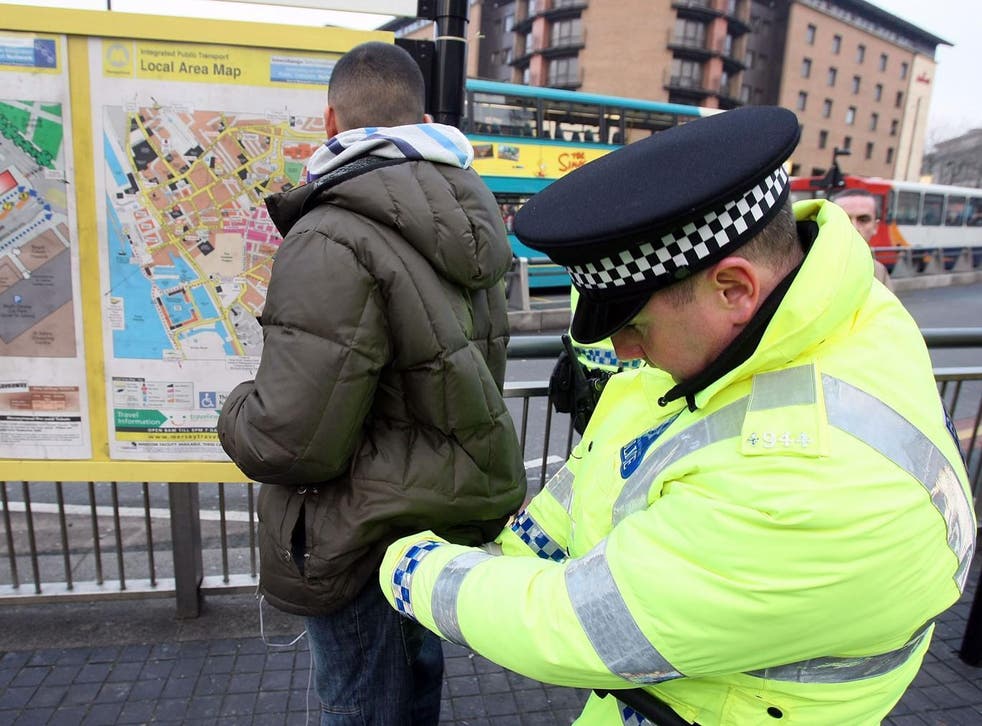 A super-complaint has been launched against powers to stop and search people without suspicion in areas chosen by the police, amid allegations of ineffectiveness and racism.
The Criminal Justice Alliance (CJA), a network of 160 organisations, is calling for section 60 stop and search laws to be repealed as numbers rocket in England and Wales.
The controversial law allows police to search people without suspicion in specified areas where violence is anticipated.
The CJA said the blanket nature of the powers was leading to "thousands of innocent people being unnecessarily stopped and searched every year", with the number of section 60 searches rising from 622 in 2016-17 to more than 18,000 in 2019-20.
Home Office figures show that in the year to March 2020, only 4 per cent of section 60 stop and searches resulted in an arrest, compared to 13 per cent for searches requiring reasonable suspicion that someone has a weapon, drugs or stolen property.
Across stop and search powers, black people are nine times more likely to be stopped than white people, and the CJA said the rate was even higher – 18 times – for section 60.
Nina Champion, director of the CJA, said: "It's widely accepted that policing is at its best when it's intelligence-led. Section 60 goes against this principle. It is a sweeping, draconian and ineffective power, disproportionately used against black and ethnic minority communities, damaging the trust and confidence vital to effective policing.
"It's essential that officers have reasonable grounds when they search someone to ensure fair and proportionate policing. For these reasons, the government must urgently repeal section 60."
Leroy Logan, a former Metropolitan Police superintendent and chair of the National Black Police Association (NBPA), said checks and balances had been eroded to leave a "lack of rigour and accountability".
"It traumatises young people and leads to heavy racial profiling. It is also ineffective in dealing with the causes of crime," he added.
The Home Office lowered the bar for the power to be authorised in 2019, and its use increased by 35 per cent to more than 18,000 section 60 searches in the year to March 2020.
UK news in pictures

Show all 50
Official figures show the increase was driven by operations for the Metropolitan Police in London, as well Essex Police and Merseyside Police.
Successive home secretaries and some police leaders have credited the powers with driving down violence, but the CJA said no formal evaluation had been conducted.
It pointed to figures showing that weapons are found in only 1 per cent of section 60 searches and a government study of an operation using the power found "no statistically significant crime-reducing effect from the large increase in weapons searches".
"We all want to reduce violent crime, but section 60 is not the solution and is causing more harm than good," Ms Champion said. "Instead, the government must invest in communities and fund youth services, which have been decimated in recent years."
This super-complaint is being assessed by HM Chief Inspector of Constabulary, the Independent Office for Police Conduct and the College of Policing, who will decide whether it is eligible for investigation.
The police super-complaints system, which started in 2018, allows designated organisations to raise issues on behalf of the public about harmful patterns or trends in policing.
Register for free to continue reading
Registration is a free and easy way to support our truly independent journalism
By registering, you will also enjoy limited access to Premium articles, exclusive newsletters, commenting, and virtual events with our leading journalists
Already have an account? sign in
Join our new commenting forum
Join thought-provoking conversations, follow other Independent readers and see their replies