Police 'unable to explain' why officers use force and stop and search disproportionately on black people
Time for 'evidence-based national debate' on use of stop and search for drug possession, watchdog says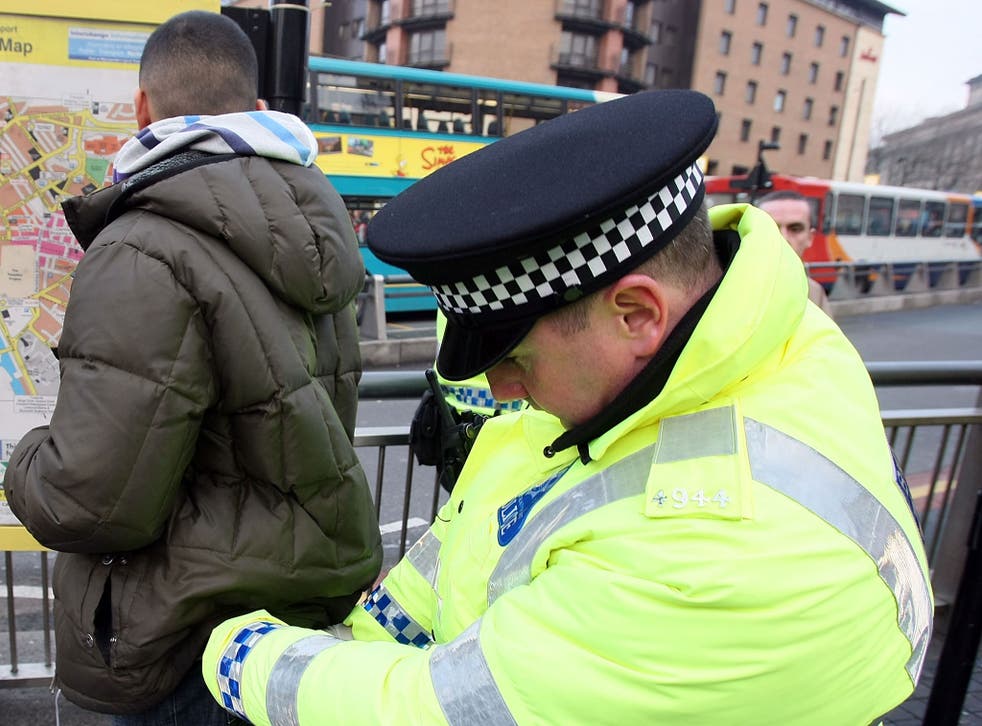 Police "still cannot explain" why officers use force and stop and search powers disproportionately against black, Asian and other people from ethnic minority groups, a watchdog has found.
HM Inspectorate of Constabulary (HMICFRS) said forces must give the public valid reasons for the gaps or make changes to the way they operate.
A report published on Friday also called for an "evidence-based national debate" on the use of stop and search against people suspected of possessing drugs.
The watchdog said that the death of George Floyd in the US and resulting Black Lives Matter protests in the UK had highlighted issues it had been concerned about "for years".
In the year to March 2020, ethnic minorities were more than four times as likely to be stopped and searched as white people in England and Wales – with the figure almost nine times higher for black people specifically.
Black people were also over five and a half times more likely to have force used on them than white people, and the use of Tasers has been rising.
Wendy Williams, HM Inspector of Constabulary, said the unfair use of police powers risked making people unwilling to cooperate with the police as witnesses or report crimes as victims.
"Police forces must analyse their data and either explain, with evidence, the reasons for disproportionality, or take clear action to address it," she added.
"The police must be able to show the public that their use of these powers is fair, lawful and appropriate, or they risk losing the trust of the communities they serve."
The report said that while the government and police view stop and search as a valuable tool in the fight against crime, "others argue that its use has little effect on crime rates and can in fact increase disorder".
It added: "For some, particularly Bame [black and minority ethnic] people, it can reinforce the perception that there is a culture of discrimination within the police. And, now that we have some long-awaited data on the police use of force, similar concerns are arising about this area of practice."
The watchdog concluded that racial disproportionality in stop and search was heavily influenced by searches on suspicion of drug possession, rather than those for weapons or stolen goods.
HMICFRS found a wide variation in approaches between regional forces, such as their response to cannabis smoking, and said a consistent approach was needed.
Black Lives Matter marches
"We know that the proportion of stop and searches that actually find drugs is very low, and the disproportionate use of these powers on Bame people is having a damaging impact on public trust," Ms Williams said.
"We are therefore calling on police leaders to consider if focusing stop and search on drugs possession is an effective use of these powers, and to better explain the reasons for disproportionality. It is clear that now is the time to have an evidence-based national debate."
The report said that while racial disparities do not necessarily mean police are racist or misusing their powers, forces should be able to explain the figures.
"Over 35 years on from the introduction of stop and search legislation, no force fully understands the impact of the use of these powers," it added. "Disproportionality persists and no force can satisfactorily explain why."
The home secretary and police leaders have defended stop and search as a key tool against violent crime, citing the seizure of weapons, but HMICFRS said the "majority of searches find nothing".
In 2019-20, one-fifth of 577,054 searches made in England and Wales found the item that was searched for and the watchdog found that in too many cases, the recorded grounds for stopping someone were "weak".
Black Lives Matter protesters gather across the UK

Show all 79
Of more than 9,000 cases reviewed, one-fifth had strong grounds for search, 42 per cent moderate grounds and one-fifth weak grounds.
The review found that weak grounds were more common in searches generated by officers themselves, rather than intelligence or third-party information, and when looking for drugs.
HMICFRS said the use of force and stop and search were "some of the most intrusive and contentious police powers".
"For police officers, the exercise of such powers is routine, whereas for the person being stopped, the experience can be embarrassing, intrusive and frightening," the report added. "And those who experience repeated encounters with the police may develop concerns about bias and the targeting of certain communities or groups."
The watchdog made eight recommendations, including the recording of all stop and search encounters on body-worn cameras, improved data collection practices, regular reviews of the power and greater external scrutiny.
The National Police Chiefs' Council said stop and search was "a valuable policing tool" and so "it is vital our communities have confidence in the way it is used."
"It is clear from the report that forces are improving in training, monitoring and scrutiny of stop and search," said NPCC lead for stop and search, Deputy Assistant Commissioner Amanda Pearson.
"But we know there is more to do to address the concerns about disproportionality in stop and search and we are committed to doing so. We will consider the recommendation around the best approaches to tackling drug crime."
She added: "The report rightly states disproportionality is not the same as discrimination. We agree with HMICFRS about the need to fully understand the disproportionality in the use of stop and search, explain it and take action to reduce it wherever possible.  We are currently developing plans that will enable us to do that, and do it as quickly as possible."
The Association of Police and Crime Commissioners said it shared concerns over the impact of disproportionality on community relations and was involved in "numerous initiatives" to tackle it.
Kit Malthouse, the policing minister, said: "Stop and search is a vital tool for tackling violence and saving lives.
"Last year, it helped remove 11,000 dangerous weapons from our streets and with every weapon seized, a potential life is saved. Tragically, data shows that young black men are disproportionately more likely to be the victims of knife crime and we thank police officers for working fearlessly and tirelessly to save lives and cut crime.
"We are committed to ensuring that stop and search is conducted lawfully, and that safeguards, including training, guidance, and body-worn video, are in place to help ensure it is used effectively, and that nobody is stopped solely on the basis of their skin colour."
Join our new commenting forum
Join thought-provoking conversations, follow other Independent readers and see their replies