No black people in stop and search training videos, Met Police admits
Black people are almost four times more likely to be stopped and searched than whites in London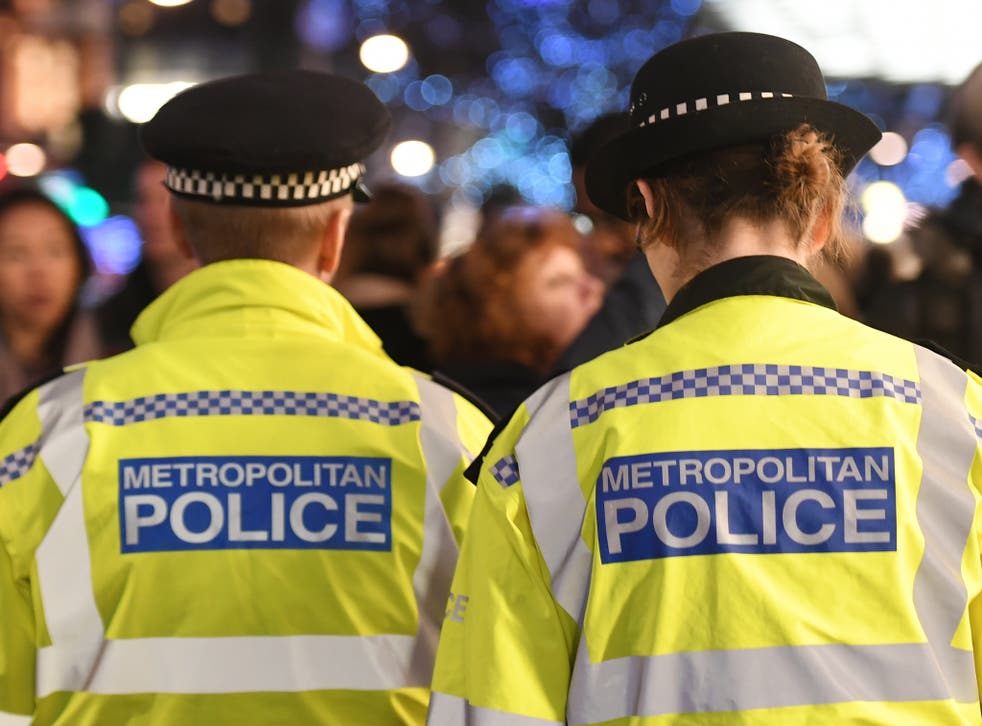 There are no black people in videos used to train Metropolitan Police officers on how to use stop and search powers, despite years of controversy over racial disproportionality.
The videos have been used for about four years, showing users different scenarios where stop and search could be used on potential suspects, and challenging them on what they would do.
They became part of the training for new recruits in May 2018 and have been used by 3,000 officers in London, as well as by community groups, youth organisations and other parties interested in stop and search policy.
It emerged that there were no black people in the videos after they were shown to journalists at a press conference on Thursday.
Sgt Chris Williams, of the Metropolitan Police's stop and search team, said the omission was a coincidence and happened because the videos featured police cadets who volunteered at the time.
He said the force was in the process of developing new training scenarios to address the gap.
Black people are currently almost four times more likely to be stopped and searched than white people in London, and the figure across England and Wales as a whole is even higher.
Stop and search was one of the issues raised by Black Lives Matter protesters during a wave of demonstrations last year, which were sparked by the killing of an unarmed black man by police in the US.
Superintendent Simon Rotherham said the Met had developed a "London curriculum" for new officers that includes racial disparity, and that training also required student officers to conduct research on the issue and discuss their findings.
"What's been really evident of us in the last few years is how fragile officer confidence is in stop and search," he added.
Supt Rotherham said some officers now felt that stop and search was not "worth the trouble" because of the surrounding controversy.
He told journalists: "We do have officers that say that, who do say, 'That's not happening unless I see a knife sticking out their back pocket'. But others say, 'That's the right thing to do and I'm confident in using my powers'."
Metropolitan Police figures from February 2020 to the end of January show that stop and search was used about 121,000 times on white people, 114,000 times on black people, 54,000 times on Asian people and 19,000 times on people recorded as being of other ethnicities.
Black Lives Matter protesters gather across the UK

Show all 79
Calculations using the force's own population figures show the stop and search rate for black people stands at 90 per thousand London residents, compared to 25 for white people and 36 for Asian and other.
The number of stops and searches carried out monthly peaked in May at almost 44,000, then dropped steeply to around 20,000 in August and September.
Supt Rotherham said there had been no formal research on whether officers' use of the power had been affected by Black Lives Matter protests in the summer.
"The number of black people being searched over the summer dropped considerably," he said. "Is that a result of Black Lives Matter? I don't know."
The Metropolitan Police carries out almost half of searches in England and Wales, and the use of the power has increased dramatically in the past year.
Supporters say the system is a valuable tool to reduce violent crime, by taking weapons off the streets and catching offenders, but opponents say stop and search is ineffective, diverts resources and damages community relations.
In November, the mayor of London announced plans for community scrutiny of police tactics including stop and search, the use of force and Tasers as part of action to "improve black Londoners' trust and confidence in our police service".
Dame Cressida Dick, commissioner of the Metropolitan Police, said at the time that she recognised trust in police was "still too low in some black communities, as is their trust in many other institutions".
"My top two operational priorities are reducing violence and increasing public confidence in the Met, particularly the confidence of black, Asian and minority ethnic communities," she added.
"The Met is not free of discrimination, racism or bias. I have always acknowledged that and do now again. In the Met we have zero tolerance of racism. My job is to continue to try to eliminate any such racism and discrimination, however it appears."
Join our new commenting forum
Join thought-provoking conversations, follow other Independent readers and see their replies