'A new tyranny': Pope Francis attacks unfettered capitalism and says rich should share wealth
Pontiff calls for major change - but reiterates church's opposition to abortion and the ordination of female priests
Heather Saul
Tuesday 26 November 2013 17:07 Comments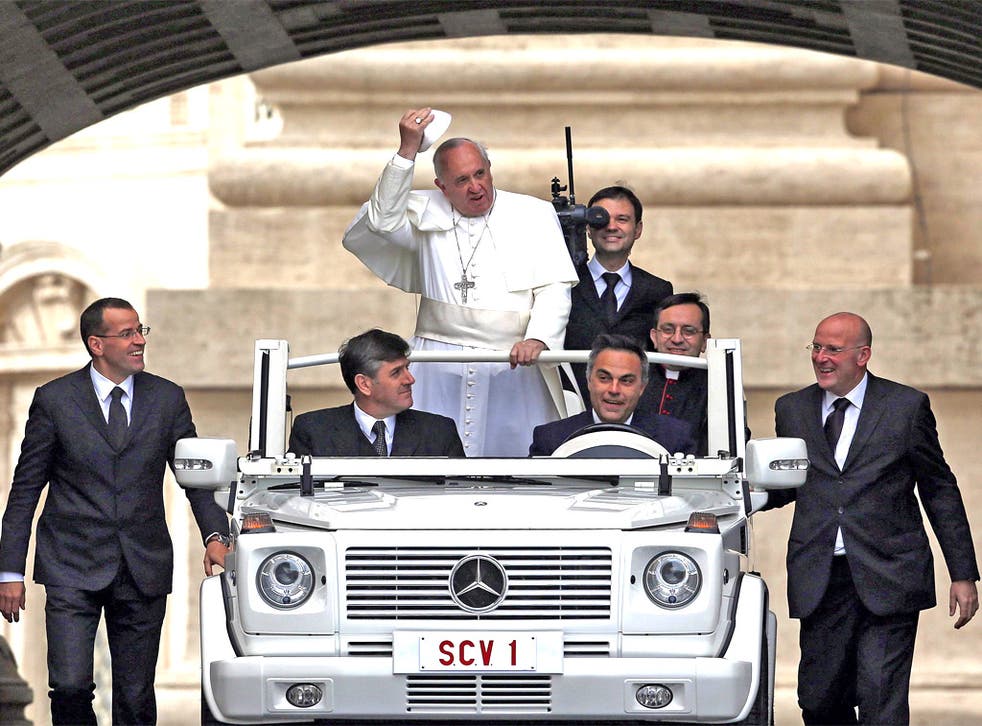 Pope Francis has attacked capitalism and called for power to be moved away from the Vatican.
In an 84-page document, the first major work authored by the Pontiff since he was elected earlier this year, he called for global leaders to fight poverty and inequality, attacked unfettered capitalism as "a new tyranny" and urged politicians to share their wealth and guarantee all members of the public "dignified work, education and healthcare".
He said: "Just as the commandment 'Thou shalt not kill' sets a clear limit in order to safeguard the value of human life, today we also have to say 'thou shalt not' to an economy of exclusion and inequality. Such an economy kills".
Francis asked how it is a news story when a stock market loses two points, "but not when an elderly homeless person dies of exposure".
In the 'apostolic exhortation', Pope Francis said he preferred a Church that was "bruised, hurting and dirty because it has been out on the streets", as opposed to "a Church which is unhealthy from being confined and from clinging to its own security".
The pope said renewal of the church could not be put off and the Vatican and its entrenched hierarchy "also need to hear the call to pastoral conversion".
The document touched upon inter-faith relations, urging Christians to "embrace with affection and respect Muslim immigrants to our countries in the same way that we hope and ask to be received and respected in countries of Islamic tradition".
However, despite advocating change, he reasserted the Church's opposition to ordaining female priests and the issue of abortion. He said the ordination of female priests was "not a question open to discussion".
Earlier this month, the pontiff launched a survey asking Christians to explain how they feel on the current official total ban on the use of contraceptives, "in any circumstance", the ban on gay or lesbian Catholics having "intimate sexual relationships" and the prohibition on divorced Catholics who have remarried to receive holy communion.
Before the release of the survey, he conceded that in terms of abortion "it is also true that we have done little to adequately accompany women in very difficult situations,... especially when the life developing within them is the result of rape or a situation of extreme poverty".
"Who can remain unmoved before such painful situations?" he asked.
Additional reporting by Reuters
Register for free to continue reading
Registration is a free and easy way to support our truly independent journalism
By registering, you will also enjoy limited access to Premium articles, exclusive newsletters, commenting, and virtual events with our leading journalists
Already have an account? sign in
Join our new commenting forum
Join thought-provoking conversations, follow other Independent readers and see their replies