Revealed: Prevent reviewer said his job was 'completely unnecessary' and counter-terror inquiry was based on 'fictitious' evidence
Exclusive: Labour writes to government demanding it reconsiders Lord Carlile's appointment 
Lizzie Dearden
Security Correspondent
Thursday 22 August 2019 12:40 Comments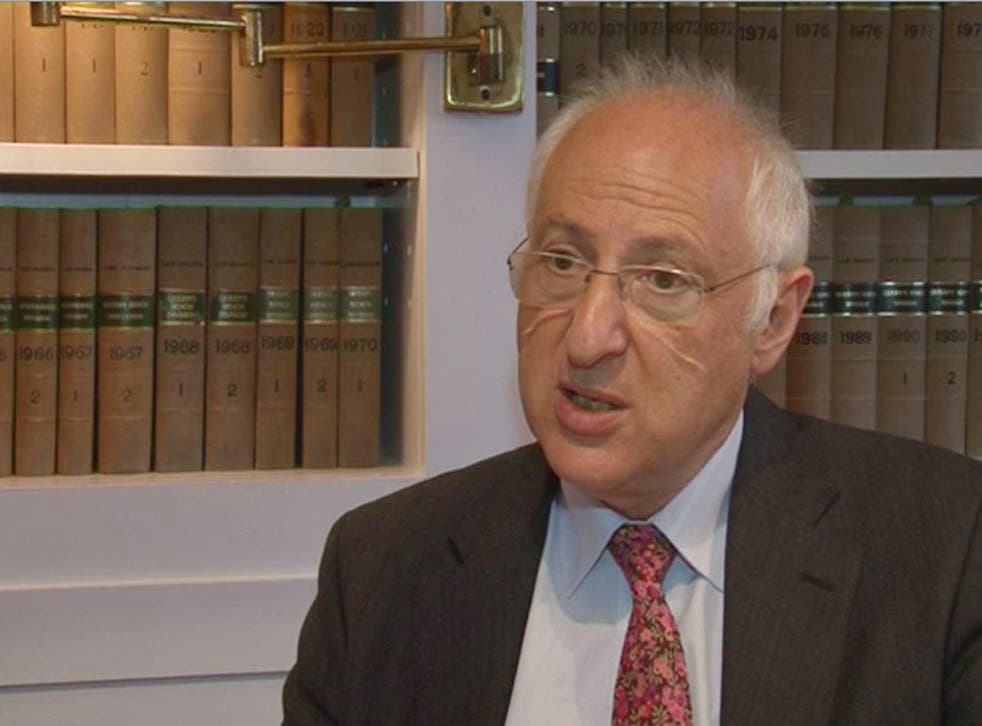 The peer leading an independent review into the controversial Prevent counter-extremism programme called the probe "completely unnecessary" and claimed it was based on a "complete lack of evidence", it can be revealed.
Lord Carlile made the comments before being appointed to the post earlier this month, when the security minister praised his "independence and rigour".
Labour has written to the government calling for Lord Carlile's position to be reconsidered after campaign groups warned his comments had "shattered the credibility of the review from the outset".
Appearing at a summit in Canada in May, Lord Carlile said: "I think the appointment of a Prevent reviewer was completely unnecessary, based on fictitious or a complete lack of evidence, and only agreed to because the government doesn't have a majority in the House of Commons."
The barrister has also been a member of the Prevent oversight board, which was previously charged with scrutinising the counter-extremism scheme, and suggested he was "biased towards it".
UK news in pictures

Show all 50
Nick Thomas-Symonds, the shadow security minister, said the government had not advertised the post publicly or followed the Cabinet Office code for public appointments.
"Any person appointed has to be fully independent, and be perceived to be fully independent," he wrote in a letter to the security minister that was seen by The Independent.
"It is clear that for the review to command wide confidence, there needs to be a different reviewer who is recruited via an open and transparent process."
Ministers previously told parliament the appointment was not advertised publicly because of time pressures and a suitable candidate would be chosen by the home secretary.
During the debate in Canada, Lord Carlile voiced agreement with another panellist who said that failing to follow the public appointments code would undermine the Prevent review.
Tufyal Choudhury, an associate professor in Durham Law School and adviser to Rights Watch UK, said: "It's important both to the credibility of an independent review but also for the confidence it can instil."
Lord Carlile, who was made a CBE in 2012 for services to national security, replied: "I agree with everything you just said."
But after being appointed earlier this month, he said his experience as the independent reviewer of terrorism legislation from 2001 to 2011 showed "a strong track record of asserting and sustaining my independence of government in assessing the effectiveness of legislation".
"I look forward in my new role to seeing Prevent work in action and hearing views from supporters, critics and everyone in between to see the evidence of what is and isn't working," said a quote released by the Home Office.
Mother talks to Sky News about her concerns over Government's counter-terror Prevent scheme
During a debate in the House of Lords in December, Lord Carlile said he had been a member of the Prevent oversight board and scrutinised the programme as the terror law reviewer.
Lord Carlile said it was "achieving a great deal", adding: "If we abandoned Prevent, then terrorist acts which we have been able to avoid as a result of that policy would happen.
"I admit I played a part in it, so I may be somewhat biased towards it."
During the same debate, Lord Carlile said he had "concerns about a proliferation of independent reviewers" and that Prevent should be probed by the current terror watchdog.
The review was intended to explore longstanding criticism of the Prevent counter-extremism programme, including claims that it discriminates against Muslims and generates a climate of fear and censorship.
Official statistics show that only 3 per cent of people referred to Prevent are flagged by friends and family and 4 per cent by their local community, prompting warnings that the scheme's effectiveness was being undermined by a lack of trust.
In 2017-18, more than 7,300 referrals were made but 42 per cent resulted in no action being taken.
David Cameron introduced legal requirements for institutions including schools, the NHS and councils to report suspected extremists to Prevent in 2015, sparking accusations of state-sanctioned spying.
Some campaign groups have accused Prevent of targeting Muslims and setting the barrier for intervention too low, but proponents cite a 36 per cent rise in the number of suspected far-right extremists referred as proof it does not single out one ideology.
The Home Office announced the review in January as an amendment to the Counter-Terrorism and Border Security Act, after years of dismissing human rights concerns and resisting persistent calls to overhaul Prevent.
Announcing Lord Carlile's appointment earlier this month, Brandon Lewis, the security minister, said the programme was "vitally important in stopping vulnerable individuals being drawn into terrorism and has been instrumental in turning people's lives around for the better and keeping our communities safe".
He added: "Lord Carlile brings a wealth of experience and skills to this role. As the former independent reviewer of terrorism legislation, he showed independence and rigour and I am pleased he has agreed to lead this review."
In a letter sent to Mr Lewis on Tuesday, Mr Thomas-Symonds said that for Prevent to effectively divert people away from extremism, it must "command wide confidence in all sections of society".
The Liberty campaign group said Lord Carlile's appointment confirmed its "worst fears about the government's lack of commitment to a root and branch assessment of Prevent".
"It beggars belief the government has appointed a Prevent reviewer who is on public record saying he is biased towards it," said Martha Spurrier, the organisation's director.
"This exercise should be an objective and thorough scrutiny of the very premise of the Prevent strategy – which stifles speech, spreads fear and distrust, and encourages discrimination. That will be impossible under this reviewer.
"This appointment will be a cause of dismay for communities whose lives are most damaged by Prevent legislation."
The Home Office said there was no requirement for the appointment to follow the Cabinet Office code, but its "general principles" had been observed.
A spokesperson said: "Lord Carlile brings a wealth of experience and skills to this role. The fact that he has already given serious thought to Prevent will be an asset as he conducts this review.
"In line with other reviews of this type, the appointment is at the discretion of the home secretary and has been considered carefully."
The review is due to report its recommendations to parliament by August 2020. Lord Carlile declined to comment.
Register for free to continue reading
Registration is a free and easy way to support our truly independent journalism
By registering, you will also enjoy limited access to Premium articles, exclusive newsletters, commenting, and virtual events with our leading journalists
Already have an account? sign in
Join our new commenting forum
Join thought-provoking conversations, follow other Independent readers and see their replies