Prince Andrew denies sexual abuse allegations in unprecedented Buckingham Palace statement
The Duke of York denies having relations with alleged 'sex slave'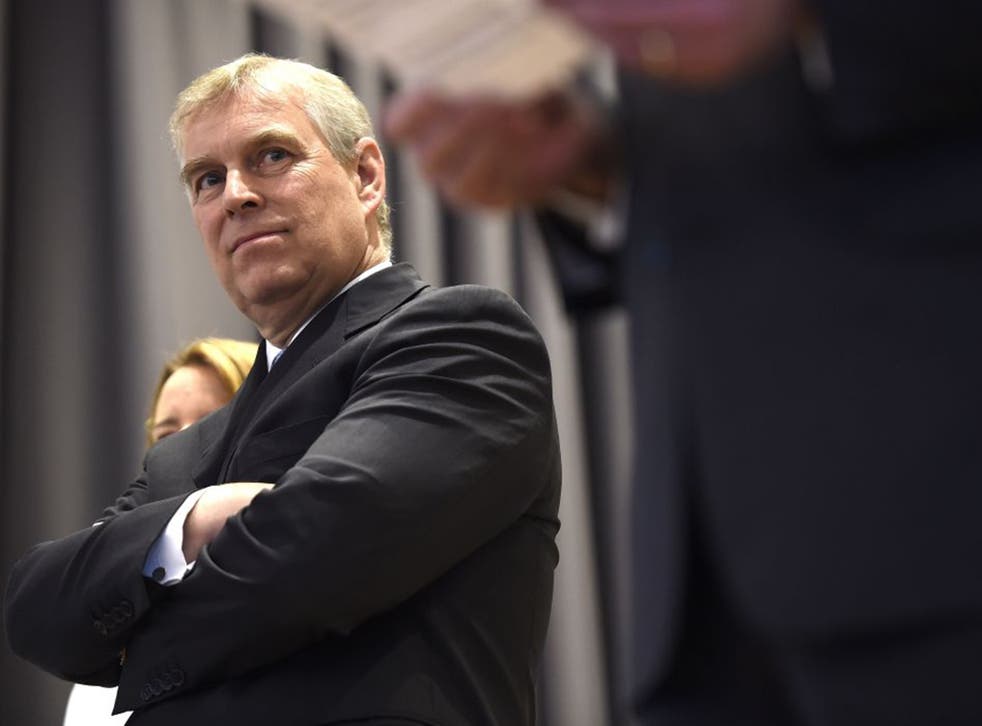 Prince Andrew has vehemently denied having "any form of sexual contact or relationship" with a woman who claims that he was one of a number of rich and powerful men whom she was forced to have sex with by American billionaire Jeffrey Epstein.
The Duke of York was accused in US legal documents of sexually abusing the then 17-year-old on multiple occasions whilst she was allegedly being used as a sex slave by convicted sex offender Epstein, a former friend of the Duke.
In its second denial of the allegations, following The Mail on Sunday's publication of the woman's name, Buckingham Palace referred to the Duke's accuser as Virginia Roberts.
In an interview with the Mail on Sunday in 2011, Roberts, a US citizen, waived her anonymity when claiming she had been sexually exploited by Epstein as a teenager.
The Independent has not been able to verify her identity.
A Palace spokesman said: "It is emphatically denied that the Duke of York had any form of sexual contact or relationship with Virginia Roberts.
"The allegations made are false and without any foundation."
Prince Andrew: Life in pictures

Show all 15
This follows a statement on Friday that said "any suggestion of impropriety with under-age minors" by the Duke was "categorically untrue".
The woman's claim is part of a legal action related to Epstein, a billionaire financier whose friendship with the Duke was the source of controversy following Epstein's 2008 conviction of soliciting an under-age prostitute.
In the court documents, she states that she was invited to Epstein's Florida mansion as a 15-year-old before becoming his "sex slave" from 1999 to 2002.
The woman claims she was passed around "politically connected and financially powerful people" — including the Prince.
She claims that she was lent out so that Epstein could ingratiate himself for "business, personal, political and financial gain as well as to obtain potential blackmail information".
In those years, she claims to have been "forced to have sexual relations with this prince when she was a minor" in London, New York and as part of an orgy on Epstein's private Caribbean island.
Harvard law professor Alan Dershowitz - who is also named in the court papers - said the claims against him were part of a pattern of "made-up stories" by the woman and her lawyers against prominent people.
Prof Dershowitz, who represented Epstein in the 2008 case, said that he would not rest until he had shown that the claims regarding his conduct were false and he advised the Duke to do everything in his power to clear his name.
"My only feeling is, if she's lied about me, which I know to an absolute certainty she has, she should not be believed about anyone else," he told the BBC Radio 4 Today programme.
"We know she's lied about other public figures including a former prime minister and others who she claims to have participated in sexual activities with, so I think it must be presumed all her allegations against Prince Andrew were false as well."
But in a statement released through her lawyers to The Guardian, the woman hit back, saying: "These types of aggressive attacks on me are exactly the reason why sexual abuse victims typically remain silent and the reason why I did for a long time. That trend should change.
"I'm not going to be bullied back into silence."