As it happened
ended
1618748557
Prince Philip funeral : Union flags raised over royal palaces as Queen continues to grieve for husband
Follow all the latest updates
Prince Philip's coffin lowered into Royal Vault during final blessing
Union flags flying over the royal palaces and Number 10 have been raised from half mast to mark the end of the period of national mourning for Prince Philip.
Video footage showed the flags outside Buckingham Palace and the prime minister's official residence being raised on Sunday morning, while other official buildings across the country followed suit.
While the period of national mourning has ended, the Queen will continue to grieve her husband and the royal family will mark a further week of official mourning.
The nation fell silent in memory of the Duke of Edinburgh on Saturday afternoon, as the funeral ceremony marking his life of duty took place at St George's Chapel in Windsor Castle.
The duke's "unwavering loyalty" to the monarch was highlighted at the service, as the Queen bid a final farewell to her beloved husband – her "strength and stay" through 73 years of marriage.
The funeral reunited Prince William and Prince Harry after their much-publicised fall-out. Although they sat opposite each other inside the chapel, the brothers were seen talking together as they left the ceremony.
1618641394
Good morning and welcome to live updates on Prince Philip's funeral.
Samuel Osborne
17 April 2021 07:36
1618642006
Philip's funeral to highlight 'unwavering loyalty' to Queen
Prince's Philip's funeral will highlight his "unwavering loyalty' to the Queen and his "courage, fortitude and faith".
In keeping with the Duke of Edinburgh's wishes, there will be no sermon during the ceremonial royal service, according to the Order of Service released by Buckingham Palace.
His funeral will be held at the ground's chapel, St George's, on Saturday.
While the funeral would normally have been a state affair, Covid restrictions mean it was significantly pared down.
Samuel Osborne
17 April 2021 07:46
1618642979
Funeral plan 'very much reflects the man,' royal biographer says
Royal biographer Robert Hardman said the Duke of Edinburgh's funeral plan "very much reflects the man".
Speaking to BBC Radio 4's Today, Mr Hardman said: "It is reduced but I don't think it is any way diminished - the core elements are there."
He added that it would be a service that "very much reflects the man - very unstuffy, unfussy".
"You won't hear a eulogy or any great address - it is very much what he wanted but all the way through it are those echo of his naval career which shaped him," Mr Hardman said.
The journalist recalled asking Prince Philip about his legacy for a documentary, adding: "He sort of winced - he knew it was coming - and said, 'I don't want to talk about my legacy'.
"He actually said - it was his word - that it was indecent to talk about your legacy. He said 'it is not down to me to decide how I'm remembered, other people can decide that'.
"He said what he really wanted to do is make sure that life can go on for those who follow behind."
Samuel Osborne
17 April 2021 08:02
1618643861
Queen will be under 'extraordinary pressure' as she mourns husband in public, Lord Chartres says
Lord Chartres, a former bishop of London, said the Queen would be under "extraordinary pressure" during the Duke of Edinburgh's funeral as she mourns her husband in public.
The retired Church of England bishop, who was understood to be close to Philip, told BBC Radio 4's Today: "I hope that today people really will be sending up a prayer for the Queen and for the other members of the royal family because having to grieve in public is an extraordinary pressure and something that most of us would not really want to do.
"But it is part of their life and their world, and I hope today, and I'm sure, that people won't forget the personal dimension in the formal ceremonies."
Lord Chartres said the duke had a "very practical" Christian faith, adding: "I always remember preaching on occasions which he was principal actor that the instruction would always come down: 'No more than four minutes'.
"He was at home with broad church, high church and low church, but what he really liked was short church, and I think that-one was left in no doubt about that."
The peer described Philip as a "very questioning, curious and deeply committed person".
Samuel Osborne
17 April 2021 08:17
1618644982
Pupil's at Philip's boarding school to lead tributes in Scotland
Young sailors at the Duke of Edinburgh's former school in Moray are to lead a tribute in Scotland on the day of his funeral.
Pupils aboard Gordonstoun's 80ft sail training boat will lay a wreath off the coast of Hopeman Harbour, where Prince Philip first learned to sail.
On the shore, a lone student piper will play while displaying the Duke of Edinburgh's Coat of Arms on a banner.
It was presented to the exclusive boarding school's pipe band by Her Majesty in 2019.
Samuel Osborne
17 April 2021 08:36
1618645861
Duke of Edinburgh held 'very clear affection' for military, Admiral says
Admiral Tony Radakin, the First Sea Lord, said the Duke of Edinburgh held a "very clear affection" for the military that was reciprocated.
The chief of the naval staff told BBC Radio 4's Today: "It is (a naval send-off at the duke's funeral) but I think it is much bigger than that.
"I really do think that for all of us in the military, today is about a royal funeral and it is about playing our part in that, but it is for the Royal Air Force, the British Army and the Royal Navy, and to reflect our dignity and respect and the affection we all had for Prince Philip, and the very clear affection that he had for all of us."
Detailing his "remarkable" long-held connections with the navy, Admiral Radakin recalled how the duke was evacuated out of Greece at aged 18 months on HMS Calypso before later going on to embark on a "distinguished" career in the service.
"He carried on these connections all the way through his life," he continued.
"He was captain general of the Royal Marines for 64 years, he was a Lord High Admiral from 2011 and then his final official engagement was with the Royal Marines when he was aged 96 at Buckingham Palace, so I think it is the consistency and the enduring connections and the affection, and how real they were, that means so much to us."
Samuel Osborne
17 April 2021 08:51
1618646685
'Very few people' took offence at Philip's remarks, former press secretary to Queen claims
A former press secretary to the Queen said "very few people" took offence to remarks made by the Duke of Edinburgh.
Speaking to Sky News, Charles Anson said: "The occasional jokes were often very much enjoyed by those to whom he was speaking, I think he rarely offended all that much.
"I think Prince Philip's way of breaking the ice of making a joke including people in a conversation, he was marvellous in that respect.
"It was Prince Philip who introduced an informal remark and sometimes a joke, but actually when you look back on it very few people took offence, most people could see his sense of humour and knew he was well meaning.
"He had all that energy and marvellous ideas, and he made great contribution and lightening the atmosphere whilst remaining a very serious figure."
Samuel Osborne
17 April 2021 09:04
1618648052
Simon Armitage pays tribute to Prince Philip in new poem shared ahead of funeral
Simon Armitage has written a poem to pay tribute to Prince Philip, Roisin O'Connor reports.
Armitage's poem marks the first time he has addressed the royals during his tenure as the UK's poet laureate.
Armitage said the obituaries for Prince Philip had taught him the royal "hated sycophancy", and so he had written a poem that instead was "in service of all people like him".
Titled "The Patriarchs – An Elegy", it begins with "unseasonal" snow, and builds to a tribute to the men of the duke's generation who were "husbands to duty".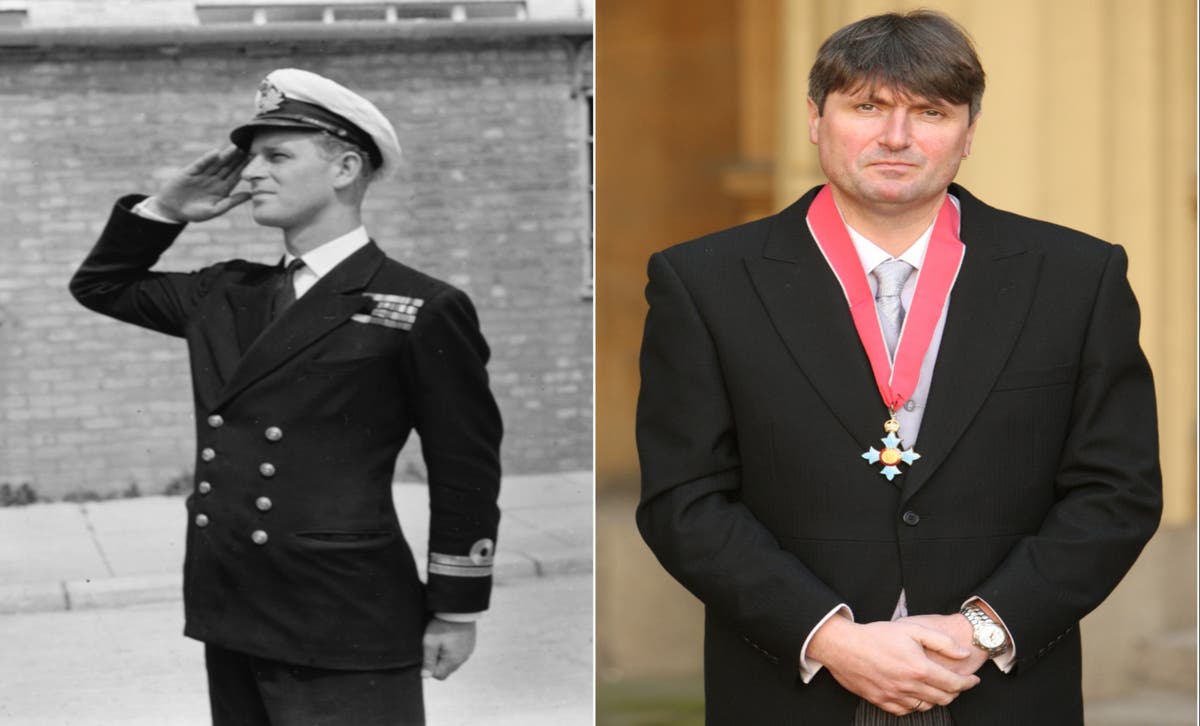 Poet laureate says he wanted to avoid the 'sycophancy' that the late royal despised
Samuel Osborne
17 April 2021 09:27
1618649558
'Difficult to stifle a tear' at hymns for duke, top military commander says
One of the country's top military commanders, who was present at the rehearsal for the Duke of Edinburgh's funeral on Friday, has said it was "difficult to stifle a tear" when he heard the hymns which will be played at the ceremony.
General Sir Patrick Sanders, Commander of Strategic Command, who has met the duke several times, told BBC Breakfast: "I was standing at the rehearsal yesterday and you hear those first notes of Nimrod, and the hairs go up at the back of your neck, you get a lump in your throat.
"It's difficult to stifle a tear as you think about the duke and the impact on the royal family and the whole nation - and you stand there a little stiffer, a little straighter, determined to do right by him."
Remembering Philip, he said: "You couldn't have a conversation with the duke without seeing a twinkle in his eye.
"The thing that always struck me about him was he was focused entirely on the person in front of him, and he was able to engage with people as individuals - it didn't matter what your rank was, it didn't matter what your station in life was, it didn't matter what your experience was - he was interested in you, really interested, and he treated everybody the same.
"Each of those exchanges invariably involved some kind of banter, some kind of personal anecdote, some kind of quip, and you could always hear laughter wherever the duke was."
Samuel Osborne
17 April 2021 09:52
1618650404
Prince Philip's secret return visit to his birthplace
Greek island of Corfu quietly remembers Prince Philip, and plans permanent exhibition to commemorate the Duke of Edinburgh, who was born here in 1921, writes Alex Sakalis:
Greek island of Corfu quietly remembers Prince Philip, and plans permanent exhibition to commemorate the Duke of Edinburgh, who was born here in 1921, writes Alex Sakalis
Samuel Osborne
17 April 2021 10:06
Join our new commenting forum
Join thought-provoking conversations, follow other Independent readers and see their replies