Prince William asks if drugs should be legalised
Recovering addict tells Duke of Cambridge that legalisation of drugs is 'a good idea' and that money is being wasted on 'drug laws'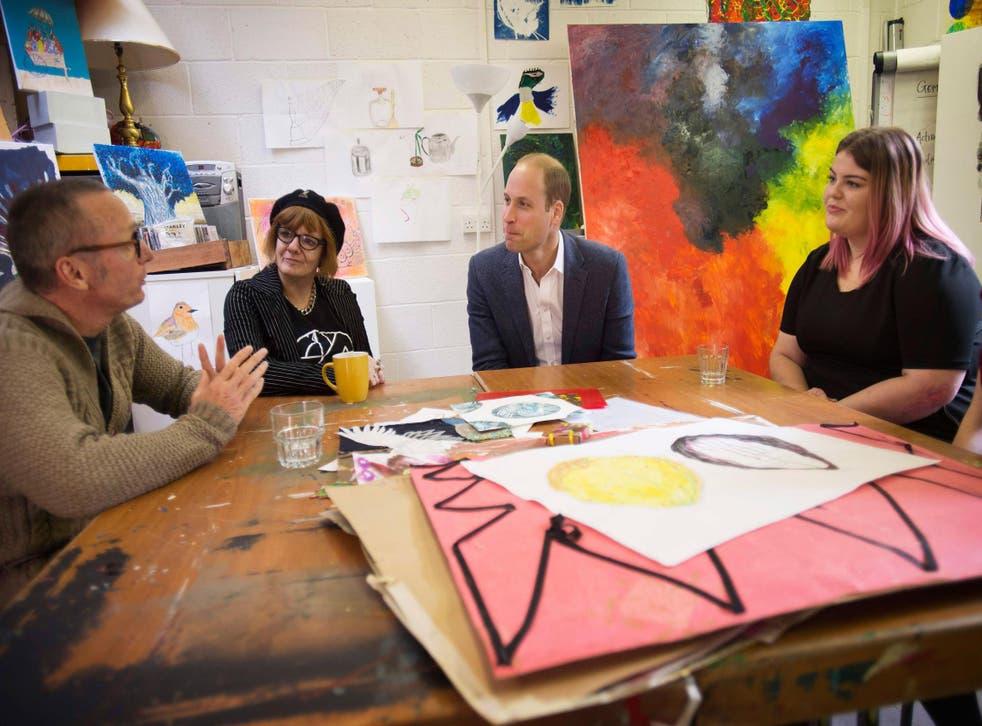 Prince William has asked recovering addicts whether they think drugs should be legalised.
The Duke of Cambridge's unexpected intervention in the drugs debate came during a visit to the east London-based Spitalfields Crypt Trust (SCT), which provides services for alcohol and drug addicts and supports them in trying to get clean.
The first recovering addict to answer told him she supported the legalisation of drugs.
Speaking to three recovering addicts in an art room used by the Shoreditch-based charity, Prince William said: "Can I ask you a very massive question - it's a big one. There's obviously a lot of pressure growing in areas about legalising drugs and things like that. What are your individual opinions on that?
"I know it's a big question, but you seem like the key people to actually get a very good idea as to, you know, what are the big dangers there - what are the feelings?"
Heather Blackburn, the first to reply, said she thought the legalisation of drugs was "a good idea" and that money was wasted on "drug laws".
The 49-year-old added: "Most of the people I've known in recovery, 95 per cent, had massive trauma and terrible stuff happen to them and using drugs to cope and then you get put in prison, you don't get the facilities and the actual help you need, you get punished.
"Which is not going to help anyone taking drugs, it's going to even do more harm I think."
When William asked: "So there needs to be more of a social element to it?" she replied there should be more help, such as psychiatrists, so people could turn their lives around earlier.
The prince added: "So prison doesn't tackle the root cause of why someone is taking drugs?" and Ms Blackburn replied: "No, it just punishes what you've done, not the reasons why."
UK news in pictures

Show all 50
Recovering alcoholic Grace Gunn told William: "There are still drugs in prison, you can't eliminate that fact that people do get drugs into prison.
"But I'm a true believer people who end up in these places, we're damaged people. Whether that's through trauma or our relationship with parents or family or carer, and I think one thing to start the process, there has to be money in mental health therapy.
"You can't have two-year waiting lists for trauma therapy - I've been waiting five years."
The 19-year-old, who is training to become a midwife, added: "You can't just say, you know, 'drugs are illegal' or 'now we can all go and do drugs', because it doesn't stop the fact we're a nation of people hurting, and we can't undo all that overnight, it takes a long period of time."
William's interest in the debate on the legalisation of drugs came after the Liberal Democrat deputy leader, Jo Swinson, insisted her party was right to press for the legalisation of cannabis - predicting the issue would not be a concern to voters within 15 years.
The party's General Election manifesto called for the legalisation of the drug so it could be sold in a regulated market.
At the end of the discussion the Duke told the group: "Thank you, it's a very useful little snapshot. You guys have seen it and it's affected your lives in ways I can only imagine, so it's very interesting to hear that from you.
"Talking to you and being here it feels like a question I had to ask, I appreciate your honesty."
As he said his goodbyes William, in a jokey reference to the birth of his third child expected next spring, told Ms Gunn: "All the best with the midwifery - might see you sooner than you think."
Register for free to continue reading
Registration is a free and easy way to support our truly independent journalism
By registering, you will also enjoy limited access to Premium articles, exclusive newsletters, commenting, and virtual events with our leading journalists
Already have an account? sign in
Register for free to continue reading
Registration is a free and easy way to support our truly independent journalism
By registering, you will also enjoy limited access to Premium articles, exclusive newsletters, commenting, and virtual events with our leading journalists
Already have an account? sign in
Join our new commenting forum
Join thought-provoking conversations, follow other Independent readers and see their replies