Two thirds of prisons overcrowded prompting warnings UK penal system has reached 'toxic' levels
Government statistics show 68 per cent of prisons hold more inmates than their usable 'certified normal accommodation' (CNA), with some holding more than 50 per cent over the recommended levels
May Bulman
Saturday 15 April 2017 21:12 Comments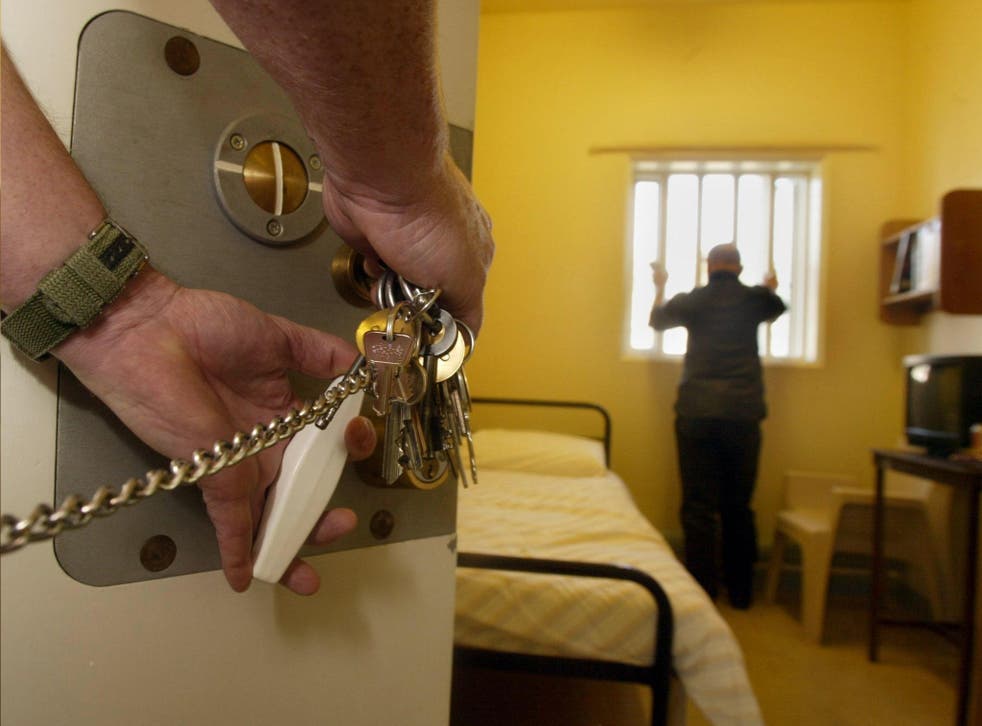 Two thirds of prisons in England and Wales are overcrowded, Government figures have revealed, prompting warnings from campaigners that growing overpopulation and severe staff shortages have created a "toxic cocktail" within the penal system.
Statistics published by the Ministry of Justice on Friday show 68 per cent of prisons were housing more inmates than their usable "certified normal accommodation" (CNA) — the limit for ensuring a "good, decent standard of accommodation".
Eighty out of 117 jails breached the limit, with some holding more than 50 per cent over the recommended population levels. HMP Leeds revealed to have the worst record, with 75 per cent — or 501 — more inmates than the threshold states.
Two jails, Ashfield in Gloucestershire and Lancaster Farms in Lancashire, held a number of prisons over their "operational capacity" — the maximum number of inmates a jail can handle safely — while 39 prisons would hit this higher cap if they had just 10 more inmates.
The figures come as an alarming indication that the problem of overcrowding in prisons has worsened in recent years, despite stark warnings to successive governments that it was a growing problem. In 2012, 59 per cent — or 77 out 131 — establishments were operating above their CNA, indicating an increase of nine per cent in the past five years. According to the Council of Europe, Britain has the largest prison population in Western Europe at 95,248.
Campaigners have warned the levels of overcrowding in prisons, along with severe staff shortages, has created a "toxic" situation in the current prison system, and warned that the Government response of building large new prisons is not the correct approach.
Andrew Neilson, director of campaigns for the Howard League for Penal Reform, told The Independent: "Many prisoners are sharing cells were designed for one person — maybe six foot by 10 foot — on a bunk bed with an unscreened toilet by the foot of the bed. The practical impact of this overcrowding, alongside the shortages of staff that the prisons are currently experiencing, creates a toxic cocktail.
"They lead to all the problems that have been well publicised in recent months: that suicides in custody in England and Wales were than in any other on record in 2016, the disturbances, the dramatic increase in violence, the fact that drugs have raged out of control.
"We have a system that is not running remotely in an optimal way. Prisoners are often sharing cells with people they don't know, people are getting moved around the prisons a lot with no real planning behind it. Decisions are being made because of overcrowding, and not in the best interest of the prisoners and their rehabilitation."
Mr Neilson said the approach of the current and successive governments of constantly building new prisons would "never be successful", and that ministers should shift the focus to bringing down sentences and enabling people to earn their release once in prison.
"This Government's approach to dealing with overcrowding has been to close older prisons to save money and then build much larger prisons, and they're not able to build quickly enough to meet the capacity," he said.
"It's a supply and demand situation – and all the focus is on the supply side at the moment, in terms of attempting to provide cells and build prison places, rather than trying to manage the demand.
"To beat prison overcrowding you need to say we're jailing too many people. We need to look at sentencing; we need to look at how people can earn their release once they are in prison; we need to manage the population. It's a plan successive justice secretaries have constantly ducked."
Justice Secretary Liz Truss unveiled plans for 5,000 new prisoner places and four new prisons in England and Wales last month, as part of the Government's intention to create 10,000 "modern prison places" by the end of this Parliament.
Last year, in an effort to tackle the growing prison populations, senior cross-party politicians wrote to Ms Truss calling for the number of inmates to be reduced by 40,000 – almost a half to levels seen under Margaret Thatcher's premiership.
But in February the Justice Secretary said that while she wanted to see the numbers of people in prisons go down, it had to be for the right reasons, saying: "The wrong approach would be reducing sentences for serious crimes or letting people out early. Reductions by cap or quota, or by sweeping sentencing cuts are not a magic bullet, they are a dangerous attempt at a quick fix."
Alex Cavendish, former prisoner and prison affairs academic, warned the growing overpopulation and staff shortages in UK prisons poses a "real risk" of further mass riots breaking out, such as that seen at HMP Birmingham at the end of last year, and said there were potentially fatal consequences.
"Overcrowding and under-staffing are a toxic - and sadly sometimes lethal - combination in our prisons," he told The Independent. "Imprisonment in overcrowded jails can be a very degrading experience. Having to defecate in the presence of complete strangers, as well as eating meals actually sitting on the WC because there just isn't space for two or three men to have chairs, is both unhygienic and humiliating."
"Cramming two or even three adult men in a tiny cell originally designed to house just one person fuels tensions and can lead to violent incidents. It can provide many opportunities for the bullying and even sexual assault of weaker, more vulnerable inmates, including teenagers of 18 or 19 who are being held on wings with much older prisoners. It certainly does nothing to rehabilitate.
UK news in pictures

Show all 50
"Unless the Ministry of Justice gets to grip with this crisis, there is the very real risk of further major prison riots occurring in the near future. Current staff shortages could also mean that control of whole prisons could be lost, with potential of serious injuries and even loss of life," he added.
Responding to the figures, a Ministry of Justice spokesperson said: "It is totally misleading to suggest that the prison population has increased significantly. It has remained relatively stable over the past 12 months.
"We are investing £1.3bn to modernise the estate with 10,000 new places, and have recently opened HMP Berwyn which can hold 2,000 prisoners."
Register for free to continue reading
Registration is a free and easy way to support our truly independent journalism
By registering, you will also enjoy limited access to Premium articles, exclusive newsletters, commenting, and virtual events with our leading journalists
Already have an account? sign in
Join our new commenting forum
Join thought-provoking conversations, follow other Independent readers and see their replies