Privatisation of probation threatening to become 'contracting disaster' putting public at risk, Government warned
Public Accounts Committee demands assurances on companies' financial solvency following Carillion collapse 
Lizzie Dearden
Home Affairs Correspondent
Wednesday 21 March 2018 02:25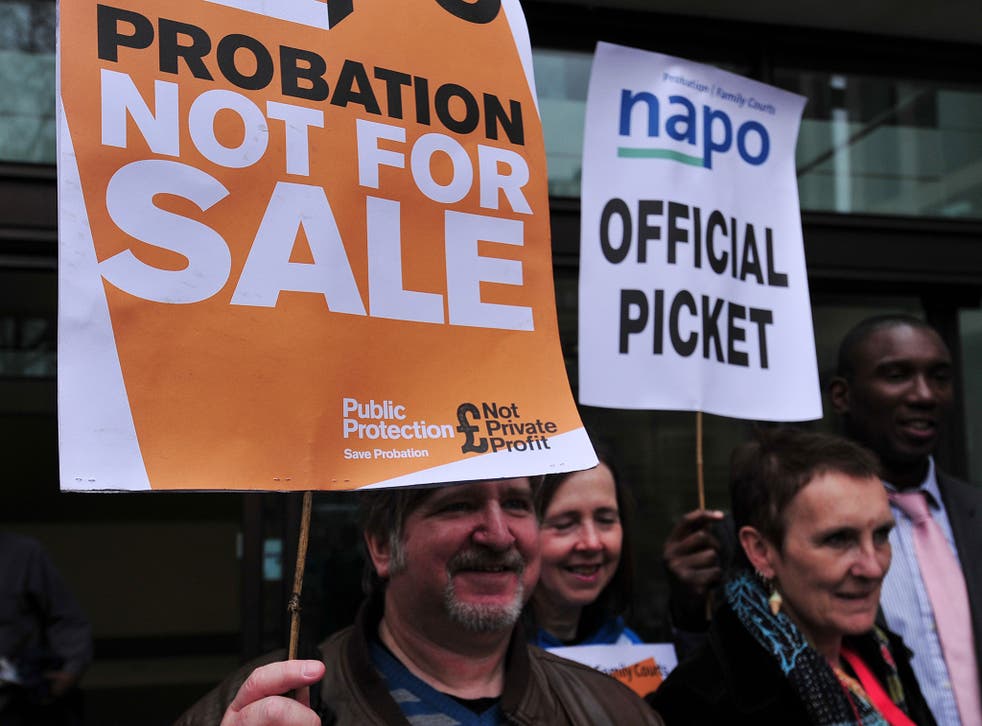 The Government's part-privatisation of probation services are becoming a "contracting catastrophe" that could put both offenders and the public at risk, MPs have warned.
The Public Accounts Committee found that the £3.7bn Transforming Rehabilitation programme had not achieved the stated aims to improve how criminals are supervised and help them turn around their lives.
"The so-called 'rehabilitation revolution' is showing worrying signs of becoming a contracting catastrophe," said Meg Hillier, the Labour MP who chairs the committee.
"This combination of poor performance and financial instability is neither acceptable nor sustainable."
MPs warned that the Government's attempt to "spend its way out of difficulty" by agreeing to £342m extra funding for CRCs was not working.
The companies themselves expect to make losses of £443m in the same period, raising fears of the collapse of outsourcing giant Carillion repeating itself.
Started in 2014, the Transforming Rehabilitation programme saw 35 self-governing probation trusts dissolved and split into the National Probation Service (NPS) and 21 private Community Rehabilitation Companies (CRCs).
The firms were only intended to supervise low or medium-risk offenders, while the public sector NPS was charged with dangerous criminals, but a recent inspection found that overstretched CRCs were letting criminals commit violent offences while supposedly under their supervision.
HM Inspectorate of Probation revealed that thousands of offenders living in the community were being managed by a brief phone call every few weeks.
The Public Accounts Committee found that CRCs were performing "woefully" against their contracts, achieving only eight out of 24 targets on average.
Almost all have failed to meet targets for reducing rates of reoffending and the number of convicts being recalled to prison has spiked.
"These disappointing results raise questions about whether the current arrangements will be able to deliver the promised benefits before the contracts expire in 2021/22," the report concluded.
"The Ministry of Justice urgently needs to make sure CRCs improve the quality of the services they provide and deliver on their promises of innovation to achieve the improved outcomes that offenders and communities so desperately need."
​MPs said the Ministry of Justice had over-complicated performance measurements, leaving it impossible to tell whether failings are "is due to their lower than expected income or their incompetence".
CRCs are providing fewer programmes than expected, meaning they are earning far less than predicted when their contracts were drawn up.
The committee said the change was partly because of increasing serious and violent crime in the UK putting a higher proportion of offenders under NPS control, while courts themselves are not handing out as many CRC-run community orders because they "appear to have lost confidence in some of the services delivered".
In March last year, companies told the Government they were forecasting losses of £443m for the remainder of their contracts, forcing the Ministry of Justice to adjust the agreements and commit additional funding of up to £343m.
The committee said the costs were caused by the Government "pushing through its reforms too quickly and failing to anticipate foreseeable consequences".
It raised concern that if any of the eight suppliers that run CRCs suffer a Carillion-style collapse, there could be significant costs to the taxpayer, and additional funding may be used to cover costs rather than improve rehabilitation services.
A total of 14 CRCs are still forecast to make a loss, two in excess of £40m, and multiple contract holder Interserve issued two profit warnings in September and October 2017.
UK news in pictures

Show all 50
The FTSE 250 contractor, which employs 80,000 staff worldwide, is currently being monitored by the Cabinet Office and other outsourcing giants have suffered falling share prices since the Carillion collapse.
"Despite a massive injection of additional taxpayer cash, two-thirds of CRCs are forecasting losses," Ms Hillier warned.
"The Government's attempt to spend its way out of difficulty clearly isn't working.
"It must act now to limit taxpayers' exposure to risk and give this flagship strategy a fighting chance of delivering what it promised."
MPs said they were not convinced by the Ministry of Justice's claims that it was making CRCs improve services, innovation and reductions in reoffending.
"It is not yet clear what the ministry has received from CRCs in return for the contract changes it negotiated with them," the report noted.
"It is owed £9m of taxpayers' money by CRCs but has not yet taken any action to recoup this money."
The committee demanded updates on the firms' solvency, how the funds would be repaid and details of how extra funding was being spent by the end of April.
The privatisation programme has also been blighted by IT failures, with a link between the National Offender Management Service and CRC systems promised by last summer but still outstanding.
The committee called on the Ministry of Justice to review the way CRCs are paid to create stronger incentives for services that meet the needs of all groups and reduce reoffending.
Richard Burgon, the Shadow Justice Secretary, said the part-privatisation of our probation system has been "a costly failure that is leaving the public less safe" and called for all forms of supervision to be returned to the public sector.
Prisons and Probation Minister Rory Stewart said his department would take the report very seriously.
"It is worth bearing in mind that the Government has saved considerably more money in these contracts than they initially anticipated, freeing up money for other vital public services," he added.
"And we are monitoring 40,000 more offenders than before our reforms.
"But as this report points out there is much more to be done – particularly on getting the basics right – and I will be working very closely with providers in my new role to make sure this happens."

Register for free to continue reading
Registration is a free and easy way to support our truly independent journalism
By registering, you will also enjoy limited access to Premium articles, exclusive newsletters, commenting, and virtual events with our leading journalists
Already have an account? sign in
Register for free to continue reading
Registration is a free and easy way to support our truly independent journalism
By registering, you will also enjoy limited access to Premium articles, exclusive newsletters, commenting, and virtual events with our leading journalists
Already have an account? sign in