Government outsourcing 'high-risk' jobs guarding murderers and rapists at probation hostels to private firms
Exclusive: 'Something serious will happen,' officers warn amid concern over quality of contracted staff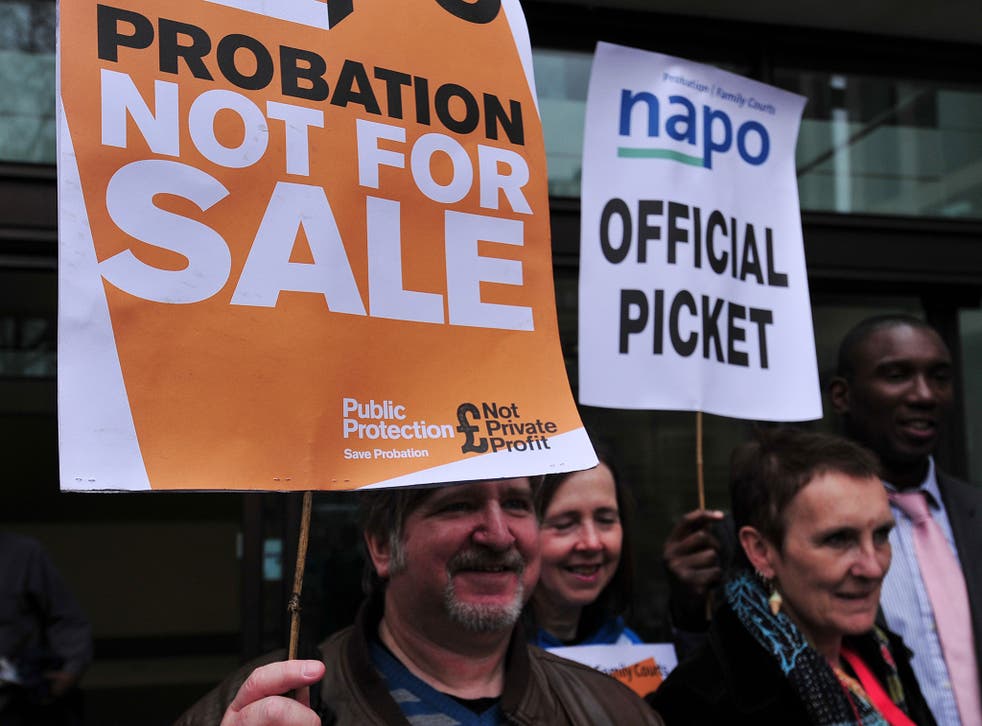 Jobs monitoring dangerous criminals, including murderers and rapists, after they leave prison are being privatised by the Government, The Independent can reveal.
Controversial facilities management contracts are being used to pass some roles currently inside the National Probation Service (NPS) to contractors such as Sodexo and OCS.
They include staff who monitor high-risk convicts overnight at more than 100 hostels across England and Wales.
Critics argue that employees taken on by private companies do not have the experience and training needed for the vital role.
"I'd give it a year and something serious will happen with all the new inexperienced staff being taken on," a source told The Independent.
A Ministry of Justice (MoJ) consultation document said "double waking night cover" roles were being contracted out to standardise practice across the country.
"An NPS review concluded that rather than a mixed approach across divisions, one consistent national approach would provide a more consistent, efficient and effective service," it said.
"Options for one consistent approach were developed and considered, including contracting out the night residential assistant service, which was agreed would be the best way forward."
Documents seen by The Independent said the new MoJ management contract allows the work to be privatised and transferred to what it calls "external service partners".
The consultation is due to run until 15 January, but the jobs are already set to be transferred just seven days later.
Sodexo appears to have prepared for the influx of work by advertising for residential assistant posts at probation hostels in locations including Leicester, Worcester, Manchester, Liverpool and Wrexham.
Full-time jobs to start later this month will be paid an annual salary of £19,760, with knowledge of offending, mental health, substance abuse, risk management, probation and the criminal justice system listed as "desirable", rather than mandatory.
The description says workers will need to provide 24-hour cover including security and monitoring services, supporting to reduce convicts' risk of reoffending, breaching their licence conditions or court orders.
​Sodexo says applicants must also "assist in the supervision of residents, maintaining discipline", contribute to risk management and work out of hours on waking night duty and the weekends alongside NPS staff.
Ben Priestley, a national officer at Unison, said the union was concerned the change would "put residents, staff and communities in danger".
"It's a job that requires significant skills and significant training and our members' concern is that on the salaries they are willing to pay, private contractors will employ individuals with a low skill set without the commitment to working in this, which is meant to be a therapeutic environment to help these individuals adjust to society after lengthy periods in prison," he told The Independent.
"It is not a bog standard security guard role."
The location of "approved premises" are not made public over security concerns but the facilities house more than 2,200 men and women across the country, with a budget of £49.5m for 2017/18.
They are staffed 24 hours a day and enforce controls including curfews, check-ins, drug and alcohol testing and room searching.
Around 90 per cent of residents are judged to pose a "high risk of serious harm" after serving lengthy jail sentences for crimes including murder, sex offences and terrorism.
Staff are tasked with helping residents re-adjust to society, as well as keeping hostels secure and conducting risk assessments to protect the public.
There have been several murders at the facilities, with a 44-year-old man killed by a fellow resident at a hostel in Derby in August.
Probation officers are concerned that more violence will occur if the standards of current NPS staff are not maintained.
Unison said members in the probation service had already raised concerns about a limited number of contracted night staff when a new push for privatisation was launched in 2014.
"The NPS claimed outsourcing had worked but all the evidence from our members is that it wasn't the case," Mr Priestley said.
"Members have had real concerns about the quality of staff that have come in when private contractors have been used, the training of those staff, the understanding they have around the sensitivities of working in that environment and just the simple problems of getting staff to turn up and work at the right time on the right shift with the right skills, attitudes and application."
UK news in pictures

Show all 50
The debate comes after HM Inspectorate of Probation found the hostels were working well in the current format, before privatisation plans were announced.
Dame Glenys Stacey said they were "exceptionally good at protecting the public", returning residents to prison when needed, but that the quality of rehabilitation was mixed.
Her report, released in July, concluded that more probation hostels should be set up to satisfy a shortage of places and ensure "more of our most dangerous offenders could be released safely, and change their lives for the better".
Until 2014, local probation trusts ran the hostels but the Government's 2014 transforming rehabilitation policy split management between the public National Probation Service and 21 Community Rehabilitation Companies (CRCs).
Those firms were found to be putting the public at risk by failing to properly monitor and rehabilitate offenders, HM Inspectorate of Probation found in a separate report released last month.
It warned privatisation had created a "two-tier" system in the sector, with CRCs originally intended to monitor low and medium-risk convicts becoming dangerously overstretched.
Unison said the "privatisation experiment has failed completely" and urged the Government to bring all probation services back under public control.
"Everyone knows that it's been a disaster and that serious remedial work has to be undertaken to put it right," Mr Priestley said.
"The fact the NPS is hoping to go ahead with another ill-conceived privatisation round is astonishing."
A spokesperson for the MoJ said: "We will be contracting additional trained staff to allow us to provide more support overnight in Approved Premises.
"This work has been contracted out to ensure we have the flexibility to provide this additional support in a cost-effective way.
"Under the new contract, staff will be safer and offenders will have more support."
Register for free to continue reading
Registration is a free and easy way to support our truly independent journalism
By registering, you will also enjoy limited access to Premium articles, exclusive newsletters, commenting, and virtual events with our leading journalists
Already have an account? sign in
Register for free to continue reading
Registration is a free and easy way to support our truly independent journalism
By registering, you will also enjoy limited access to Premium articles, exclusive newsletters, commenting, and virtual events with our leading journalists
Already have an account? sign in