'I wasn't allowed to leave the room': Restrictive practices in a psychiatric ward during coronavirus
Reducing restrictive practices (RP) has become one of the most 'hated topics in psychiatry', but it has become even harder in the pandemic, writes Jessica Brown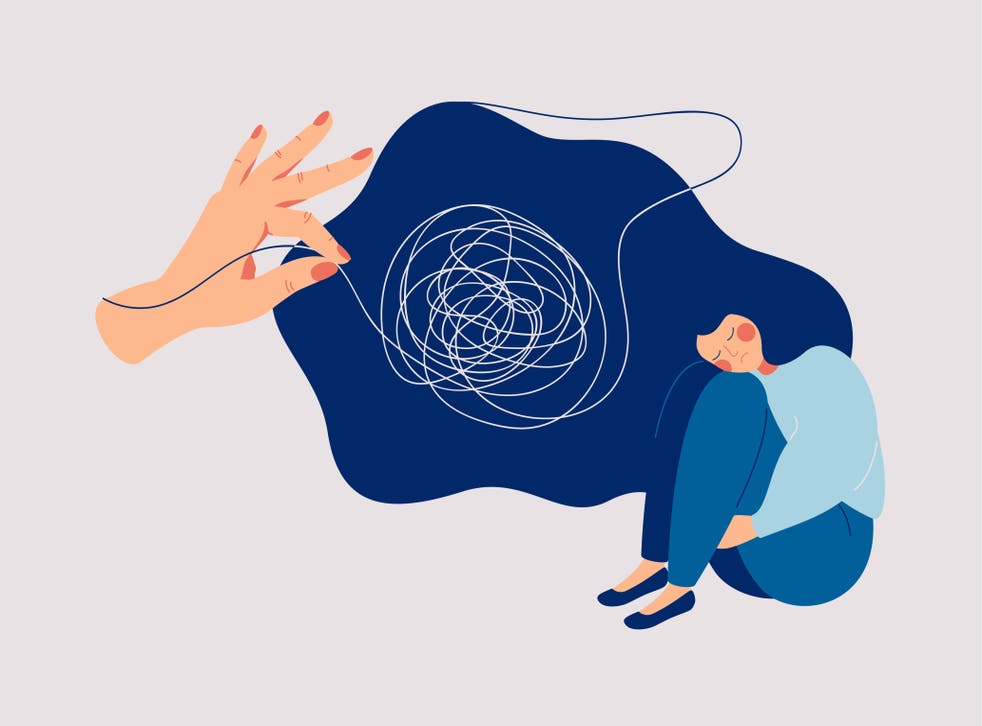 Bex Wainwright wasn't expecting to spend her first night in an inpatient psychiatric ward completely alone.
But when she was admitted to Cross Lane Hospital in Scarborough at the end of the first lockdown, she says she was led through the back door to a ward where patients waited in isolation for their Covid-19 test results to come back. She would stay there for 24 hours, until her test came back negative.
"I wasn't allowed to leave the room. The windows didn't fully open, so to get fresh air I had to put my arm out the window. I was very lonely, and very scared."
Wainwright passed the time by looking out of the window and colouring in, she says – her phone had to be taken away to be charged. She believes she would've settled in on the main ward much more quickly if she hadn't first been isolated.
Around the same time, Sarah Mitchell* was admitted to The Lakes inpatient unit in Colchester. She says she was put into isolation for two days while waiting for her Covid-19 test results, and had to ring a buzzer if she needed a drink or the toilet. It was stressful, she says, and it exacerbated her mental state.
"I slept most of the time because there was nothing to do. I asked for a book or magazine, but was refused," she says.
Isolation is arguably necessary to help control the spread of the virus, but it isn't happening on every ward.
Patients who test positive across the six psychiatric wards at Wotton Lawn Hospital in Gloucester are asked to isolate, and are given TVs in their rooms.
"People often don't self-isolate," says Gary Dodson, the hospital's matron. "This is the nature of acute psychiatry. There's nothing we can do about that – we don't keep people in their rooms because of Covid."
Reducing restrictive practices (RP), such as isolation, has been a huge national talking point in recent years – it's "one of the most hated topics in psychiatry", according to Dodson. The pandemic has highlighted how varied approaches are to RP across the country.
With coronavirus cases on the rise, efforts to reduce RP will likely be hindered as more patients await their test results in isolation. But can we afford to slow down progress?
Experts recognise that RP has its place as a last resort to protect staff and patients in extreme circumstances. And some patients come to understand why RP was used.
Poppy Robson* has had rapid tranquilisation once and has been restrained several times when she was self-harming.
"I felt pretty awful afterwards, but looking back I know it was the right thing to prevent me from hurting myself. It was traumatic, though; being held down and injected is a really awful experience."
Jane Thompson* was admitted to a psychiatric unit for the first time aged 18. She says she was traumatised after being held down and injected with sedatives. Last year, she went back into hospital aged 36 and says she was held down and injected again.
"As someone in their mid-thirties, in this day and age, compared to a vulnerable 18-year-old back in the early 2000s, it was completely different.
"I experienced it as loving, not scary. I was able to see looks of concern on people's faces, see they were working hard to do this in a way that was going to help me."
Up to half of all psychiatric inpatients in the UK are isolated at least once. But it's been argued that some patients are receiving "overly restrictive" care, more than 30 years after the introduction of legislation preserving their right to the least restriction necessary.
"If someone is self-harming, it seems obvious that they should be stopped, but putting restrictions on them can make things more dangerous, and can wipe off peoples' quality of life," says occupational therapist Keir Harding.
When Harding got a job at a special security hospital, he was looking forward to feeling the satisfaction of helping people, but it didn't turn out that way. In hindsight, his early career gave him insight into why staff might be more willing to use RP.
"I was prepared for people to take my advice, to be grateful, and go off into the world and get better," he says.
"I wasn't prepared for people who weren't expecting me to be useful, who'd lived with people who were supposed to look after them but who actually hurt them.
"The majority of people working in mental health get a lot of their self-esteem from feeling useful, but if we're working with someone whose way of coping is to hurt themselves, it's hard to feel that."
It became easy for Harding to blame patients for how he felt; now he sees how easy it is for staff to feel angry towards patients. Staff also use RP, he says, for fear of losing their jobs.
Often, staff can see that their actions make things worse but "have a sense of something looming behind them", Harding says. "There's a pervasive feeling of being unsupported and that people will scapegoat if something goes awry."
Every mental health provider is struggling with RP and would like to reduce it, says Amar Shah, a consultant forensic psychiatrist and chief quality officer at East London NHS Foundation Trust.
With a group of experts, patients who've experienced RP, clinicians and researchers, Shah formed the Reducing Restrictive Practice Collaborative in 2018 on behalf of the Royal College of Psychiatrists and NHS Improvement. Staff and patients from 38 psychiatric wards regularly met over 18 months to discuss restraint, seclusion and rapid tranquilisation, and to test new ideas.
"This is the first time in England that a systemic approach has been applied with the aim of improving any mental health issue in this way," Shah says.
After two years, 24 of the 38 wards saw one improvement or more, and 17 saw all three types of RP fall. NHS Improvement will evaluate the programme, and Shah hopes it can be applied to learning across the country.
"We demonstrated there's value in delegating power to patients and staff at the point of care. And being creative: the ideas have all been so different, we couldn't have come up with them otherwise."
"Every ward has been able to talk about relationships changing on the wards. There's more trust, openness and collaboration between staff and service users. They've been reducing doors and locks on wards to remove psychological barriers."
But this can be a vicious circle: understaffed wards may have less time to implement alternatives to RP, which could cause higher staff turnover.
"It's difficult working in a system that's quick to use RP," says Dan Warrender, former psychiatric nurse and now lecturer in mental health nursing at Robert Gordon University in Aberdeen.
"It can be really uncomfortable for staff. I was at a stage where I couldn't have continued to do that for too long."
As well as giving more power to staff and patients, there also needs to be more training, Harding says.
"When my colleagues said someone was just attention-seeking and manipulative, I believed them. But when we hear that something is 'just' anything, we've stopped thinking.
"It was only much later in my career that more experienced colleagues said, 'Why would someone act like that? Maybe you're hurt because you can't help someone in massive distress.'
"If we don't train students for this, they get it on the job from people who also haven't had training in this."
Staff also need time to debrief and reflect after RP incidents, Warrender says, as RP can be traumatising, especially for patients with borderline personality disorder, who tend to be women and who've often been traumatised by men.
"If they're restrained, it can be a retraumatising event that reminds them of powerlessness they've experienced from rape and sexual abuse. When I was working on a psychiatric ward, we weren't good enough at recognising or managing the trauma we inflicted."
Some wards are already implementing some of these suggestions. The wards in Wotton Lawn Hospital, for example, try to make sure that newly qualified nurses work alongside very experienced nurses so they can continue learning.
But beyond individual wards, experts argue that reductions in RP require more government funding. RP will keep happening until NHS waiting times are reduced, says Mudasir Firdosi, consultant psychiatrist at St George's Mental Health Trust.
"There's always a shortage of beds, so, increasingly, more unwell patients come into hospital because they've had a longer wait, and when they come to us they're not in a good state, which increases the chances of having to use RP," he says.
Wotton Lawn Hospital has secured enough funding for a dietician, three full-time psychologists, occupational therapists, sports and exercise practitioners and a dedicated therapy department.
It's probably no coincidence that in the last three years, the hospital has seen a gradual reduction in RP, and a move towards lower-level interventions, such as placing a hand on a patient's shoulder and guiding them down a corridor, Dodson says.
"It's about investment in the whole system," Dodson says. "My experience travelling around the country is that a lot of these therapy services are diminished. They're the first things to go when cutbacks happen."
"If you want to have a practice that moves away from RP, you have to have adequate staffing and the ability to engage individuals in meaningful activity," Dodson says. "If I was to implore the government, I'd say they need to invest in facilities and staffing if they truly want to move away from RP."
*Names changed to protect identities
Register for free to continue reading
Registration is a free and easy way to support our truly independent journalism
By registering, you will also enjoy limited access to Premium articles, exclusive newsletters, commenting, and virtual events with our leading journalists
Already have an account? sign in
Register for free to continue reading
Registration is a free and easy way to support our truly independent journalism
By registering, you will also enjoy limited access to Premium articles, exclusive newsletters, commenting, and virtual events with our leading journalists
Already have an account? sign in
Join our new commenting forum
Join thought-provoking conversations, follow other Independent readers and see their replies