Rashan Charles death: Protesters hold vigil for young man who died after police chase in London
Scotland Yard says 20-year-old was 'trying to swallow an object' and officer 'sought to prevent him from harming himself'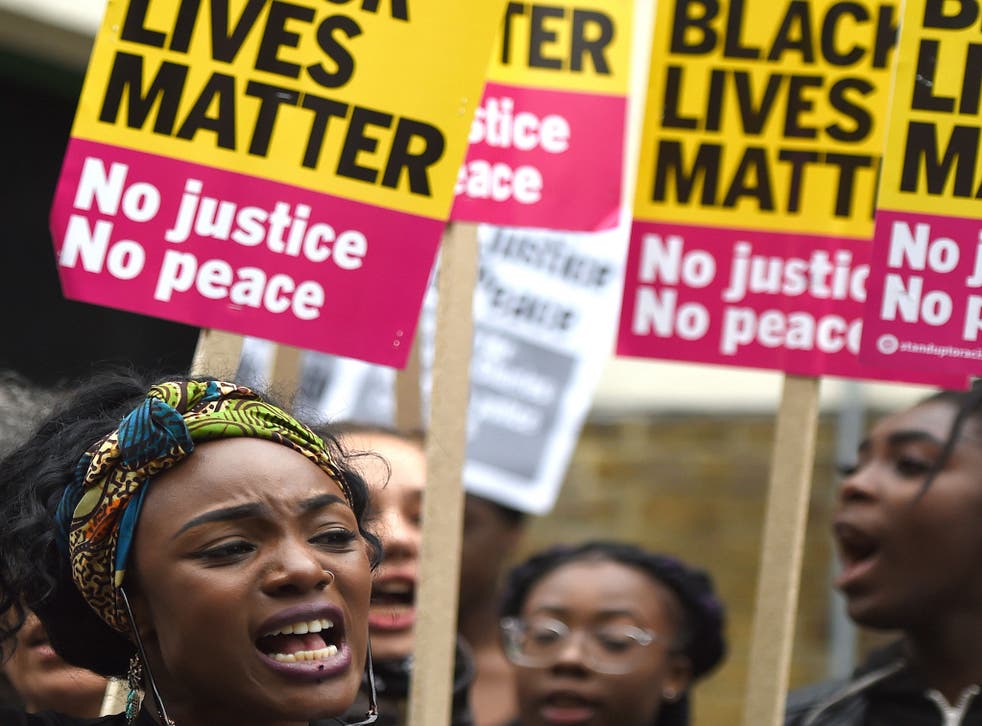 A vigil has been held outside a London police station for a young father who died after being chased by officers.
Relatives and friends of Rashan Charles, along with anti-racism campaigners, gathered in front of Stoke Newington station to express both their grief and concern over his sudden death.
Furious protesters then marched to the convenience store in Haggerston where the 20-year-old was apprehended, shouting: "No justice, no peace - f*** the police."
Bottles and sticks were reportedly thrown at police patrolling the march and some officers on motorbikes were seen retreating as unrest escalated.
Addressing the crowds earlier in the evening, Hackney's borough commander Chief Superintendent Simon Laurence offered his condolences to Mr Charles' family and promised the incident would be fully investigated.
He said: "I understand the community want answers about what happened and no explanation can come quickly enough for a family in mourning.
"This is now subject to an independent investigation by the Independent Police Complaints Commission (IPCC).
"It is their job to investigate this incident and their work started on Saturday."
Mr Laurence said the police officers understood they would be held to account for their actions.
Rashan Charles was 'well loved' and a 'caring older brother' to many, say residents
He added that he appreciated that some members of the local community had been impacted by the death and that he had spoken with community representatives to hear their concerns.
Mr Charles' friends told The Independent they feared riots could break out if justice was not seen to be done in the case.
"We want justice for Rash, and for everyone else who has been dying at the hands of police," said Kaspala, a close friend of Mr Charles who had known him nearly all his life.
"His family want the police officer and the civilian involved to be taken to court."
Jada, the mother of Mr Charles' baby daughter, remembered him as a "caring and generous dad", saying he last saw their child the day before his death.
Unverified footage on social media appeared to show at least one police officer attempting to restrain Mr Charles on the floor of the Yours Locally shop, in Kingsland Road, at 1.45am on Saturday.
Metropolitan Police said Mr Charles was seen "trying to swallow an object" and that an officer "sought to prevent the man from harming himself".
Mr Charles was later pronounced dead in hospital.
According to a statement from the IPCC, Mr Charles "became unwell" and first aid was provided by a police officer, police medics and paramedics. He was then taken to the Royal London Hospital, where he died shortly afterwards.
Family members and friends of Mr Charles, who grew up in Dalston, are now demanding justice, with some saying if action is not taken against the officer and the citizen who intervened, protests are likely to take place.
The incident marks the second police-related death in London in just over a month, following the death of 25-year-old Edson Da Costa following a confrontation with officers in Beckton.
A spokesperson for the IPCC said "good progress" was being made with the probe into Mr Charles' adding: "We are building a full picture of what happened and why.
"We know people have concerns, but our independent investigation will be thorough, rigorous amd when appropriate its findings will be published.
"We are in contact with his family and will be issuing further information when we are able to."
Register for free to continue reading
Registration is a free and easy way to support our truly independent journalism
By registering, you will also enjoy limited access to Premium articles, exclusive newsletters, commenting, and virtual events with our leading journalists
Already have an account? sign in
Register for free to continue reading
Registration is a free and easy way to support our truly independent journalism
By registering, you will also enjoy limited access to Premium articles, exclusive newsletters, commenting, and virtual events with our leading journalists
Already have an account? sign in