Rashan Charles latest: Officer who detained young black father before his death granted anonymity for inquest
Family of Mr Charles tell The Independent they are 'outraged' that officer who restrained 20-year-old won't be publicly named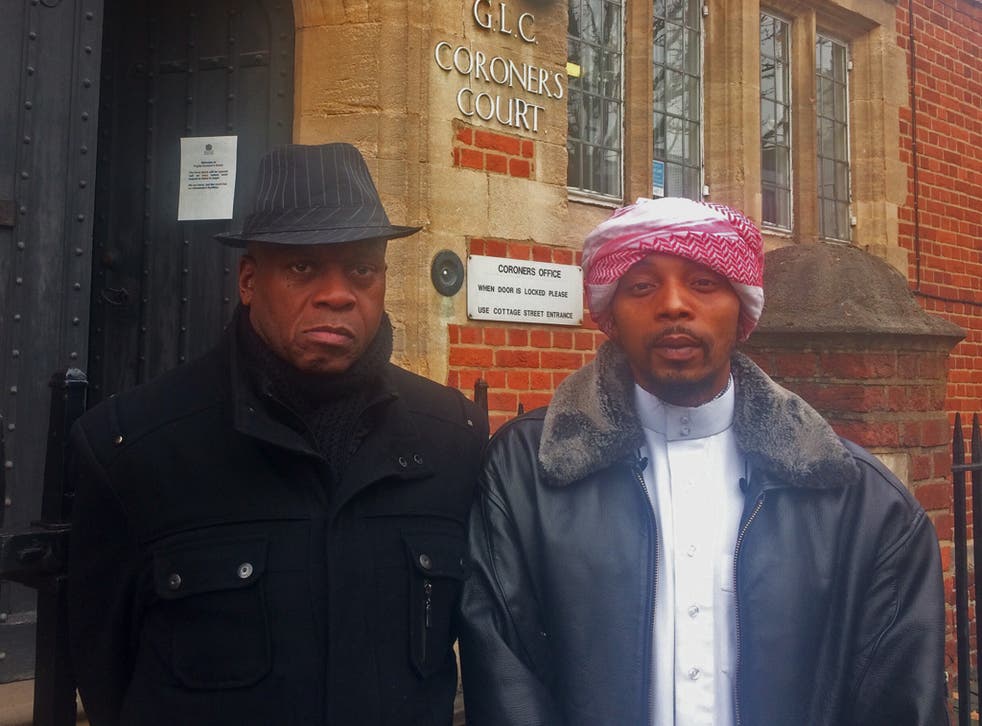 The family of a young black man who died after being restrained by police have said they are "outraged" after a judge ruled the officer who held him to the ground before his death could be granted anonymity.
Rashan Charles died in the early hours of 22 July after being chased into a shop in Dalston, east London, where CCTV showed a Metropolitan Police officer struggling with him on the floor.
A judge has ruled that the officer in the footage, as well as a second who later intervened, will remain anonymous throughout the inquest into the 20-year-old's death.
It came after the officers claimed they and their families were at risk of reprise attacks if their names were made public.
Instead, coroner Mary Hassell said the officers will be referred to as BX47 and BX48, when they are called to give evidence at the inquest proper when resumes in June next year in front of a jury.
Mr Charles' great uncle, John Noblemunn, told The Independent that the family was "outraged" by the decision.
He said deaths of young black men at the hands of police will continue to happen unless officers are held to public scrutiny.
"We're outraged as a family. The officer is a public servant and should be open to public scrutiny. This does not demonstrate justice for Rashan," he said.
"It demonstrates a total lack of transparency in the justice system. If it was the other way round, and an officer died after being restrained by a member of the public, they'd be plastered all over the media. There would be an open court."
He added: "It's one rule for the police and another rule for the public, especially the black public. Deaths of young black men at the hands of police is going to continue if police aren't held to public scrutiny."
Mr Charles' father, Eisa Abu Mohammed, said: "My son died in that shop. His life was taken in that shop. He went in there alive, came out of there dead.
Rashan Charles was 'well loved' and a 'caring older brother' to many, say residents
"That police officer was in a position of authority, and there was no time that my son resisted. There are a lot of people who have seen that footage and are very concerned. He should be named.
"He says he fears for his life, but my son now doesn't have a life. He has no future at all."
During the pre-inquest hearing, Barrister Neil Saunders, representing the two officers, said a series of online posts published in anger over the death could result in a Jo Cox-style attack if the officers were named if someone decided to take "justice into their own hands".
He told the court officer BX47, who was the first to restrain Mr Charles, said his family and neighbours fear a backlash if his identity was made known, and that he had been targeted by bloggers online accusing him of wrongdoing.
Mr Saunders said the officers were also at risk from the violent Holly Street Gang, who operate in the area and may consider Mr Charles' death, although he was not a gang member, an attack on "one of their own".
Barrister Jude Bunting, representing Mr Charles' family, opposed the order. He said the potential impact of the identification of the officer "pale in comparison to losing a loved one".
He added that there was need for accountability - both from the force and the individual officer.
It was important for the officers' identity to be known due to concerns over the "disproportionate number of black and minority ethnic (BAME) people dying in custody", he said.
"There has been considerable anguish over years about the lack of accountability of deaths in custody and failure to hold police to account," Mr Bunting told the court.
"Mr Charles is a human face, but so too is officer VX47. Seeing him, knowing who he is, is a part of this inquest. The overwhelming public interest easily outbalances anything else."
Mr Bunting said it was important to have particular regard for open justice to help "avoid any suggestion of a cover-up", urging that such incidents could be reduced if there was a "presumption among officers that they will face full public scrutiny."
Granting the pair anonymity, coroner Mary Hassell concluded: "My starting point is open justice. I deeply regret any departure from that. The publication of witness names I regard as most important in its capacity to inspire public confidence, and I'm acutely aware there exists a lack of confidence in some institutions - for example, the police.
"However, on this occasion, although it is finely balanced, I am of the view that the screening of the two police officers at inquest, and the use of ciphers in place of their names, is necessary in the interests of justice."
The CCTV footage of the struggle between the officer and Mr Charles in July sparked a series of protests in the local area, including a vigil that was followed by violence, seeing demonstrators set up barricades, start fires and launch bottles and fireworks at police.
Rashan Charles protest: Riot police called to Dalston as bins are set alight
But the family of Mr Charles have maintained that protests over his death must remain peaceful – something the coroner made clear when opening the hearing.
"The Charles family have done everything since their son and grandson died to make sure there has been no violence at any of the protests that took place," she said.
Deborah Coles, director of charity INQUEST, who has been supporting Mr Charles' family, disputed the decision to grant the officers anonymity.
"This is a case of significant public interest and the process for holding police to account must be an open and transparent one. There is a disturbing trend of anonymity being granted to police officers at inquests and hearings into contentious police related deaths," she said.
"Open justice is vital to assuage public concern about cover ups and to ensure accountability. This decision will only fuel the anger and suspicion that the police are promoting tactics to deflect responsibility for their actions."
UK news in pictures

Show all 50
The Independent Police Complaints Commission (IPCC), which is investigating Mr Charles' death, said the 20-year-old "became unwell" during the incident and was pronounced dead in hospital little over an hour later. A package of caffeine and paracetamol wrapped in plastic was later removed from his airway by paramedics.
Despite representations from the IPCC urging the Metropolitan Police to suspend the officer following the incident, he has remained on duty with "restricted duties" that would prevent direct contact with the public.
The opening of an inquest heard that two post-mortem examinations carried out on Mr Charles, the second of which was on behalf of his family and the police, have been inconclusive. The inquest will begin in June 2018.
Join our new commenting forum
Join thought-provoking conversations, follow other Independent readers and see their replies