Red doors of asylum seeker housing in Middlesbrough repainted 'range of colours' after vandalism and abuse
Refugees said the doors made them a 'target' for threats and vandalism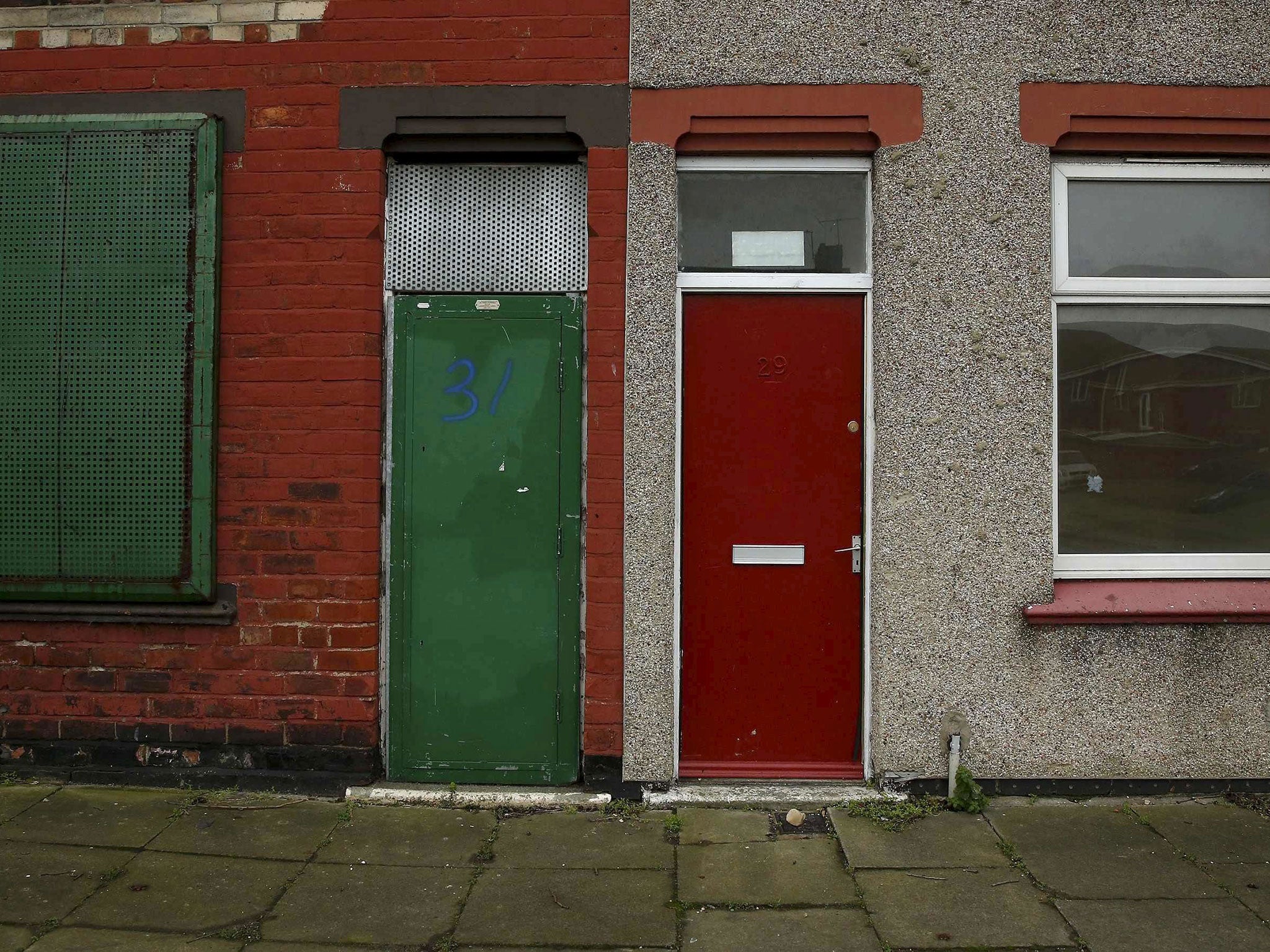 The front doors of asylum seekers' homes in Middlesbrough are being repainted following claims they became the target of vandalism and racial abuse because of their distinctive red colour.
A housing firm subcontracted by the Government denied there was a deliberate policy to colour-code the houses but refugees reported terraces being pelted with eggs, stones, dog excrement and having National Front slogans scratched into the wood.
Reports sparked comparisons to the treatment of Jews by Nazi Germany and the immigration minister said he was "deeply concerned" by the issue.
Today, work started to repaint doors on more than 100 affected homes owned by "urban regeneration" firm Jomast, which is subcontracted to provide housing by security firm G4S.
Photos posted on social media initially seemed to show all doors being painted grey, sparking criticism that the new colour would just become yet another marker to identify asylum seekers by.
But a spokesperson for G4S told the Independent that grey was merely an undercoat and would be covered with "a range of colours" when decorators return.
The Times had previously identified 168 Jomast houses in some of the most deprived areas of Middlesbrough. Of those, 155 had red doors and out of 66 visited, asylum seekers were found living at 62 of them.
Asha Perera, an asylum seeker living in one of the homes with his wife and two children, told the Independent that "everybody knows the asylum-seekers in this area have red doors".
"They shout, they knock on the door and they throw stones at the windows," he added.
"It happens every night. Two days ago, somebody spat on the door. We have two children, one a baby. My wife is scared. She sleeps downstairs and is afraid to go upstairs. They should change the colour of these doors."
Andy McDonald, the Labour MP for Middlesbrough, called the practice "reprehensible" and said it "reminds you of Germany in the 1930s".
Stuart Monk, the owner and managing director of Jomast, told Sky News his firm did not "distinguish" between private tenants and asylum seekers and that red paint had been used in bulk during refurbishment work.
"If anybody was normally to walk down the street they wouldn't notice the difference between these properties and any other properties in the street," he added.
"We think this has been blown out of all proportion but we are responding to it."
The repainting comes after a private firm contracted by the Home Office to manage asylum seeker housing in Cardiff dropped a controversial policy to make them wear brightly coloured wristbands.
Refugees housed by Clearsprings Ready Homes were allegedly told they would not be fed if they did not wear the wristbands at all times.
People seeking asylum are not allowed to work and are only entitled to a £36.95 weekly payment card from the government.
Cardiff Central MP Jo Stevens said the company's director agreed to cease enforcing the policy after she intervened.
Eric Ngalle, who lived at a house run by the company until he was granted refugee status in November 2015, had told the Guardian refugees would sometimes receive abuse if they were spotted wearing the wristbands as they walked down the street.
Join our commenting forum
Join thought-provoking conversations, follow other Independent readers and see their replies