British government 'driving refugees to use deadly smuggling routes' with migration policies, MPs find
Essex lorry tragedy must act as wake-up call after almost 19,000 deaths in Mediterranean, report says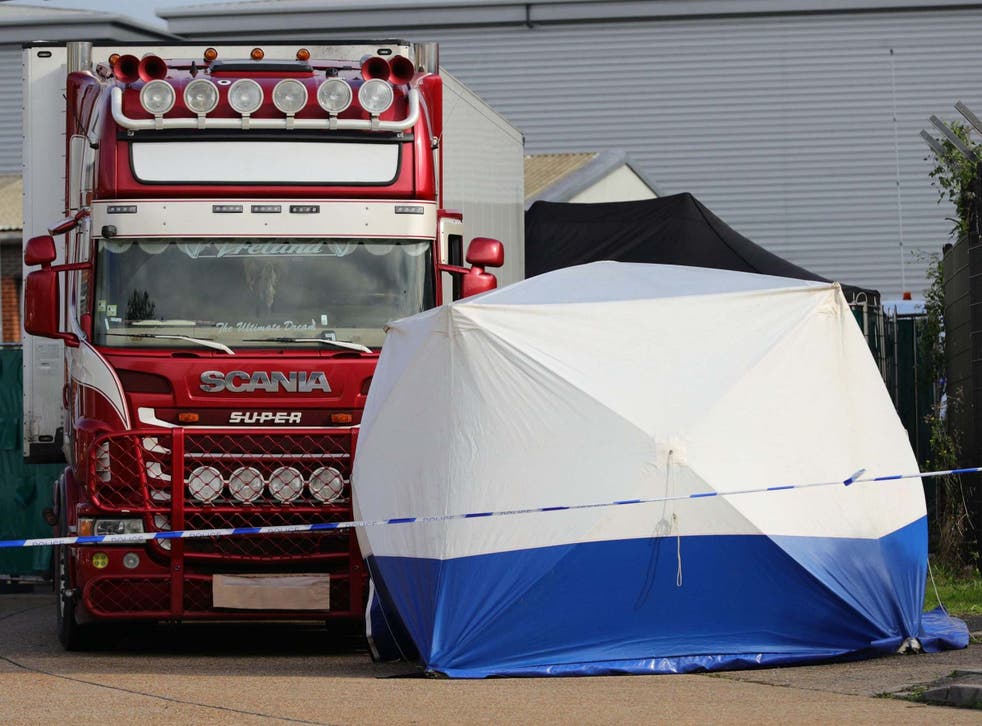 The government is risking the lives of migrants by driving them into the hands of smugglers through punitive policies, MPs have found.
The Foreign Affairs Committee said the deaths of 39 people in a lorry discovered in Essex must act as a wake-up call, forcing ministers to reconsider their approach.
A report warned that the UK's focus on closing borders "serves to drive migrants to take more dangerous routes and pushes them into the hands of criminal groups".
The UN Refugee Agency estimates that at least 18,900 men, women and children have died while trying to cross the Mediterranean since January 2014.
Many more migrants have died on land routes and in refugee camps in the same period, as well as in the hands of Libyan smugglers and detention centres where torture and disease are rife.
The depth of the refugee crisis across the world

Show all 20
MPs criticised the decision to strike deals with Libya and other countries, including Sudan and Niger, in an attempt to stem routes towards Britain.
They said such agreements risk fuelling human rights abuses and can be used as leverage by partner governments, after Turkish president Recep Tayyip Erdogan threatened to "open the gates" to allow Syrian refugees into Europe last month.
Tom Tugendhat, the Conservative MP who chairs the Foreign Affairs Committee, said the shocking tragedy in Essex was not a one-off.
"Today, hundreds of families across the world are losing loved ones who felt driven to take the fatal gamble to entrust their lives to smugglers," he added.
"The UK has been relatively isolated from the different migrant crises in recent years – but it's wrong to assume that we are protected from their impact. Right now, the US withdrawal from Syria and the Turkish military operation into territory formerly held by Kurdish fighters could see an increase in migration flows."
Mr Tugendhat urged the government to "lead by example" with its policy on migration and asylum, and remain in EU forums on the issue after Brexit.
"It's crucial that we plan our response to irregular migration together," he said.
The committee called for a renewed effort to ensure future cooperation with European nations on the issue, and an immediate return of UK officials to EU-level meetings where irregular migration is discussed.
Echoing years of calls by campaigners that have gone unanswered, MPs urged the British government to expand legal pathways to apply for asylum outside Europe, to prevent migrants from resorting to smugglers.
Sajid Javid says UK will do 'everything we can' to thwart asylum claims from people crossing Channel
MPs condemned ministers for allowing "dire conditions" suffered by migrants in northern France to continue, while instead ploughing money into increasing security along the French coast.
The report cited research carried out by the government itself that said crackdowns at French ports had caused an increase in small boat crossings over the English Channel, which the UK is now trying to stop.
"Focusing on increasing border security without improving conditions in the region may have the counterproductive effect of forcing migrants to make desperate journeys across the Channel," the committee concluded, and urged the government to improve conditions in refugee camps and process asylum claims faster for those with relatives living in Britain.
MPs said the UK should work with Italy and other EU member states to reintroduce search and rescue operations in the Mediterranean, after the death rate among migrants attempting the crossing rose in the wake of the end of Operation Sophia boat patrols and a legal assault on charity rescue ships.
The report said one person now dies for every six who reach Europe after departing from Libya, adding: "Under no circumstances should migrants be left to die as a deterrent to stop others arriving. [Foreign Office minister Heather Wheeler's] evidence did little to convince us that the FCO is seriously engaged with this problem."
MPs also called for "robust monitoring and safeguards to ensure that UK funding to migration programmes in Libya is not contributing to human rights abuses", which are allegedly being carried out by the country's official coastguard as well as non-state actors in the country's ongoing civil war.
"EU deals with Libya have achieved the short-term political 'win' of cutting migrant numbers, but at the cost of fuelling human rights abuses, strengthening armed groups, and undermining stability in the longer term," the report said.
"The UK should address the wider, interlinked factors driving irregular migration – including climate change, conflict, repressive governance and corruption – rather than focusing narrowly on reducing the numbers reaching Europe's borders in the short term."
The report noted that although the UK had received a smaller proportion of asylum seekers who entered Europe during the refugee crisis of 2014-15 than many other nations, it had felt impacts including a "changed political climate".
A government spokesperson said: "Tackling the scourge of human trafficking at every stage of the migrant journey - overseas, at our borders and in the UK - is a major priority.
"The UK does this by addressing irregular migration, from reducing push factors to migrate illegally – conflict, instability and poverty – to strengthening border security and counter-trafficking operations.
"The government and law enforcement agencies work extensively with European, global partners, key transit countries, and the nations of origin to stand up to the global criminal industry that perpetuates human suffering."
Register for free to continue reading
Registration is a free and easy way to support our truly independent journalism
By registering, you will also enjoy limited access to Premium articles, exclusive newsletters, commenting, and virtual events with our leading journalists
Already have an account? sign in
Register for free to continue reading
Registration is a free and easy way to support our truly independent journalism
By registering, you will also enjoy limited access to Premium articles, exclusive newsletters, commenting, and virtual events with our leading journalists
Already have an account? sign in
Join our new commenting forum
Join thought-provoking conversations, follow other Independent readers and see their replies