Refugee crisis: UK on course to fail pledge to resettle 20,000 Syrians amid 'unacceptable' asylum decisions
The Home Affairs Committee condemned the refusal of protection for some Eritreans and Iranians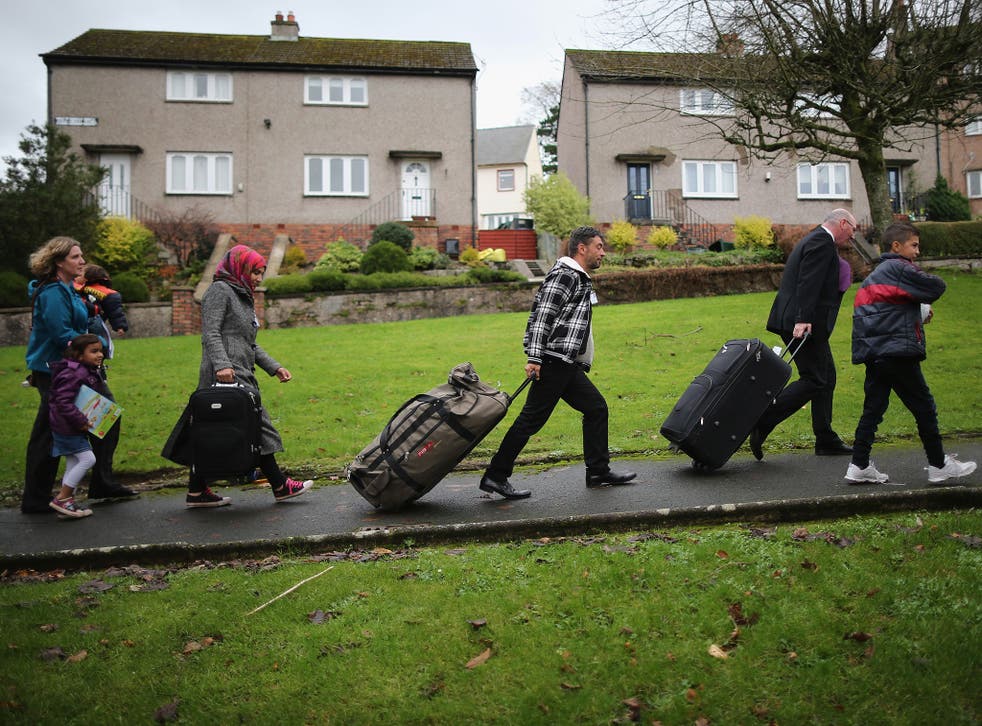 The Government is not doing enough to meet its commitment to find places in Britain for 20,000 Syrian refugees by 2020, an influential group of MPs has warned.
The Home Affairs Select Committee said progress on accepting Syrian familes had been slow, with fewer than 2,000 resettled at the start of the second quarter of 2016.
The cross-party committee also warned that a separate, more recent commitment to resettle unaccompanied children was at risk.
Asylum seekers in UK struggle to build new lives
"We remain concerned about the Government's ability to increase capacity sufficiently to meet its commitment to resettle 20,000 Syrian refugees by 2020, and the separate commitment to resettle thousands of unaccompanied children, which the Government has rightly made," the report said.
Very slow progress during 2014 and most of 2015 means the Government has a lot of catching up to do to meet its 20,000 target. Until the final period of 2015 no more than 53 refugees arrived in any one quarter of the year, figures produced by the committee and attributed to the Home Office show.
Significantly more people have arrived in recent months, however, with over 1000 in one recent quarter. Whether future progress will be enough to meet the commitment remains to be seen.
The Government last week announced the launch of a community sponsorship scheme for refugee families with the intent of speeding up the resettlement process. Sponsors would provide assistance and housing for refugees.
The Independent understands that key charities are optimistic that the new scheme, which was announced before the report was drawn up, will help resolve the situation.
The report also raises other concerns about the way in which Britain deals with asylum seekers and refugees. In particular it noted a backlog of asylum claims, with "the number of applications received outstripping the number of decisions made" leading to growing delays.
As of the start of this year 34,201 applications were pending a decision – a figure the committee says is the highest figure on record. It attributes this to "worse performance".
Lisa Doyle, head of advocacy at the Refugee Council charity, said the system was leaving people in "limbo".
"It's extremely concerning that so many people are still waiting for a decision on their asylum claim, years after first applying. Behind these statistics are individuals, many of whom will have suffered extreme trauma, forced to live day to day in uncertainty while they await the outcome of what could be a life or death decision," she warned.
"While people are in the asylum system they are living in limbo; they are banned from working, are living in poverty and are simply unable to begin recovering from their experiences and rebuilding their lives.
"It's very important that the Home Office makes decisions in a timely manner, but it's even more important that it gets its decisions right first time. It's vital that people who come here fleeing persecution have access to a fair and effective asylum process."
The Home Office Committee's criticism highlighted the "unacceptable" treatment of asylum seekers being wrongly returned to violence and persecution in the countries they fled.
"An unacceptably high number of asylum applications are being dealt with inappropriately – resulting in people being returned to countries like Eritrea which the Government knows is unsafe – or successfully appealed," the report concluded.
Refugee crisis - in pictures

Show all 27
The committee found that a number of Eritreans had been sent back to the country despite a litany of human rights abuses documented in the authoritarian state.
Eritreans make up the fifth-largest nationality of refugees currently risking their lives to reach Europe's shores, after a damning United Nations report chronicled 25 years of crimes against humanity perpetrated by the country's government.
The Home Office Committee found that a success rate of almost 90 per cent for Eritreans appealing unsuccessful asylum requests showed they had been "incorrectly refused", sparking lengthy and costly court cases.
It blamed a delay in new government guidance on the country, which is lagging behind the current human rights situation, and urged the Home Office to suspend decisions until updates were made.
Further concerns were raised over the guidance on Iranian asylum seekers, who have more than half of appeals against refusals allowed.
The report also condemned "perverse" rules denying lone child refugees the right to be reunited with their families and the automatic removal of financial support and housing when refugee status is granted, leaving many homeless and destitute.
Update: The Home Office has responded to The Independent's request for a comment.
A spokesperson for the Home Office said the committee's assertion that outstanding asylum claims are at an "all-time high" was incorrect as the number was outstripped for several years leading up to 2004.
"UK Visas and Immigration is now consistently meeting service standards and Asylum Operations is currently recruiting and training additional decision makers to ensure we manage intake levels and continue to meet our customer service standards," he added.
"We have contacted the Home Affairs Select Committee to correct this error."
The spokesperson said the Government remains committed to resettling 20,000 Syrian refugees through the Vulnerable Persons Resettlement scheme by 2020.
"The numbers resettled in a particular period will depend on a range of factors including the flow of referrals from UNHCR in the field and the availability of suitable accommodation and care packages in the UK. We will manage the flows based on need and in support of the wellbeing of the people and communities involved."
Join our new commenting forum
Join thought-provoking conversations, follow other Independent readers and see their replies