'It's killing us': These Syrian refugees were set for a new life in the UK – then coronavirus struck
Hundreds of Syrians were due to move to Britain before the refugee resettlement scheme was halted in March. May Bulman talks to families who are still waiting, more than six months on
Wednesday 07 October 2020 15:51 Comments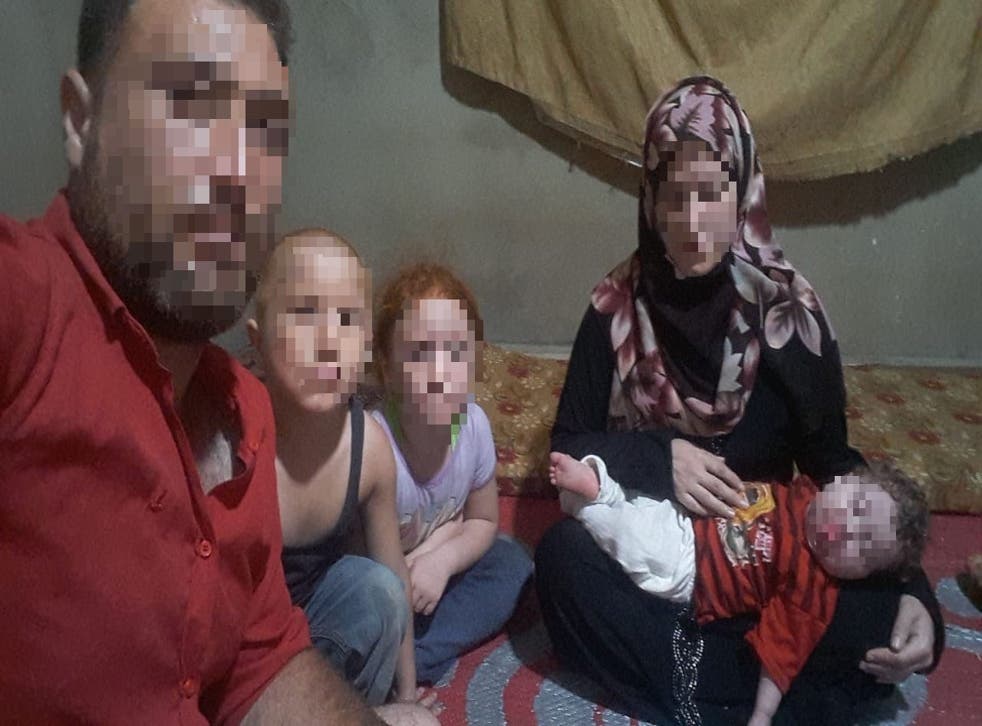 We were over the moon when we found out we were going to the UK – but now it feels like it's the end of the world," says Basil, 35, from the room he lives in with his wife and three young children in Lebanon. "We just want to start our lives," the Syrian father-of-three adds dejectedly.
Basil fled his home country with his wife, Atifa, in 2011 after their baby daughter was killed at nine months old when a bomb struck their home. The couple – devastated – decided they had to get out.
They headed to Lebanon and started trying to build a new life there. Finding work and housing was difficult, and they found themselves having to move house and jobs frequently. The couple started a family nonetheless, in a bid to have the family life that had been stopped short by the war, giving birth to three children – now aged six, five and one.
Life remained difficult, particularly due to the discrimination they faced as refugees in a country that took in a large number of people displaced by the war. The family was thrilled when they were told in May 2019 that they had been selected for resettlement in Britain.
But nearly a year and a half later, they are still waiting. The family is one of hundreds who were due to be transferred to the UK under the country's resettlement programme in March, but whose flights were cancelled after it was temporarily closed due to coronavirus.
They expected to be waiting a few additional months to be resettled, but more than half a year later, the scheme – the only safe and legal way to Britain for most refugees – remains closed. No refugees have been resettled in the UK under the scheme since 12 March.
The Independent understands that when resettlement was paused in March, there had been plans for more than 600 refugees to arrive who were subsequently blocked, meaning they remained in host countries where the pandemic has exacerbated already poor living conditions. To make things worse, many had already sold possessions and left employment in preparation to leave for the UK, leaving them with very little.
"The financial situation is very difficult now. We sold everything. We told the landlord we were moving, so we've had to move into a tiny flat where we all share a room," says Basil, who used to be a construction worker. He adds that his youngest son is sick and they aren't able to access medication for him. "Life is not stable like this. We had a good life in Syria. It was like paradise compared to the hell we're living in now."
Other developed countries including Italy, France and Spain have resumed their refugee resettlement schemes after pausing them during the lockdown. According to the UNHCR, at least 11 out of 23 resettlement countries have started receiving refugees again. Between March and August, 4,543 refugees were resettled in other countries.
Campaigners have accused the UK government of prioritising holiday travel and deportation flights over refugees, and warned that the rise in dangerous small boat crossings could be linked to the lack of safe routes to the UK. Around 7,000 people have completed the perilous journey from northern France so far in 2020.
Naseem, 39, another Syrian refugee in Lebanon who had been due to come to Britain, is also struggling, along with his wife Celina, to cope with the delay. The couple left Syria together in 2011, and had been due to fly to the UK on 19 March to be resettled in Dundee, but they were informed days before that the transfer could not take place because the scheme had been stalled.
At this point, they had already signed a form for the authorities agreeing to quit their right to stay in Lebanon from 20 March, which Naseem says means they could face removal back to Syria if the authorities discover they are still living there. They are now rarely leaving their small flat.
"If we are caught in Lebanon, we will be deported to Syria," says Naseem, who is a carpenter by trade and was hoping to find this kind of work in Britain. "We were also told to self-isolate before coming to the UK, so we've been trying to isolate for months, not knowing when we're going to be making the journey."
He adds that since the explosion in Beirut in August, their lives have worsened further, with food production and access to medication affected by the tragic incident. "It became very difficult. My blood pressure increased and I can't get the medication I need. I'm living without it," he says. "We were very happy when we found out we were going to the UK. But we would rather die than have to wait like this."
Celina, 36, who is trained in graphic design, echoes her husband's concerns, saying: "Our dream is vanished. We are staying at home. It's killing us. There's no comparison between our lives in Syria before the war and our lives now. We are dying slowly here."
Louise Calvey, head of resettlement at Refugee Action, said the failure to restart resettlement flights was taking a "terrible toll" on people who should have safely arrived in the UK in March, instead forcing them to live in "immediate danger of detention and deportation to Syria through no fault of their own".
She added: "The home secretary pledged this week to create a fair and compassionate asylum system, including more safe and legal routes for people to reach safety. She must honour her own words and immediately restart the UK's resettlement programmes, which have not supported a single refugee since March."
Ali, 32, is currently living with his wife and three children – aged six, five and one – in a small, unfurnished and undecorated flat after the family ended their tenancy in March in the belief that they would be leaving the country then to start a new life in Britain. They have been forced to move home numerous times in the last seven months.
"It's the worst nightmare for every father," says Ali, a former metalsmith. "We have no house, no jobs, no money, only suitcases with some clothes. We had to rent this room, but it's not suitable for humans to live in.
"I feel so sad and sorry and helpless being unable to provide a suitable adequate life for my kids. When they remember how they used to live and how they're living now, you can see the sadness in their eyes."
The father-of-three says the family was "over the moon" when they found out they had been selected to go to Britain. His son has autism and he hoped this would be better understood in the UK. They were told they would be going to Cambridge.
"I was looking forward to finding work, providing for my family, and most of all being safe," he explains. "But now we are suffering more every day. It feels like we were made promises, but now nobody is taking care of us."
Matthew Saltmarsh, spokesperson for the UNHCR, said the organisation hoped that resettlement to the UK would restart "very soon", adding: "The pandemic has presented new, acute hardships and uncertainties for refugees. Many of those with jobs – mostly in the casual sector – have lost them.
"Access to services in countries of asylum has become harder since the move by their support partners to shift to remote working. The situation is especially worrying for refugees who had already made preparations to depart on resettlement and are in limbo, with no clarity on when they will be able to leave."
A Home Office spokesperson said it remained in "regular contact" with the International Organisation of Migration and UNHCR to ensure that those accepted for resettlement to the UK are able to access any additional support they may need.
They added: "The UK has always provided sanctuary those fleeing persecution, oppression or tyranny and the Home Secretary has been clear that the UK will introduce a new asylum system that will welcome people through safe and legal routes."
Muhanned, 36, who says he left Syria with his wife in 2014 after he had been imprisoned four times by the authorities and forced to work for the military, is also waiting to be transferred to the UK with his family. They had been due to start a new life in Edinburgh.
Like Naseem, Muhanned had already signed a document saying he was leaving Lebanon, and he now fears being arrested each time he leaves the house. He is also struggling to feed his family due to having left his job nine months ago.
"We are just hoping, waiting for the phone call," he says. "We don't mind being in quarantine. We can do that for two, three weeks. The important thing is that we move as soon as possible.
"Other countries who have selected people to travel there, like France, have sent a plane to collect those families. We've sold everything and we're just waiting to move."
Names have been changed to protect identities
Register for free to continue reading
Registration is a free and easy way to support our truly independent journalism
By registering, you will also enjoy limited access to Premium articles, exclusive newsletters, commenting, and virtual events with our leading journalists
Already have an account? sign in
Join our new commenting forum
Join thought-provoking conversations, follow other Independent readers and see their replies