Refugees Welcome Here protest: Thousands march on Downing Street calling on UK to resettle more migrants
Protest comes days before world leaders meet to discuss crisis at UN General Assembly
Lizzie Dearden
,
Katie Forster
Saturday 17 September 2016 14:19 Comments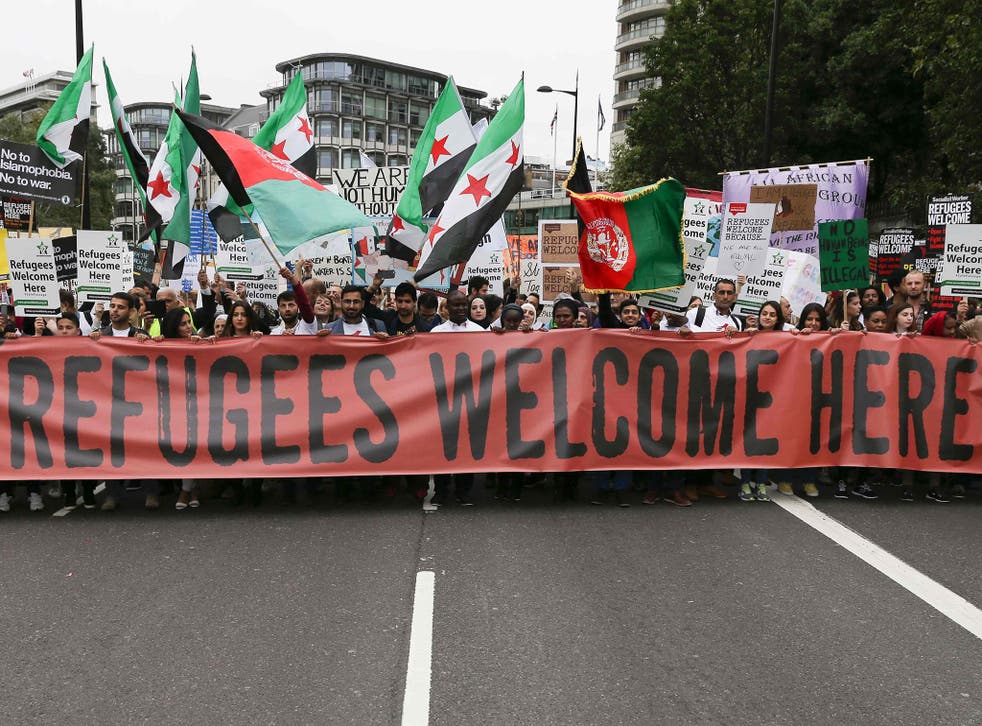 Thousands of protesters marched on Downing Street to demand the British Government takes in more refugees as thousands of men, women and children continue to drown in desperate attempts to reach Europe.
Demonstrators made their way from Park Lane to Parliament Square in London on Saturday afternoon, demanding action as a crucial United Nations summit on the crisis approaches.
Marchers chanted "refugees are welcome here" and waved banners reading "no-one is illegal", "let's help people" and "stop the drowning".
Organisers said tens of thousands attended the march and rally, with actors Juliet Stevenson, Vanessa Redgrave and Dame Harriet Walter joining the demonstrators.
The crowd heard from refugees who have made the dangerous journey from their countries, and those who have lived in the camps – as well as performances from bands and poets.
Truly, Madly, Deeply star Ms Stevenson addressed the rally in Parliament Square and raised concerns about unaccompanied children living in refugee camps in Calais.
Lord Alf Dubs and Green Party MP Caroline Lucas also spoke at the event. "It is not a crisis of the numbers of people coming, it is a crisis about the way the Government is managing it," said Ms Lucas.
Refugees welcome here: Protesters demand UK resettle more migrants in response to refugee crisis

Show all 7
Ros Ereira, director of the Solidarity with Refugees group, who organised the event, told the Independent she was "blown away" by how many people had come to lend their support.
"As we turned off Piccadilly I looked behind me and I couldn't see the end of the march," she said.
"We want to send a message that Britain must do more to lead the way in a global response, to provide safe passage into Europe and the UK, to help people when they arrive so asylum seekers aren't left on the streets or locked in detention centres."
Brendan Cox, the husband of killed Labour MP Jo Cox, said she had planned to join the protest before her death in June.
Writing on Twitter, he said he and their children Cuillin and Lejla "marched in her stead today imagining her by our side".
It comes a year after around 100,000 protesters took to London's streets calling on the UK to resettle more asylum seekers amid the international outcry over the death of Alan Kurdi, a three-year-old Syrian boy who drowned trying to reach Greece.
"I don't think any of the people who marched last year now want to see children washing up on beaches. Everyone still feels that's an awful thing and we need to respond better," said Ms Ereira.
She said some people had done "amazing things" to help the crisis, including travelling abroad to volunteer.
"People didn't just go home and sit on their sofas. Some have given up their lives to move to Calais or Greece. People are doing amazing things," she said.
Actor David Morrissey told the rally: "This is undoubtedly the challenge of our age. How we respond to this challenge will define us as a generation and as a people."
The march was supported by charities and groups including the Red Cross, Asylum Aid, Save the Children, Hope Not Hate, Oxfam and the UN Refugee Agency.
Kate Allen, Director of Amnesty International UK, described the Government's contribution to tackling the refugee crisis as "shocking" but praised local communities and volunteers for "taking matters into their own hands" to support migrants.
"This march is to show that ordinary people in Britain actually care deeply about refugees," she said.
Refugee crisis tops agenda at EU summit
"Many of those seeking sanctuary have seen their families torn apart and homes destroyed. As one of the richest countries in the world, our government can and must do more to help."
Mr Rix, the Kaiser Chiefs's bassist, described the refugee crisis as a "global disaster" while Ms Stevenson called on world leaders to share responsibility, adding: "I hope Theresa May is listening."
The show of solidarity comes as world leaders prepare for the United Nations General Assembly in New York next week.
A UN Summit on Refugees and Migrants on Monday will be followed by a separate summit on the issue hosted by Barack Obama the following day.
More than 3,200 refugees and asylum seekers have drowned attempting to reach Europe so far this year, with almost 300,000 completing the journey.
But thousands remain trapped in Greece after being automatically detained under the controversial EU-Turkey deal, under threat of deportation if their asylum applications fail.
Those granted protection face an increasingly difficult task reaching other parts of Europe as countries increase border controls and build fences to stop the flow of migrants.
Oxfam has warned that millions of refugees are being forced to flee from one warzone into another, while a report released this week found that attempted crackdowns in Europe were failing to significantly reduce refugee numbers and instead forcing migrants on hidden and dangerous routes.
In the wake of Alan's death, David Cameron pledged to resettle 20,000 Syrian refugees in the UK over the coming five years but there have been additional calls to re-home those who have already reached Europe, as well as asylum seekers coming from other conflict zones such as Iraq and Afghanistan.
Thousands of migrants hoping to travel to Britain remain in the Jungle migrant camp in Calais, where the government is planning to fund a controversial barrier to stop attempts to board lorries.
Register for free to continue reading
Registration is a free and easy way to support our truly independent journalism
By registering, you will also enjoy limited access to Premium articles, exclusive newsletters, commenting, and virtual events with our leading journalists
Already have an account? sign in
Join our new commenting forum
Join thought-provoking conversations, follow other Independent readers and see their replies