Rev. Ian Paisley: Belfast pays final respects to its firebrand peacemaker
Leaders from across political divide attend memorial to the Rev Ian Paisley, watched by David McKittrick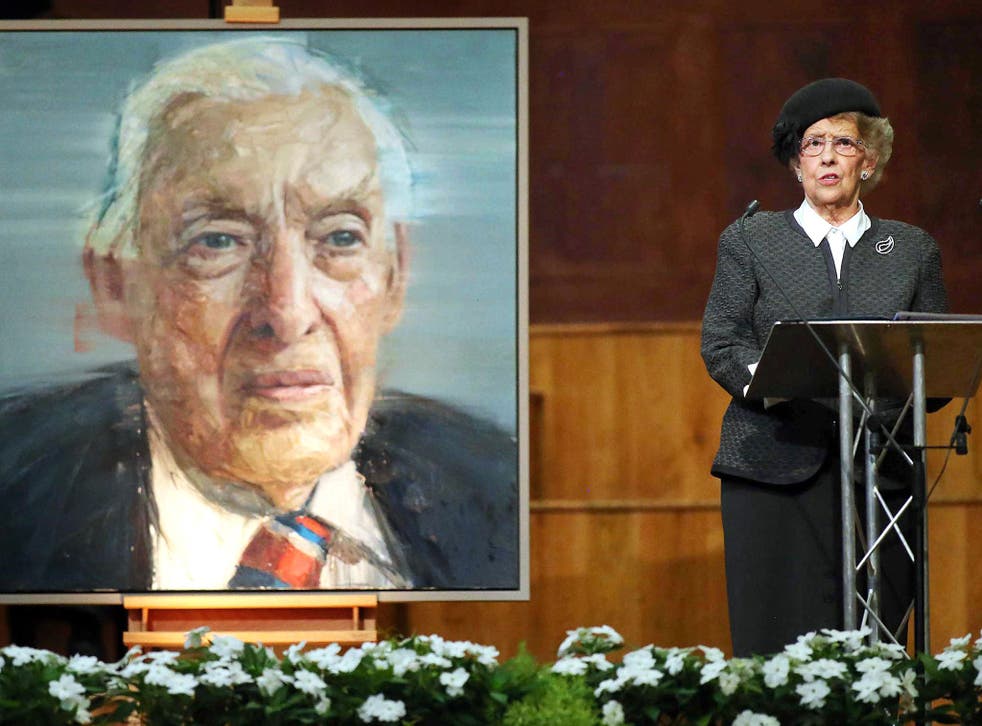 The Reverend Ian Paisley was laid to political rest on Sunday with a memorial service in the Belfast hall which in the 1960s provided one of the launch-pads for his highly controversial career.
But the Ulster Hall today witnessed a dignified and reverential service, in complete contrast to the original Paisley trademark of making its rafters ring with hellfire and damnation rhetoric.
In this it mirrored the arc of a career which took him from full-throated demagoguery to eventual peacemaker before his death last month at the age of 88. He had entered the Lords as Lord Bannside.
His late conversion to the politics of peace meant that one of those attending yesterday was the Sinn Fein leader Martin McGuinness.
The service itself largely excluded political Paisleyism, focusing instead on his religious role as a church leader.
The Rev Kyle Paisley, one of the sons of the former Northern Ireland First Minister, described him as one of the most gifted preachers of his generation. But in a rare political moment he also spoke of his father's "fair-weather friends."
This is taken as a pointed reference to senior members of the Democratic Unionist Party and the Free Presbyterian Church, both of which were headed by Ian Paisley, who nudged him out in 2008.
In another implicit criticism, Kyle Paisley said both the party and the church "reached their pinnacle at the point Ian Paisley left them." The close-knit and intensely loyal Paisley family, some of whom have described his removal as "assassination," made their continuing hurt and disapproval clear by excluding some senior figures from the guest list.
Mr Paisley's successor as party leader and First Minister, Peter Robinson, attended, sitting alongside Mr McGuinness. The two have never developed a close relationship, instead developing a frostiness which has brought the Belfast Assembly to near-breakdown.
The problems include both differences among parties and faction-fighting within the DUP itself, Mr Robinson describing some of his members as "puffed-up people with the strategic vision of a lemming."
Those attending today included many of Mr Paisley's one-time opponents, including the former Irish Taoiseach Bertie Ahern and a descendant of the old-time republican icon Eamon de Valera.
In her tribute, Mr Paisley's widow described their 58-year marriage as "not a dictatorship but a partnership."
She told the service: "Ian was one of the happiest men on earth. He was happy in his pulpit, in his incredible zest for life, in the three parliaments in which he served, and he rejoiced in the help he could give through these offices to many afflicted and persecuted people across the world, securing freedom for quite a number."
Join our new commenting forum
Join thought-provoking conversations, follow other Independent readers and see their replies