Revealed: How Big Six energy firms conceal their profits
Market experts express concern that giants are not being fully candid about profit margins they require to fund investments in bid to deflect growing public anger
Tom Bawden
Saturday 09 November 2013 01:00 Comments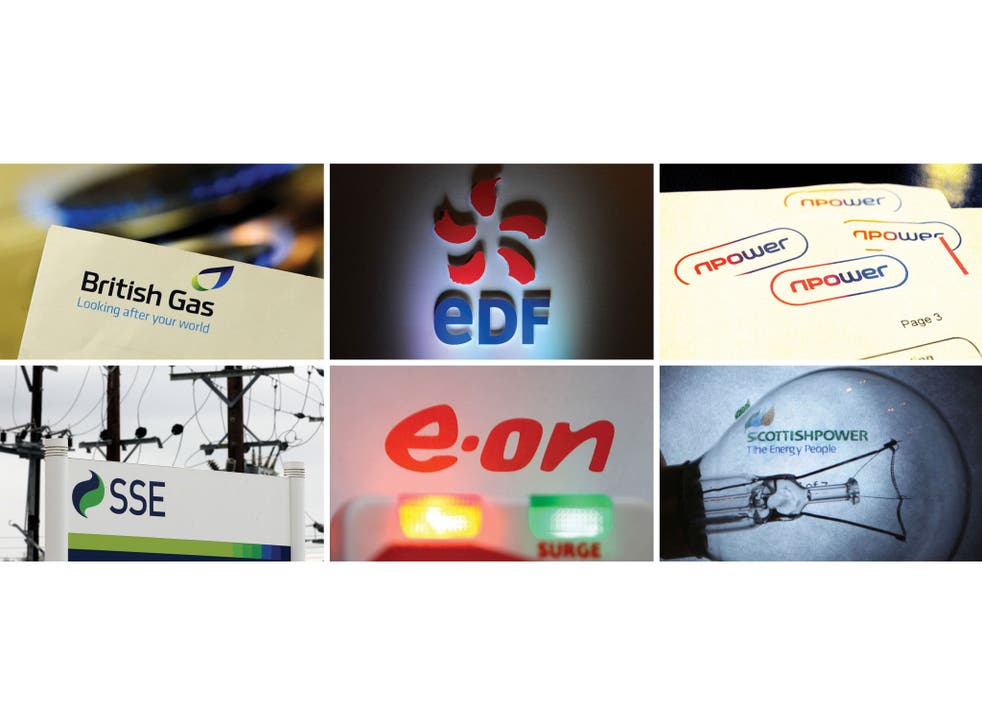 The Big Six energy firms have been accused of misleading consumers about the reasons for their sky-high bills by glossing over the large mark-ups they charge for the electricity they generate.
In interviews with The Independent, several market experts expressed concern that the energy giants are not being fully candid about the profit margins they require to fund investments, in a bid to deflect growing public anger.
Defending the latest round of price hikes last week, the industry's figurehead, Angela Knight, said suppliers worked on margins of just 5 per cent which were justified to pay for "extremely large" investments necessary in their businesses.
But Caroline Flint, Labour's shadow Energy Secretary, has accused the companies of a lack of transparency, and of diverting attention from the much higher margins they make from their electricity generation arms. "It's misleading for energy companies to pretend their profit margins are only 5 per cent when that only refers to their profits on supplying energy," she said.
"Their profits on generating energy are much more substantial and are often close to 20 per cent. If energy companies want to rebuild trust in this market, as a first step they have to start being straight with people about exactly how much money they're making."
Ms Knight, chief executive of the industry body Energy UK, said last Monday that profit margins of between 4 and 5 per cent were not "particularly big" and were justified when considering the investment the companies were making.
The head of SSE's retail division, William Morris, backed her up the following day, telling Parliament he needed a 5 per cent profit margin otherwise he "couldn't afford to continue employing my 20,000 staff".
"It's less than the supermarkets make," added Mr Morris, whose company supplies 7.3 million UK households.
Opponents of the Big Six have taken issue with the assertion that the providers are faced with making big investments in their retail arms – and that even if they were, comparisons with the supermarkets ignores the fact that energy firms' retail margins are twice as large.
Will Straw, an associate director of the Institute for Public Policy Research (IPPR) think-tank, said: "Why do they need to make a profit of 5 or 6 per cent when the supermarkets can make do on as little as 2 or 3 per cent? The retail profits they do make should be ploughed back."
Dieter Helm, professor of energy policy at Oxford University, said: "Why should retailing electricity attract the sort of margins that supermarkets (with all their shops, stocks and associated costs) cannot?"
Ramsay Dunning, the general manager of Co-operative Energy, one of Britain's biggest independent gas and electricity suppliers, goes one further, dismissing talk of profits for investment as a "red herring" and accusing Ms Knight of being "disingenuous" as the cost of investment has already been accounted for.
"She is throwing mud into the water with that comment because the 4 to 5 per cent number she is using is calculated after accounting for the cost of investment," he said. In other words, the notion that big profits are needed to help fund investment is largely irrelevant because the profit margins usually quoted by the Big Six already include investment costs.
The Big Six produce electricity via a mixture of gas, coal, nuclear, wind and solar-power stations. Although the retail arms buy their energy on the open market, much of it has been produced by their own generating divisions. It is these generating divisions that face the biggest investment costs in the coming years in the form of new power stations of all types, Mr Straw said.
But the generating arms' profit margins are much higher anyway – at between 8 and 32 per cent last year, depending on the company– while they also receive big government subsidies to encourage low-carbon generation.
"The Big Six can't have it both ways," Mr Straw said. "Either their retail and generation arms are separate, or they're not. If they are, they should bring energy bills down because they don't need that much profit. If they're not, they should still bring bills down because the generating arms are making so much."
Centrica, which owns British Gas, handed £500m to its shareholders in February to use up "surplus" cash after pulling out of the Hinkley Point C nuclear power project.
A spokesman for Energy UK, which represents the smaller, independent energy companies as well as the Big Six, said: "There is a large amount of investment required in the generator sector. The generation profit margins pay for investment in new power stations, pipes and wires. The retail profit margins are a lot lower and are used to invest in initiatives such as insulation to make homes more energy efficient and the smart meter rollout," he added.
The costs of making homes more energy efficient and installing smart meters are added directly to bills – and are not considered an investment.
The energy company obligation (ECO) – which requires the Big Six to better insulate the homes of Britain's poorest households – will add £47 a year, or 4 per cent, to an expected average bill of £1,267 in 2013, according to the Government. The warm home discount, which entitles some vulnerable people to a £135 discount, adds another £11. Meanwhile, the smart meter rollout will hike the average bill by £3 this year.
Dr Robert Gross, director of the Centre of Energy and Technology at Imperial College London, said: "We need much better transparency about profits and financial flows between the retail and generation ends of the business. Because these companies are 'vertically integrated' [generating and selling the energy] it's all very opaque."
Last week, the industry regulator, Ofgem, revealed that the wholesale price of gas has increased by just 1.7 per cent in the past year – well below the energy bill increases the rising gas price has been blamed on.
The Big Six quickly countered that they buy a lot of their energy in advance – and at different times – meaning the amount they pay varies considerably. Yet an examination of the Big Six company accounts, by Greenpeace's Energydesk analysis division, found that while the amount that their retail divisions paid for their energy on the open market had diverged quite considerably, the prices they charged customers had shown very similar increases.
Register for free to continue reading
Registration is a free and easy way to support our truly independent journalism
By registering, you will also enjoy limited access to Premium articles, exclusive newsletters, commenting, and virtual events with our leading journalists
Already have an account? sign in
Join our new commenting forum
Join thought-provoking conversations, follow other Independent readers and see their replies