Russian plane crash: Egyptian officials ground 8 EasyJet flights from Sharm el-Sheikh
EasyJet was due to fly ten flights from the airport in the coastal resort town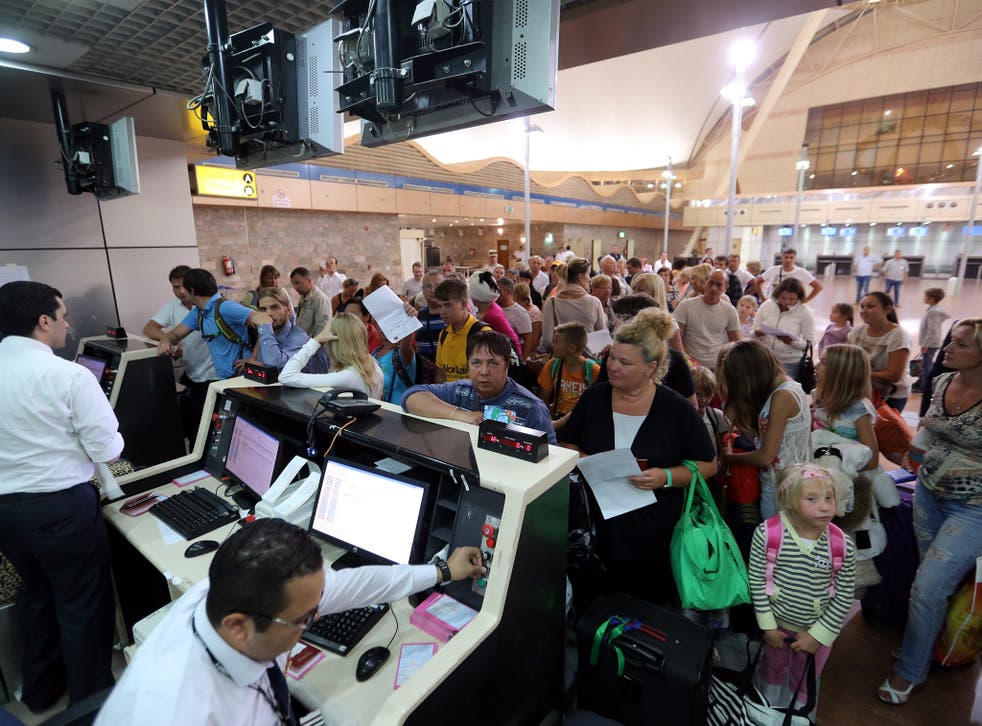 Egyptian authorities have grounded eight flights from Sharm el-Sheikh airport, as thousands of British tourists attempt to return home.
The cancellation follows the news British investigators believe a bomb was placed in the baggage hold of the crashed Airbus A321 before the aircraft, bound for St Petersburg, departed the Egyptian airport.
News of the cancellation – which came after many tourists had passed security and were waiting to board – has angered passengers.
Passengers stranded at Sharm el-Sheikh airport
EasyJet confirmed that two flights, of the ten previously expected, would leave Sharm el-Sheikh today.
A spokesperson for the airline confirmed to The Independent eight further flights had been cancelled by authorities, although they were unable to give any details on why the flights had been canceled.
Prior to the cancellations, some tourists who are booked in to stay in Sharm el-Sheikh were already attempting to leave the resort at the first opportunity, after David Cameron said it was "more likely than not" that the Russian plane was brought down by a bomb. British intelligence revealed that extremists with Isis have plotted an attack in the area.
Lauryn Mudzimu, 35, from west London, is due to fly home on November 14 and said people who were supposed to be flying on the same dates have left their hotels and made their way to the airport.
Russian passenger plane crashes in Egypt

Show all 20
"The announcement by the Government has caused a panic among almost all the British tourists here," she said.
"Some people are due to leave on the 12th, but they have gone to the airport. A lot of people have checked out and left their hotels. They were in a panic saying they have to go.
"The locals are in panic as well, and that's affecting business and work."
Press Association
Join our new commenting forum
Join thought-provoking conversations, follow other Independent readers and see their replies