Russian plane crash: UK government cancels Sharm el-Sheikh flights amid fears bomb brought down Metrojet A321 over Sinai
10 Downing Street is concerned the Russian plane may have been brought down by an 'explosive device'
Samuel Osborne
Wednesday 04 November 2015 18:09 Comments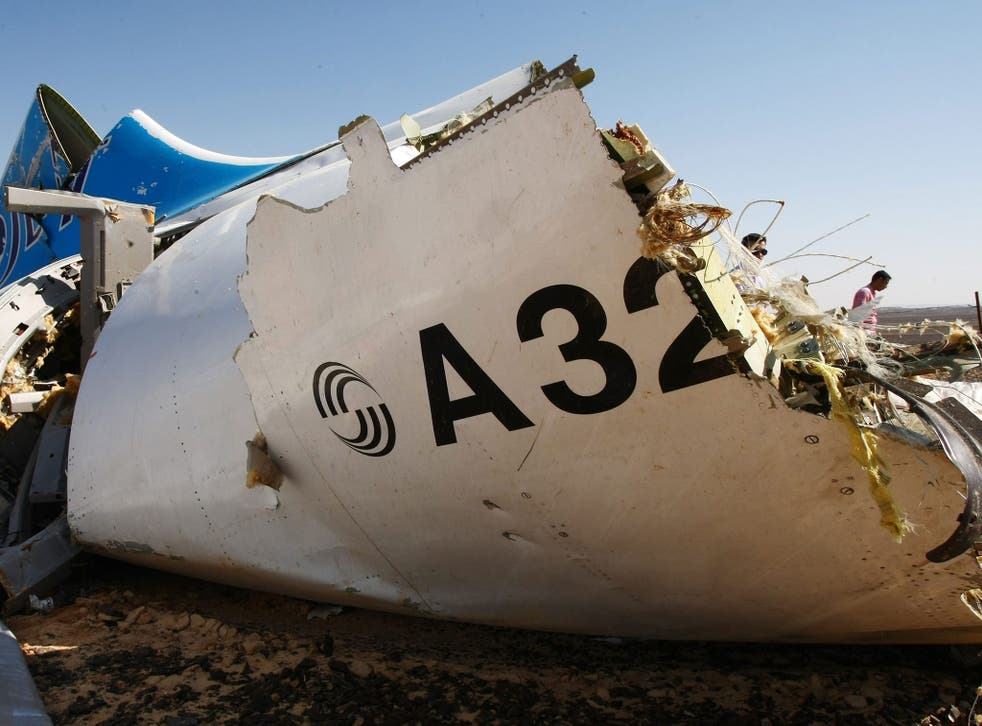 The Russian plane that crashed in Egypt killing all 224 people on board may have been downed by an "explosive device", the UK Government has said.
All flights to and from Sharm el-Sheikh and the UK were suspended on Wednesday evening to allow British experts to assess security at the airport, Downing Street confirmed.
A Number 10 spokesperson said the delays had been brought into place because "more information has come to light".
Egypt: Russian crash investigators search Sinai for victims' belongings
The spokesperson went on to say that a team of UK aviation experts are being sent to Sharm el-Sheikh to make an "assessment of the security arrangements in place at the airport and to identify whether any further action is required."
They expect the assessment to be completed tonight.
The BBC reports there are around 2,000 British holidaymakers currently in Sharm el-Sheikh while hundreds have booked tickets to fly out tomorrow.
The Independent understands two, possibly three, planes have been dispatched from the UK to Sharm el-Sheikh to collect British citizens.
Extra consular staff have been deployed to the airport.
"We have concluded that there is a significant possibility that the crash was caused by an explosive device on board the aircraft," the Foreign Secretary Philip Hammond said after a meeting of the Government's crisis response committee chaired by Prime Minister David Cameron.
Mr Hammond added: "We are now advising against all but essential travel by air through Sharm el-Sheikh airport. That means that there will be no UK passenger flights out to Sharm el-Sheikh from now.''
Russian passenger plane crashes in Egypt

Show all 20
Transport secretary Patrick McLoughlin told Sky News: "Obviously we've been following the investigation into the crash that took place on Saturday very closely.
"We cannot categorically say why the Russian jet crashed, but we have become concerned that the plane may well have been brought down as a result of an explosive device.
"Safety will always be the priority, and that is why the PM last night called President Sisi – to express concern and to ensure that the tightest possible security arrangements were put in place at Sharm el-Sheikh.
"As a precautionary measure, we've decided that flights due to leave Sharm el-Shiekh this evening for the UK will be delayed and that will allow us time to ensure that the right security measures are in place for flights."
Russian Airbus 321 crashed in the Sinai Peninsula on Saturday, killing all 224 people on board.
Register for free to continue reading
Registration is a free and easy way to support our truly independent journalism
By registering, you will also enjoy limited access to Premium articles, exclusive newsletters, commenting, and virtual events with our leading journalists
Already have an account? sign in
Join our new commenting forum
Join thought-provoking conversations, follow other Independent readers and see their replies