Russian sailor drank half a litre of rum before crashing 7,000-ton ship full speed into Scotland
The sailor was reportedly eight times over the limit, despite the company's zero tolerance on alcohol policy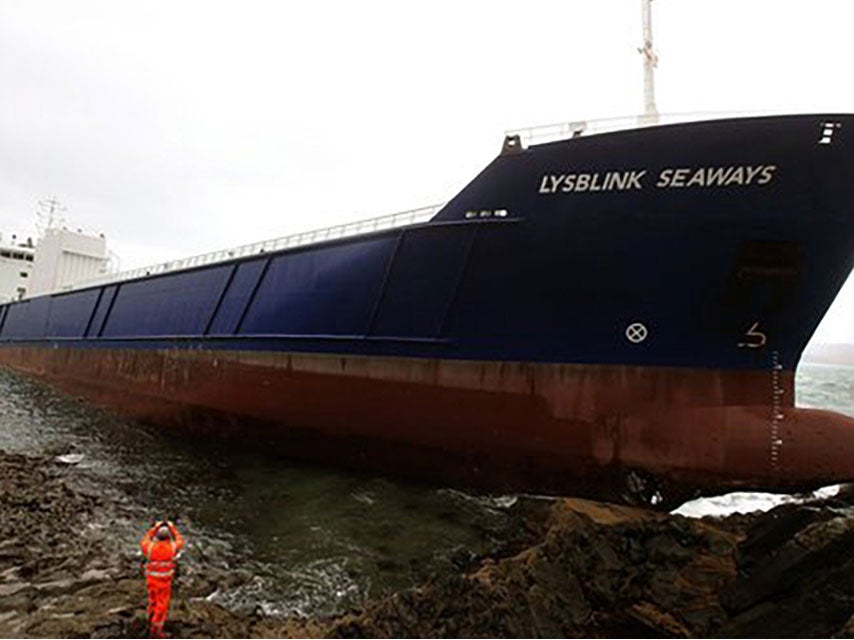 A Russian officer on watch when a 423ft cargo ship ran aground at full speed in Scotland had drunk half a litre of rum before taking up his post, an investigation has found.
The Lysblink Seaways vessel was travelling from Belfast to Skogn in Norway with a cargo of paper when it became stuck off the west coast of Scotland near Kilchoan in the Ardnamurchan peninsula on 18 February this year.
The chief officer on watch, a 36-year-old Russian, had consumed half a litre of rum in his cabin before taking up his shift as the sole officer on watch at midnight, but had "become inattentive due to the effects of alcohol consumption".
His actions led the ship to run aground at full speed into the rocky foreshore, where it remained for two days during bad weather.
It resulted in such bad damage to the ship that the vessel had to be scrapped, while damage to the hull and some fuel tanks led to 25 tonnes of marine gas oil entering the water, a report from the Marine Accident Investigation Branch (MAIB) found.
Three dead after cruise ship runs aground
Show all 4
Despite the DFDS company running a zero-tolerance policy for employees, the officer had managed to consume enough alcohol to make him eight times over the alcohol limit, the MailOnline reports.
The investigation also found the bridge navigational watch alarm system (BNWAS), "which could have alerted the crew to the officer's incapacity, had not been switched on and an off-track alarm on the ECS2 had been silenced".
"Although a radar watch alarm had sounded every 6 minutes, the somnolent officer was able to reset the alarm without leaving his chair," the report noted.
But despite the zero tolerance policy, Lysblink Seaways carried a bonded store, which included a stock of spirits, beer and wine, the report stated.
"Records showed that the bonded store was regularly replenished, and empty beer, wine and spirit bottles and cartons found on board after the accident indicated significant levels of alcohol consumption by the crew."
A DFDS spokesman said: "What happened on the ship was completely irresponsible. We have a very clear and very clearly communicated zero-tolerance alcohol policy which cannot be misunderstood.
"We have never seen an officer having violated the policy before and we have never before seen such negligence of our safety procedures.
"The officer is no longer employed by DFDS. We hope this will not cast a shadow over our other officers who rightfully enjoy a very good reputation."
Woman films drink driving
The MAIB report did not contain any recommendations as it said the ship's owners DFDS had already taken action, including removing bonded stores of alcohol on some of its sister vessels.
Additional reporting by PA
Join our commenting forum
Join thought-provoking conversations, follow other Independent readers and see their replies