Sadiq Khan calls for diesel cars to be scrapped, telling Government to 'get a grip' on air pollution
'Let's be clear: filthy air is causing 9,400 deaths every year in London alone,' says city's mayor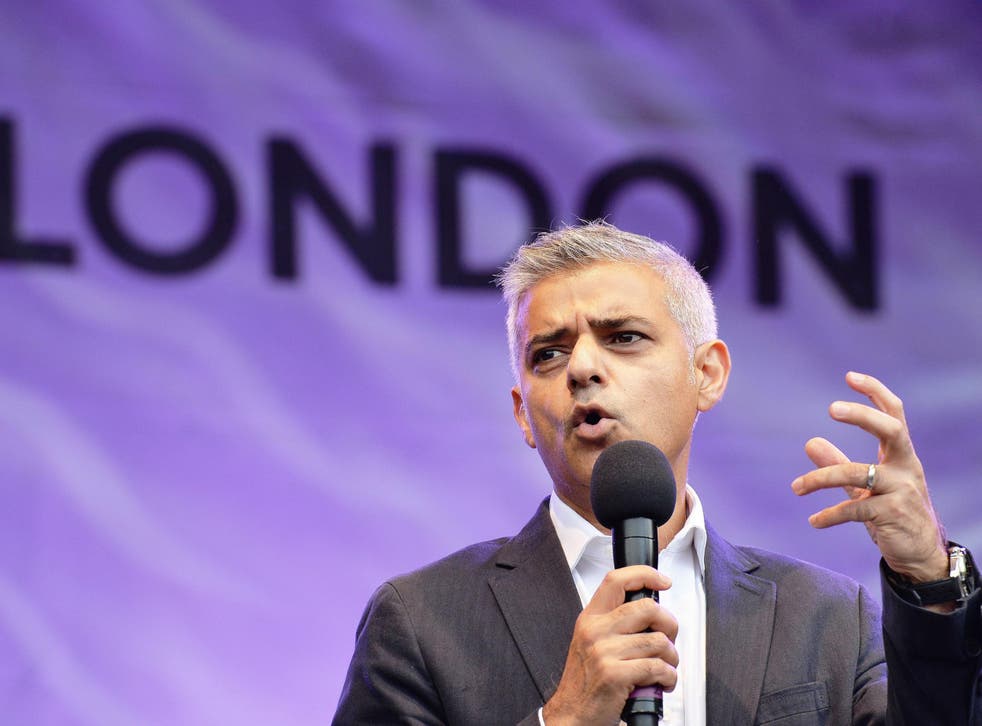 The Government must "get a grip" on air pollution and not "pass the buck" to local leaders any longer, Sadiq Khan has said.
The London Mayor called for a diesel scrappage scheme and for reform of taxes that currently incentivise 'dirty' vehicles, as he reiterated his plea for a new Clean Air Act to replace the existing half-century-old legislation.
Mr Khan added the Government must accept that building a third runway at Heathrow was not compatible with meeting its legal obligations on air quality.
His remarks followed a High Court ruling that found the Government's Air Quality Plan was illegal, said it "must be quashed" and ordered Ministers to come up with a better scheme.
It was the second time the Government's proposals had been defeated, and they were accused of using pollution modelling that ministers knew was overly optimistic and criticised for placing an emphasis on cost rather than people's health.
Mr Khan called for the capital to have additional powers to manage pollutants from construction sites and river traffic, such as being able to implement a low-emissions zone on the Thames similar to those in place on roads.
City Hall and London boroughs should get greater funding to tackle air pollution, he said, warning that the £3m from the Department for Environment, Food and Rural Affairs (Defra) air quality grants programme for schemes across the UK was woefully insufficient.
The worst countries in the world for air pollution deaths

Show all 10
Mr Khan also renewed his call for a national scrappage scheme to increase the speed with which diesel vehicles – the biggest source of harmful nitrogen oxides – are phased out.
And he warned that vehicle excise duty (VED) continued to make the purchase of diesel vehicles attractive and called for reform of the scheme to ensure national legislation was pulling in the same direction.
Mr Khan said: "After years of failure we now need the Government to get a grip and face up to their responsibilities rather than pass the buck to me and boroughs.
"Let's be clear, filthy air is causing 9,400 deaths every year in London alone. And that's before you look at all the other health problems caused to Londoners.
"We need action now to protect Londoners and people all across the UK from breathing in toxic fumes.
"The Government has been seriously complacent about this health emergency for the last six years and now is the time for them to stop gambling with our health and show real leadership."
Julian Bell, chairman of London Councils Transport and Environment Committee, said: "Tackling air quality requires immediate attention.
"With over 9,400 Londoners dying prematurely each year as a result of air pollution, it's vital that Government takes urgent action now.
"They also need to properly equip the Mayor and London boroughs with the funding and resources needed to really make an impact and tackle toxic pollution. All Londoners deserve a healthier future."
Air pollution causes 50,000 early deaths and costs £27.5bn every year, according to the government's own estimates, and was named as a "public health emergency" by MPs in April.
The Press Association contributed to this report
Join our new commenting forum
Join thought-provoking conversations, follow other Independent readers and see their replies