Terrified and alone, barricaded in a Kabul hotel: What happened to Samim Bigzad after he was deported
Exclusive: 'I feel like I've come home,' young Afghan says while facing future deportation attempt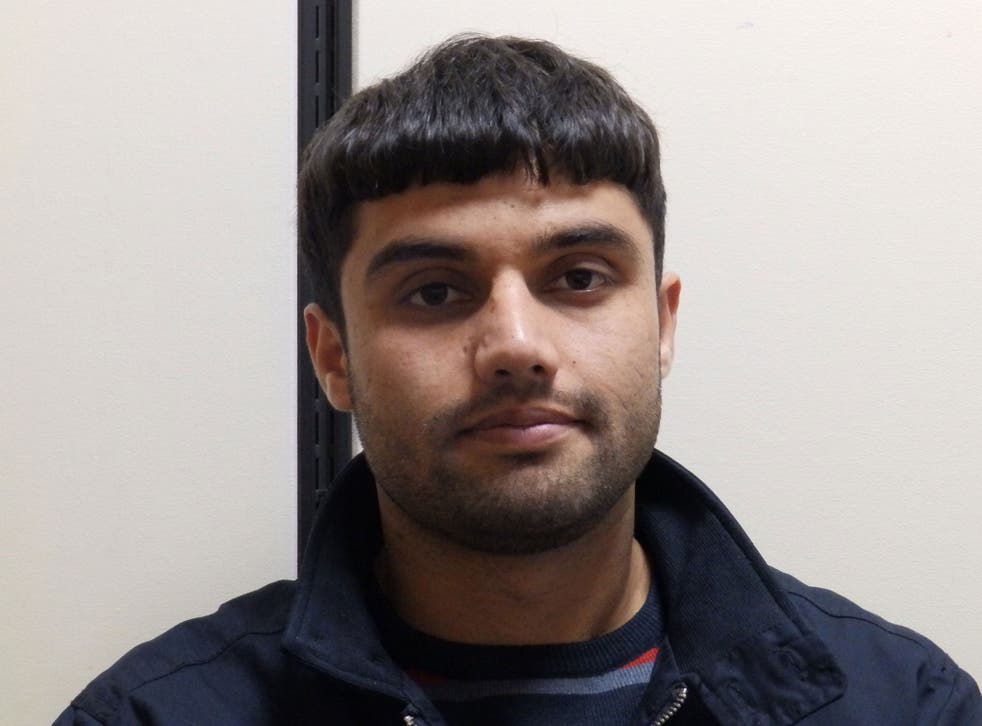 An asylum seeker who was deported to Afghanistan in violation of a court order has described the torturous five days he spent barricaded inside a hotel as legal battles in the UK decided his fate.
A High Court judge had warned that Home Secretary Amber Rudd's efforts to remove Samim Bigzad constituted a "prima facie case of contempt of court" before he was eventually returned.
As the Government challenged three separate orders to send him back to the UK immediately, the 23-year-old was left hiding from armed men in a hotel in Kabul.
"I was on my own, I was losing my mind – I didn't know what was going on," Mr Bigzad told The Independent.
"I just stayed in the hotel and kept the door locked, even in the daytime."
Photos paint a claustrophobic picture of his stay, showing the flashing lights of a police car through metal shutters, a security guard loading his gun in a lounge area and Mr Bigzad standing alone in the empty corridor.
He says he feared for his life in the city he fled two years ago after being threatened with beheading by the Taliban.
After an urgent appeal by Mr Bigzad's lawyers, a High Court judge ordered the deportation to be stayed as he awaited a connecting flight in Istanbul.
Amber Rudd criticised by asylum seeker who was sent back to Afghanistan
But citing logistical problems including the fact that the asylum seeker's luggage was already on the plane, the Home Office transported him onwards to Kabul.
The indecision was crushing for Mr Bigzad, who had received a message from a case worker saying he would be returned to the UK before the plane took off.
"SAMIM YOU'RE COMING BACK TO UK," read the message received at 10.10pm. "A judge said you need to be returned back to UK and you should be getting next available flight back to London."
Mr Bigzad said he was praying as one of the five guards accompanying him received a phone call from the Home Office ordering him to be taken off the aircraft.
"I was on the plane but the door was open, there were 10 to 15 minutes left before taking off for Kabul," he recalled.
"The guard told me I was going back and we went to get off the plane. I was so happy at that time.
"I was at the top of the stairs when there was a second call from the Home Office. They said I was still going back to Kabul."
After landing in the Afghan capital he faced an agonising wait for news from lawyers and relatives in the UK.
Mr Bigzad wanted to stay at the British Embassy but said an official told him they could not accommodate him because of security fears.
"They put me in a bullet-proof car and sent me to the hotel," he added. "They said I would spend one night in the hotel and then I'd be sent back to the UK, but it took four nights.
"They just left me there on my own, that was it. I was on my own, I just had £30 from the detention centre. It was horrible."
Mr Bigzad's worst fears were realised when unidentified armed men arrived at the hotel, demanding to see him before being refused by a receptionist.
"The receptionist told me they were wearing traditional Afghan clothes but had their faces covered and were carrying guns," he said.
"They asked if there was a guy who came from the UK, a deported person.
"The receptionist came to me and said 'oh my god, who are these people?' I said I didn't know."
Mr Bigzad said the men shouted at the receptionist before departing in blacked-out cars, prompting the hotel to call police, who stationed themselves outside the hotel in a marked car for 24 hours a day.
As the ordeal continued, the legal battle between Mr Bigzad's lawyers and the Home Office escalated to the Court of Appeal, where the Government's attempt to keep him in Kabul was thrown out in a four-hour hearing on 16 September.
Judges ordered that Mr Bigzad must be given leave to remain in the UK for the duration of ongoing legal cases, including a fresh asylum claim, a judicial review into his case and separate contempt of court proceedings against the Home Office.
On the fifth day of the asylum seeker's stay in Kabul, he said a British embassy official arrived and asked for his travel documents.
He was removed from the city as abruptly as he had been deported, being driven to Kabul airport in a bulletproof car straight and taken straight onto a waiting plane under armed guard.
Mr Bigzad said he was put on the return flight alone and sent instructions by text message, going back via Istanbul and arriving at Heathrow Airport late on 17 September.
Struggling to put his feelings into words, he said taking off for London felt "unbelievable".
"In the air I was given a Border Force leaflet saying that if you don't have a passport or visa you will be in trouble – I just laughed," he added.
"When I got back into Heathrow I thought they were going to send me back to the detention centre, I was scared."
Mr Bigzad said he was interviewed by immigration officials before being left alone in an office.
"They kept me there for five or 10 minutes and all that time I thought they were calling the police and they would come and take me back.
"But then they gave me a piece of paper and when I looked at it, and it had Kavel's address on it – it said I was being released.
"I just sat with my head in my hands, crying."
Mr Bigzad's lawyers said the Home Office had originally planned to detain the asylum seeker but were convinced to let him return to the home where he had been living in Kent.
The woman hosting him through a refugee charity, local artist Kavel Rafferty, was waiting at the arrivals gate alongside Mr Bigzad's friends and lawyers.
They described how he dropped his bag and ran into their arms, briefly unable to speak for shock.
"I couldn't believe what was happening to me," said Mr Bigzad. "I feel really happy, I feel like I've come back home."
He has now returned to Ms Rafferty's home in Ramsgate, where he has been studying English and caring for his father, a British citizen who suffers from severe post-traumatic stress disorder after being detained and tortured by the Taliban two decades ago.
His son was later targeted because of his work for a construction company holding contracts with the American military and the Afghan government, prompting Taliban militants to phone Mr Bigzad with death threats, saying they knew where he lived and worked.
The Independent has seen evidence including contracts, tax returns and rental agreements that support Mr Bigzad's claims.
Islamist insurgents have launched frequent attacks on "puppets" accused of colluding with their enemies, amid a rise in conflict and terror attacks in Afghanistan.
Mr Bigzad's battle to be granted asylum continues, but for now he hopes to improve his English, continue playing his favourite sport – cricket – and work towards a future career in business by studying economics.
After fleeing to the UK via Turkey, a refugee boat to Greece and a lorry from Calais, life settled into routine until he was detained without warning during a routine immigration appointment in July.
The Government's first attempt to deport Mr Bigzad failed in August when the pilot of a Turkish Airlines flight refused to take off with him on board, after campaigners travelled to Heathrow Airport to alert passengers and crew members to his plight.
But when guards came to take him from the notorious Brook House detention centre for the second time on 12 September, there was no warning and Mr Bigzad's lawyers were unable to stop him being forced on the flight that took off for Istanbul four hours later.
Kabul bomb blast kills at least 90 people

Show all 13
Ms Rafferty, who is hosting him through the Refugees at Home Charity, thanked all the campaigners who had helped his case.
"It's such a relief to have Samim back here at home, with me and the cat," she said.
"He's coping amazingly well, considering all he's been through. Of course, it's not over, but we at least have some breathing space to sort out Samim's case.
"We are trying to have as normal as life as possible now – Samim will start his English classes tomorrow and is back in his routine, looking after his father."
Jamie Bell, a solicitor representing Mr Bigzad on behalf of Duncan Lewis Public Law, said the asylum seeker was still in an "unstable and uncertain" position.
He added: "We managed to get him back from Kabul so he's got a long battle ahead of him and we're going to try and give him the best chance of staying in the UK."
A spokesperson for the Home Office said it had carefully considered Mr Bigzad's original asylum claim before deporting him.
"We took action to comply with the court order and worked to return Mr Bigzad as soon as possible despite significant logistical challenges in securing the necessary documentation and limited flight availability," he added.
"While we maintain that it was too late to disembark Mr Bigzad from the Istanbul to Kabul flight by the time the injunction was served, some 10 hours after the removal process began, the Home Office has followed the orders of the court and returned Mr Bigzad to the UK while he challenges the removal decision. The outcome of Mr Bigzad's asylum claim remains unchanged."
Register for free to continue reading
Registration is a free and easy way to support our truly independent journalism
By registering, you will also enjoy limited access to Premium articles, exclusive newsletters, commenting, and virtual events with our leading journalists
Already have an account? sign in
Register for free to continue reading
Registration is a free and easy way to support our truly independent journalism
By registering, you will also enjoy limited access to Premium articles, exclusive newsletters, commenting, and virtual events with our leading journalists
Already have an account? sign in
Join our new commenting forum
Join thought-provoking conversations, follow other Independent readers and see their replies